Building Stronger Communities Around the World
Building Stronger Communities Around the World
Our social responsibility work mirrors our business — innovation, expertise and a dedication to the success of organizations that build stronger communities.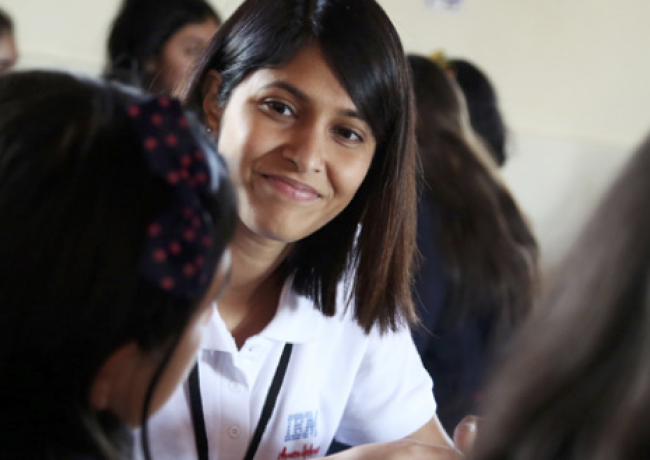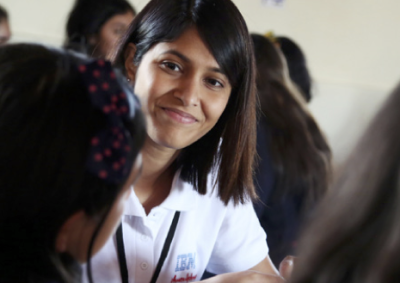 tweet me:
.@IBM supports organizations that build stronger communities around the world by sharing its expertise and finding new ways to apply technology to a range of social challenges http://bit.ly/2Pgdfft
Monday, December 16, 2019 - 10:30am
NEWSROOM: IBM
CONTENT: Article
IBM supports organizations that build stronger communities around the world by sharing our expertise and finding new ways to apply technology to a range of social challenges.
Corporate Service Corps (CSC) deployed 37 teams of IBMers to 24 countries in 2018, engaging nearly 150 social organizations on projects designed to improve education, health, economic development and community resiliency. CSC helps address local challenges while developing our company's leaders with an immersive, culturally enriching experience. CSC's collaboration with the Peace Corps continued with projects in Mexico and the Philippines in 2018, and we worked with Johnson & Johnson on an engagement in Chile addressing disaster preparedness. For the first time, CSC went to major metropolitan areas in Australia (Brisbane), Canada (Halifax) and the United States (Chicago, San Francisco and New York). Since its launch in 2008, CSC has sent more than 4,000 IBMers to 44 countries.
In 2019, CSC teams will deploy to North Carolina and California to assist with disaster preparedness work following Hurricane Florence and the California wildfires. We are also piloting new models for deploying teams, with the goal of including significantly more participating IBMers in 2020. Learn more at ibm.com.
We delivered 311 IBM Impact Grants valued at $9 million in 2018, to nonprofit and educational organizations in 31 countries. The grants provide pro bono consulting and software solutions to help recipients serve their communities more effectively. Since 2009, we've delivered more than 3,000 grants worth $95 million.
In India, we joined the SRF Foundation to develop an online mentoring platform that the National Institution for Transforming India (NITI Aayog) has deployed in schools across the country. In Thailand, we worked with nonprofit Freeland to develop a Center of Excellence that uses IBM i2 intelligence analysis software to help identify human and wildlife trafficking networks. Our grant of IBM SPSS® analytics software is helping Women's World Banking, a U.S.-based agency working for women's financial independence in emerging markets, to refine its offerings through improved research. We also worked with the U.S. Chamber of Commerce to study perceptions of companies' disaster response work, using Watson capabilities to analyze social media — read more in our copublished paper, The Impact of Disasters on Brand Sentiment.
IBM Research is working with a nonprofit in Cincinnati, Ohio, to help improve social services for disadvantaged people. CityLink Center coordinates the services of multiple agencies to help its clients out of poverty through counseling and education on employment, wellness, personal finance and workforce skills. IBM researchers developed a system that analyzes CityLink's data to find links between successful outcomes and the way services are delivered — in their sequence, duration, via one-on-one counseling or group sessions. Initial results confirmed many practitioners' intuitions, but also found new insights that could help CityLink refine its services and improve more lives.
The new Traffik Analysis Hub (TAHub) analyzes information shared by NGOs, governments, financial institutions and other participants to identify possible human trafficking activity. TAHub continues IBM's five-year collaboration with Stop the Traffik, and combines Watson AI technologies with enterprise-grade security that participating organizations require. In early 2019, we developed an updated version of a smartphone app that people can use to report suspicious activity anonymously. Learn more at traffikanalysis.org.
IBM Volunteers, our global program to support IBMers' service in their communities, recorded 1.3 million volunteer hours in 2018 and 22 million since its inception in 2003, across 94 countries. The initiative helps active and retired employees apply their professional skills to community needs with a wide range of resources to help organize and deliver effective volunteer support. Also in 2018, IBM made $3.8 million in IBM Community Grants to 2,500 schools and organizations in 49 countries where IBMers volunteer. Learn more and find volunteering resources at ibm.com/volunteers.
More From IBM
Monday, July 20, 2020 - 4:00pm
Thursday, July 2, 2020 - 10:30am
Friday, June 26, 2020 - 12:15pm