Broad Diversity Categories Obscure Industry's Most Underrepresented Groups
Broad Diversity Categories Obscure Industry's Most Underrepresented Groups
By Alana Pipe, Fola Akinnibi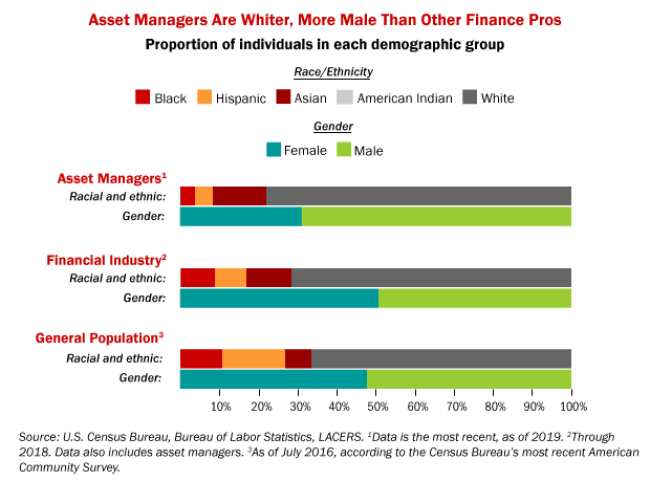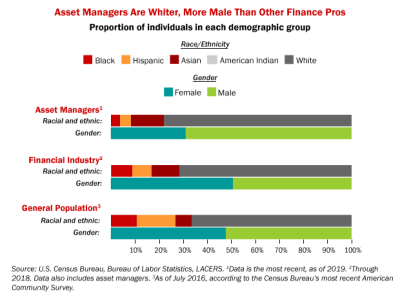 tweet me:
"Diversity, equity and inclusion is a journey. There is no exact formula" - @connieleads for FundFire - Broad Diversity Categories Obscure Industry's Most Underrepresented Groups http://bit.ly/2jJsFxj @NTCSR
Tuesday, July 16, 2019 - 12:25pm
Some financial services firms are making progress toward achieving gender parity, but most still lag in other types of diversity, industry data shows. The next step may be looking beyond broad and binary classifications, like gender or minority and non-minority designations, to examine how these categories intersect to improve diversity and inclusion for the most underrepresented groups.
Women make up 31% of the overall workforce at the 25 firms with more than 100 employees that submitted data to the Los Angeles City Employees' Retirement System (LACERS) between 2016 and 2019, while minorities make up roughly 23%, according to a FundFire analysis of the data.
However, it isn't enough to point to one broad category of diversity as evidence of success, says Connie Lindsey, head of corporate social responsibility and global diversity and inclusion at Northern Trust, which is among the firms that submitted data to LACERS.
Diversity efforts require transparency and viewing people of color as a single bloc does not provide a complete picture of progress, adds Deidra Jenkins, Northern Trust's chief diversity and inclusion officer for North America.
"What we've learned over this last year is that when we looked at data, we would look at people of color as a totality or group rather than [looking at] gender as well," Jenkins says. "It's important to have equality across all of those groups."
More From Northern Trust
Wednesday, February 19, 2020 - 11:45am
Tuesday, February 4, 2020 - 9:30am
Thursday, January 30, 2020 - 9:00am