Bringing Home Cooked to the House
Bringing Home Cooked to the House
Giving back to veterans, service members and their families for the holidays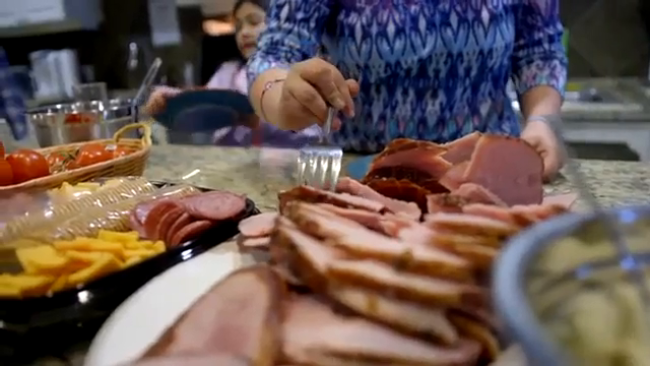 tweet me:
.@HormelFoods donates care packages back to @fisherhousefdtn to feed military families http://bit.ly/2jmYg3Z
Wednesday, May 2, 2018 - 12:00pm
By Rick Williamson
On March 30, the Hormel® Cure 81® brand and members of the Hormel Military Veterans Engagement Team (HMVET) donated care packages full of Hormel Foods products to the Minneapolis Fisher House Foundation to feed military families for the Easter holiday.
"We are proud to partner with Fisher House Foundation once again and help provide a delicious meal for veterans, service members and their families to celebrate together," said Stephanie Postma, Hormel® Cure 81® brand manager. "This is the fifth year that we have been able to donate our care package in person to families here at the Minneapolis location. It's inspiring to be here and we are thrilled to help be a part of their holiday celebration."
This donation was part of the larger Hormel® Cure 81® partnership with Fisher House Foundation. The brand sent care packages to Fisher House locations across the country to serve more than 1,200 expected guests and included a total of more than 3,300 pounds of Hormel Foods products.
"I know what it's like to be without family around,' said Carl Manthei, Lloyd's Barbeque Company team member, HMVET member and a Vietnam veteran. "So seeing the kids, seeing the family members. They are going through a lot of uncertainty for their loved ones that are here so to reach out and show love, that's what I feel – I feel love from Hormel."
"At Easter time there's expectations that you're going to have your traditional meal in the home, and typically that's ham, potatoes and all the works," said Jessica Peterson, Fisher House Manager for the Minneapolis location. "For Hormel to bring us the food that are typically eaten at Easter, it makes people feel like someone is understanding what their needs are."

The Fisher House Foundation is a non-profit organization that houses military families for free while their veteran family members are treated at nearby hospitals. Hormel Foods was the first company to donate food on a national basis and this year marks the fifth consecutive year of the partnership.