Brightening Our Corner Newsletter - November 2019
Brightening Our Corner Newsletter - November 2019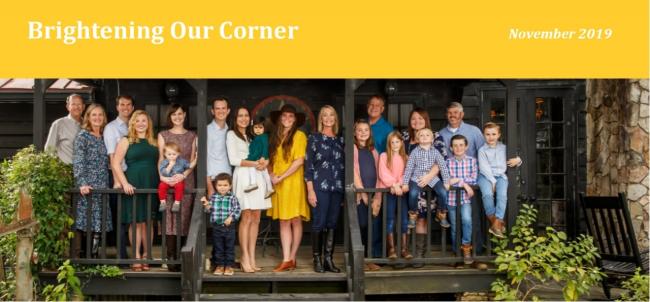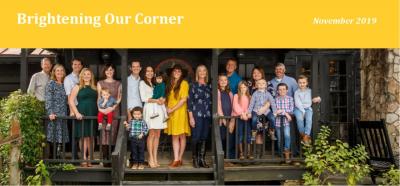 tweet me:
The Ray C. Anderson Foundation @rayslegacy has issued its quarterly newsletter. #climatechange #sustainablebusiness @TheRayHighway @GT_ACSB #GeorgiaDrawdown #GeorgiaClimateConference #RayDay @Biomimicryinst #RayofHopePrize #ecocentricity @johnalanierRCAF http://bit.ly/2QBrCNX
Summary
The quarterly newsletter for the Ray C. Anderson Foundation features stories about their key funding initiatives: Ray C. Anderson Center for Sustainable Business at the Scheller College of Business, Biomimicry Launchpad, Ray of Hope Prize, The Ray, Georgia Drawdown, Georgia Climate Conference, Ecocentricity Blog and more. #climatechange #circulareconomy #climateaction #sustainability
Thursday, November 21, 2019 - 1:00pm
Georgia Climate Conference
Call it a HUGE success!  The Foundation is a proud supporter of the Georgia Climate Project, which hosted the Georgia Climate Conference two weeks ago in Atlanta. The sold-out conference drew a diverse crowd of more than 400 scientific experts, political, agricultural and business leaders, social justice activists and academics to Emory University on Nov. 7-8, with many more joining select sessions via livestream.
John Lanier, executive director of the Ray C. Anderson Foundation, told Ashley Williams of WSAV, "The conference was fundamentally about elevating the discussion around climate change, recognizing that sure, there are challenges that our state faces on climate, but also tremendous opportunities with people from so many stakeholder groups, so many different industries from the policy side, the academic side, bringing everyone together to collectively imagine the positive steps forward on the issue of climate in Georgia."
 "Closer Look with Rose Scott" - Georgia Climate Conference Proposes Local Solutions - October 15, 2019
Georgia Climate Conference Moves to Action - Savannah Morning News, November 8, 2019
'Ready to take action': Local leaders represent Savannah at 2nd Georgia Climate Conference - WSAV-3, November 13, 2019.
Update from the Georgia Drawdown Team
The Ray C. Anderson Foundation is proud to fund this team's efforts to study the 100 solutions originally presented by Project Drawdown, and to identify those solutions that are most applicable in our state. The Georgia Drawdown team has been working since March 2019, calculating Georgia's greenhouse gas (GHG) emissions inventory, and identifying the existing solutions that will most effectively allow Georgia to reduce it's existing GHG impacts and achieve "drawdown" - the point at which GHG concentrations in the atmosphere begin to decline on a year to year basis.  The team is currently focused on 24 solutions that show the highest potential for achieving carbon neutrality for Georgia.
Scheller College of Business Ranked #3 U.S. School in Corporate Knights 2019 Better World MBA Ranking
Georgia Tech Scheller College of Business continues to be recognized as a leader in sustainability education in business. In the 17th annual Better World MBA Ranking, released by Corporate Knights on November 8, 2019, Scheller College is ranked #3 in the United States and #9 globally.
Since its founding in 2002, Corporate Knights has ranked the world's MBA programs by how holistically they have integrated sustainability into the learning process. This year, Corporate Knights evaluated 146 business schools around the world, including the 2018 Financial Times top 100 MBA programs. Programs are evaluated on the basis of faculty research, curriculum, institutes and centers, and faculty diversity.
Scheller College's commitment to sustainability is led by the Ray C. Anderson Center for Sustainable Business ("Center"). Beril Toktay, faculty director of the Center, remarked, "Our world-class faculty are leading the charge in training students to make the business case for sustainability. Through their research and industry engagement, and by infusing sustainability throughout the Scheller College MBA curriculum, the faculty serve as inspirational role models for tomorrow's leaders."
Seeking the Next $100,000 Winner for the Ray of Hope Prize
Calling all nature-inspired innovators! Do you have a product, service, or technology that helps create a sustainable, resilient future? The Ray of Hope Prize® competition, offering the world's premiere biomimicry prize, is awarded annually to a nature-inspired startup solution that is leveraging business as a force for good. The application for the 2019-2020 season is now open.
The Ray of Hope Prize competition provides select biomimicry startups with the opportunity to participate in high-level pitch and biomimicry training, showcase their work to industry leaders, and compete for a $100,000 equity-free prize.
"Our belief is that biomimicry drastically reduces a technology's time to market, because the technology has already been proven to work in nature in a cost-effective, sustainable way," says Jared Yarnall-Schane, entrepreneurship director at the Biomimicry Institute. "As we strive to reach the UN's Sustainable Development Goals by the year 2030, it is important that we recognize and support the entrepreneurs addressing the SDGs, along with the organisms and ecosystems that inspire them."
RayDay 2019 Was a Blast!
RayDay 2019 was the largest one ever!
More than 2,200 people attended this year's zero food waste, certified climate neutral, family-friendly event.
While the grownups enjoyed their favorite adult beverages and phenomenal food truck offerings and strolled 60+ exhibitor booths under the big tent, more than 600 kids enjoyed their expanded territory with puppet shows, birdhouse building, rain barrel painting, dog leash making, Mustang encounters and much more.
The highlight was when the electric vehicle (EV) caravan rolled in with a record 110 EVs that had traveled together from the Georgia Power headquarters to Serenbe for RayDay. See more on that from The Ray below.
If you weren't able to join us this year, be sure to check out our Facebook Photo Album and our posts at #RayDay2019 on Twitter and Instagram, to see what it's all about, and then plan to join us next year on October 18, 2020. Tickets will be available in May.
The Ray Hosts EV Caravan with 110 Cars
The Ray had a blast at RayDay this year. The EV Caravan to RayDay was a huge success with a record breaking 110 electric vehicles participating – that's more than 3x the number from last year.
Virtual Reality Tours of The Ray
During RayDay, The Ray gave a very special preview of a new project – The Ray in Virtual Reality. Visitors had the opportunity to experience the WheelRight tire safety station right there at The Ray's booth. Check out this short video about their experiences and stay tuned for more information about when you can #RideTheRay in VR. And the fun didn't stop at RayDay. The Ray has received several awards and accolades this fall.
Read about all of The Ray's recent awards: The Shorty Social Good Awards - Best in Energy, Newsweek's Top 100 Smart City Partner Momentum Awards and Atlanta Magazine's 2019 Groundbreakers. 
Ecocentrcity Blog: The Climate-Circular Economy Nexus
These dire facts are why the Ellen MacArthur Foundation and Materials Economy conducted this study. They wanted to show that scaling the circular economy is a necessary condition to reversing global warming, and they are right.
As I teased last week, I want to share my thoughts on the Ellen MacArthur Foundation's recent paper, published in collaboration with Material Economics, called "Completing the Picture: How The Circular Economy Tackles Climate Change."
It's an outstanding piece of work, and I applaud everyone who contributed to it. But I feel compelled to start by highlighting two portions of their paper that felt like punches-in-the-gut when I read them. Read the full blog. 
Mid-Course Correction Revisited
Together with his family, John A. Lanier is keeping the voice and vision of Ray C. Anderson alive, and documenting the evolution of the green business world in the tradition of his grandfather, a masterful storyteller.  Click here to learn more, and buy your copy today.
Upcoming Events
Sustainable Atlanta Roundtable (SART) - 12/6/19
Southface Winter Solstice - 12/11/19
Second Nature Higher Education Climate Leadership Summit - 2/23/20 - 2/25/20
Southface's Greenprints Conference - 3/19/20 - 3-20/20
RayDay - 10/18/20
Contact
Ray C. Anderson Foundation
More From Ray C. Anderson Foundation
Wednesday, January 27, 2021 - 12:50pm
Wednesday, January 27, 2021 - 9:30am
Wednesday, January 20, 2021 - 9:30am