Brightening Our Corner Newsletter - May 2019
Brightening Our Corner Newsletter - May 2019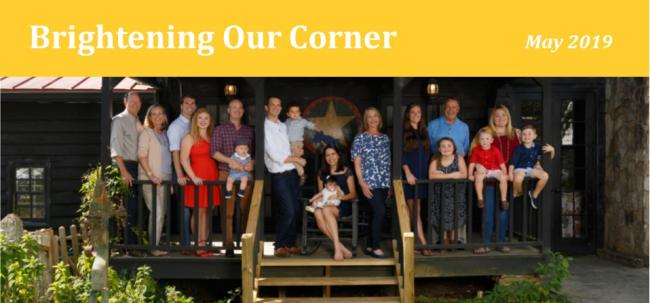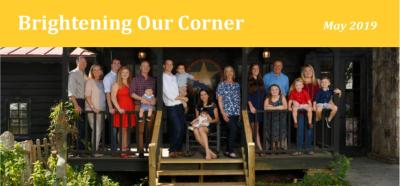 tweet me:
The Ray C. Anderson Foundation quarterly newsletter is out. So many great things going on. Check it out! @johnalanierRCAF @BiomimicryInst @GT_ACSB @GT_GlobalChange @TheRayHighway @Interface #RayDay2019 #Ecocentricity http://bit.ly/2wb6suN
Summary
The quarterly newsletter for the Ray C. Anderson Foundation has been published. Check it out - Brightening Our Corner
Thursday, May 16, 2019 - 11:30am
Mid-Course Correction Revisited is On Sale Now
Together with his family, John A. Lanier is keeping the voice and vision of Ray C. Anderson alive, and documenting the evolution of the green business world in the tradition of his grandfather, a masterful storyteller.  Click here to learn more, and buy your copy today.
Join Us at Circularity 19 for the Ray of Hope Prize
We are so excited for the seven international entrepreneurial teams that will take the stage at GreenBiz Group's Circularity 19 event in Minneapolis on Tuesday, June 18th, where the next winner of the world's premiere biomimicry design prize will be announced.
The $100,000 Ray of Hope Prize®, sponsored by the Ray C. Anderson Foundation, will be awarded to one of seven finalist teams in the Biomimicry Institute's  Launchpad, an accelerator program for early-stage, nature-inspired innovations. A $25,000 second prize from an anonymous donor will also be awarded.
"Awarding the Ray of Hope Prize is one of the highlights of our year," said John A. Lanier, executive director of the Ray C. Anderson Foundation. "We get to see the best of the best when it comes to aspiring entrepreneurs who understand the importance of harmonizing business and the environment. They share the same values that Ray Anderson held dear, values also embraced by the outstanding team at GreenBiz." 
Be sure to join us on Monday, June 17th, the night before Circularity 19 opens, for Beer, Bites and a Book Talk with John A. Lanier at Finnegan's Brew House, 6-8 p.m. Register here.
Want to take part in an in-depth, immersive biomimicry workshop? Early bird registration is still available for the Biomimicry Workshop in Veracruz - July 5-13, 2019.  Read more.
Tickets Available Now for RayDay 2019
The 7th Annual RayDay™celebration is set for Sunday, October 20th at Serenbe. RayDay celebrates bringing people together, encourages conversations and connections, and continues to spread the word about sustainability. Imagine a one-day course on sustainable living with 65 environmental learning booths combined with a family fun festival in a beautiful meadow at Serenbe, with 2,200 of your best friends.  That's what it's all about!  Tickets are available now. Get yours here.
Save the Date for the EV Caravan to RayDay
Starting at Georgia Power Headquarters
241 Ralph McGill Blvd., NE
Atlanta, GA 30308
Ending at RayDay at Serenbe
10050 Hutchesons Ferry Road
Palmetto, GA 30268
More information: anna@theray.org
Foundation's NextGen Committee Issues RFP for Projects to Help Reduce Global Warming
The NextGen Committee of the Ray C. Anderson Foundation has issued a call for proposals for one $100,000 grant to fund work in the 2020 calendar year for new or existing programs that will help to reduce global warming, whether through direct carbon avoidance, climate communication, climate education, industry engagement, or other methods.
The deadline for proposals is July 11th.  Click here for the grant proposal guidelines.
Ray C. Anderson Center for Sustainable Business Continues to be a Focal Point of Excellence
Georgia Tech faculty experts recently helped five teams at Delta Airlines perfect their pitches for a global, business-wide contest for Delta employees to launch environmentally driven innovations. One of the teams that competed was also a finalist in Georgia Tech's Carbon Reduction Challenge which is funded by the Ray C. Anderson Foundation. Read more.
The Carbon Reduction Challenge, which is jointly taught by Beril Toktay and Kim Cobb, has expanded its influence and the program is now being mirrored at the University of Buffalo.
The Ray C. Anderson Center recently celebrated Earth Day with poster presentations by sustainability fellows from the Scheller MBA program, undergraduate sustainability ambassadors, and students who participated in the Carbon Reduction Challenge during Spring Semester.  Click here to read a story by Casey Erb, winner of the 2018 Carbon Reduction Challenge.
Read how Victoria Dean left her job in petroleum engineering to go back to school and pursue a new career with a sustainable focus. She's one of several Sustainability MBA Fellows. Read more.
Ecocentricity Blog: The Triple Bottom Line Approach
By John A. Lanier
"True triple bottom line thinking is not about doing well and doing good, but rather about doing well BY doing good. Strong triple bottom line companies seek to operate in a way that creates value in all three realms simultaneously. It's about more of all, not some of each, and it requires a business to be honest about the harms it inflicts and authentic in seeking to eliminate those harms."
For this week's blog I'll just point you to another thing that I wrote! My friends at the Georgia Social Impact Collaborative were kind enough to host a guest blog of mine about the triple bottom line. I hope you enjoy!
Read the full blog on the Georgia Social Impact Collaborative website.
Upcoming Events
June 3-6 - Sustainable Brands - John Lanier speaks at this event in Detroit, MI
June 17 - Beer, Bites and Book Talk with John Lanier - FINNEGAN's, Minneapolis, MN
June 18 - Circularity 19 Conference and the Ray of Hope Prize - Minneapolis, MN
July 5-13 - Biomimicry Workshop in Veracruz
October 20 - RayDay at Serenbe, Chattahoochee Hills, GA
November 7-8 - Georgia Climate Conference - Emory Conference Center, Atlanta, GA
The Talk with Green Guy show airs every Sunday, 9-10 a.m. Eastern iheartradio 640WGST. Podcasts are available through Apple Podcasts and Google Play Store.
Contact
Ray C. Anderson Foundation
More From Ray C. Anderson Foundation
Thursday, January 28, 2021 - 9:30am
Wednesday, January 27, 2021 - 12:50pm
Wednesday, January 27, 2021 - 9:30am