Brightening Our Corner Newsletter - May 2018
Brightening Our Corner Newsletter - May 2018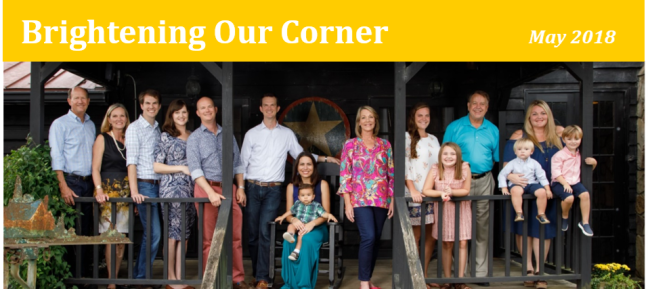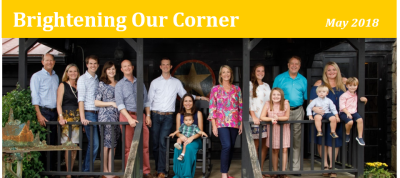 tweet me:
The Ray C. Anderson Foundation has published it quarterly newsletter. Check it out here: https://bit.ly/2Kyerae @GT_ACSB @GT_GlobalChange @johnalanierRCAF @BiomimicryInst @TheRayHighway #RayDay2018 #NextGenGrant #RidetheRay #InfrastructureWeek2018
Summary
This is the quarterly newsletter for the Ray C. Anderson Foundation, a private family foundation that seeks to promote a sustainable society by supporting and funding educational and project-based initiatives that advance knowledge and innovation in sustainability.
Monday, May 21, 2018 - 1:15pm
Get Your Tickets to #RayDay2018
RayDay 2018 promises to be one of the best ever with all new rides and attractions. We've added a ferris wheel, a big slide, big swing ride, and a climbing wall for all ages.  We've also added a puppet show and more interactive games for the children's area.  Of course, we're also bringing back favorites from years past; Sven (juggler and circus artist), face painting, rain barrel painting, bird house building and pony rides. 
The educational exhibits will include several new organizations, and as always we'll have plenty of beer, wine and tasty food truck favorites.  The event is still FREE, but you must register to attend.  Click here to get your tickets.  We will reach capacity this year.
Foundation Provides $500,000 Seed Grant to Global Change Program
In March, the Georgia Institute of Technology celebrated the formal launch of the Global Change Program, a new initiative designed to coordinate and grow educational and research activities focused on providing solutions and creating economic opportunities at the intersection of global change, climate change, and energy.  The Global Change Program has been initially supported by seed funds from the Office of the Provost and the Executive Vice President for Research, and through a $500,000 gift from the Ray C. Anderson Foundation. 

The co-curricular initiative is a partnership between Kim Cobb, ADVANCE professor and Georgia Power Chair in the School of Earth and Atmospheric Science and Beril Toktay, professor in the Scheller College of Business and faculty director of the Ray C. Anderson Center for Sustainable Business. Read the full story in Georgia Tech's online News Center.
NextGen Spotlight: McCall Langford

Meet McCall Langford. She's Ray Anderson's youngest grandchild and the daughter of Foundation Trustees Harriet and Phil Langford. Like her grandfather, who put Interface and the industrial world on the path to sustainability, and her mother, who inspired The Ray, she's a visionary and a dreamer, and she's definitely a doer.  In fact, for the better part of the past 1.5 years, she's been…well…somewhat of a nomad, traveling the country up and down, and from side to side with her partner, Neal Ewen, all the time, having the time of her life, and exploring so many of the wonders that nature has to offer.

Langford and Ewen even spent part of the harsh Colorado winter in a tiny Teardrop Trailer. While they were truly "roughing it" most of the time, the experience helped McCall immerse herself in nature and was certainly instrumental in helping her identify the next steps in her educational career. Read the full story.
Meet Cecilia Lanier
"On April 3, a stunningly beautiful baby girl was born in a small hospital in Los Angeles. As her eyes opened for the first time and she gave her tiny lungs a workout, this baby girl first experienced the love of being held in a mother's arms. She gazed up at Chantel, my wife, and her cries quieted. Chantel held her with awe, love and gratitude.

At that exact moment, I was in a complete stranger's car, taking a Lyft ride to the airport. I'd left our son with my parents and was catching the first flight I could from Atlanta to Los Angeles. Chantel texted me a photo of this new baby, and I'm sure I said something to my Lyft driver that she had never heard from a passenger before – 'My daughter was just born!'" Read the full story by John A. Lanier.
Carbon Reduction Challenge at Georgia Tech
Trustees and staff from the Ray C. Anderson Foundation were delighted to attend the Spring Semester Carbon Reduction Challenge Poster Presentation Expo on April 23rd at Georgia Tech's Scheller College of Business. The Challenge is a co-curricular effort between Kim Cobb, director of Georgia Tech's Global Change Program, and Beril Toktay, faculty director of the Ray C. Anderson Center for Sustainable Business. The Challenge enables undergraduate and graduate student teams to form for implementation of measurable strategies for reducing greenhouse gas emissions, thereby saving money for a variety of partner organizations, ranging from large corporations to NGOs to governmental entities.
The Ray Celebrates Infrastructure Week
This week is Infrastructure Week and The Ray is proud to be one of 400 affiliates around the country talking about the critical importance of updating our national infrastructure. On Monday, The Ray kicked off the week with a virtual tour, cohosted by Georgia Public Service Commissioner Tim Echols and the Georgia Department of Transportation. You can watch the video here. Follow #TimeToBuild and #InfrastructureWeek2018 for all the week's activities.  Read the full story here, and read Harriet Langford's op-ed piece in the LaGrange Daily News.
Ecocentricity Blog: This One is a Step Back
I share this news because it's important for environmentalists to acknowledge each step back at the same time we celebrate every two steps forward. We lose our credibility if we trumpet sustainability's successes and ignore its failures.

If you were to look back at all the blogs I have written (by my count, we are at 142), you might notice a trend. Besides being slightly whimsical and heavy on the Star Wars references, my blogs tend to be positive in orientation. I write a lot of "How cool is this?!?!" and "Here's how sustainability is winning" posts. That's mainly because I find lots of cool things and because sustainability is winning.  Read more.  Subscribe here to receive Ecocentricity weekly via email.
Biomimicry Institute Introduces Launchpad Accelerator Program
The Biomimicry Launchpad is is an accelerator program that helps early-stage entrepreneurs bring biomimetic innovations to market. The Launchpad offers entrepreneurship and biomimicry training, mentorship, networking, exposure to strategic partners, and opportunities to showcase breakthrough innovations to the media and the public. Each year, Launchpad teams are eligible to compete for the $100,000 Ray of Hope Prize®, sponsored by the Ray C. Anderson Foundation.
Read more.
NextGen Committee Issues Grant RFP
The NextGen Committee of the Ray C. Anderson Foundation has issued a call for proposals for one $90,000 grant to fund work in the 2019 calendar year for currently existing or new programs that would measurably reduce the concentration of greenhouse gases in the atmosphere, measured by metric tons (or "tonnes") of carbon dioxide equivalent (CO2e), either by preventing the emission of those gases or by sequestering gases presently in the atmosphere.  Read more.
Upcoming Events

May 22 - The Story of Purpose, Joey Reiman & Jay Gould - Conscious Capitalism of Atlanta
June 9 - EarthShare of Georgia Sustainability Speaker Series: K. Rashid Nuri at Truly Living Well Farms
June 22 - Southface's Summer Solstice
June 26-27 - Green Sports Alliance Summit
October 14 - RayDay - Tickets now available!
Contact
Ray C. Anderson Foundation