Brightening Our Corner Newsletter - August 2020
Brightening Our Corner Newsletter - August 2020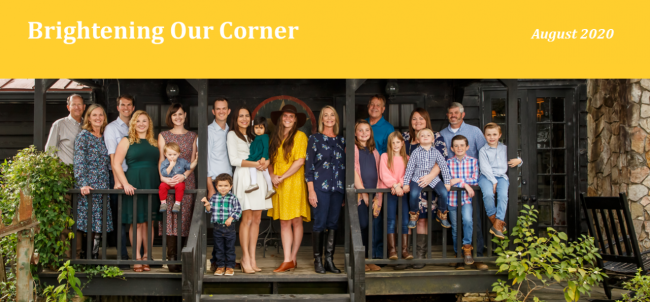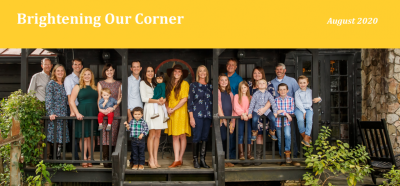 Summary
Ray Anderson always said "Brighten the corner where you are." In these crazy times, his foundation still has many positive stories to share.
Monday, August 31, 2020 - 10:00am
ECOncrete® Wins $100,000 Ray of Hope Prize®
The
Biomimicry Institute
and the Ray C. Anderson Foundation are proud to announce that this year's
Ray of Hope Prize®
has been awarded to
ECOncrete Tech LTD.
, a science-based company that develops high performance, environmentally-sensitive concrete products for coastal and marine infrastructure projects. ECOncrete offers products that facilitate the growth and regeneration of local marine species and strengthen structures over time through a process known as bioprotection. Inspired by beach rock formations, coral polyps, oyster shells, mangrove roots, and other marine habitats and life forms, ECOncrete embodies biomimicry's design intention: to learn from and mimic forms and processes found in nature to create regenerative solutions.
Read the full story.
Introducing the 2020 Biomimicry Global Design Challenge Finalists
The Biomimicry Institute has revealed this year's
Biomimicry Global Design Challenge
finalists, and the results offer direction for solving grand problems with new, innovative approaches to the way we make things. By combining human ingenuity with nature's genius, these projects show us that the possibilities are infinite. After multiple rounds of judging, these aspiring changemakers were chosen as the strongest nature-inspired design solutions addressing an array of critical global issues. From tackling air, water, and noise pollution to fostering resilient communities and food systems, each of these 10 finalist teams has addressed one or more of the
United Nations Sustainable Development Goals (SDGs)
in their pursuit of creating positive change.
Read the full press release.
MODA Exhibit
"Learning from Nature: The Future of Design"
You won't want to miss this
free virtual exhibition at MODA
, the Museum of Design Atlanta, developed in partnership with the
Biomimicry Institute
. The exhibition demonstrates how designers of all ages are finding sustainable solutions to challenges through biomimicry. Visitors can view all the innovations, many of which could help us address climate change, by touring the exhibition space in 3-D.
"This exhibition is part of a larger MODA initiative, 2020: The Year of Climate and Change," says Veronica Klucik, who curated the exhibition along with Malaysia Marshall. View the exhibit.
Help Us CelebRAYte Ray's Legacy
Starting on Ray's birthday in July, we kicked off a 15-week, interactive
Facebook celebRAYtion
that will allow us to look back at all of the past RayDays, with special focus on the nonprofit organizations that have been with us since the very beginning. We are alsraising funds for these nonprofits who continue to lift up sustainability issues amidst the COVID pandemic.
We had to cancel RayDay this year due to COVID-19, so this is our way of staying engaged with all of you, while shining extra light upon a few key organizations that deserve our support.
From now until October 18th we are hosting a joint fundraiser for
13 of our favorite initiatives
, and the Foundation will match your donations to each of these nonprofits, dollar for dollar, up to $5000 each. Giving levels in this campaign are set to match the times we're living in. They start at $10. Donate as many times as you want, and support as many of the organizations as you wish.
Engage with Us
Be sure to visit our Facebook page daily. We invite you to share your own RayDay memories and photos with us there.  We can't wait to see what you have to share. You can also share on our Twitter and Instagram pages using the hashtags #celebRAYtion and #RayDay.
The Ray is really getting some great press for the amazing work that is being done on their 18-mile living laboratory on I-85 in Troup County, Georgia.Here are a few news highlights from the past few months:
Why Climate Change is About to Make your Bad Commute Worse - Read the article
Utah and Georgia Install Tech that Lets Roads Talk - Read the article
A Ray of Hope Through Partnerships - Read the article
The Atlanta Story Podcast - Episode 11 - Take a Listen
News from the Ray C. Anderson Center for Sustainable Business
Thought Leadership from MBA Alumni
Two recent virtual panel discussions with MBA alumni from Scheller College addressed timely issues. Panelists at the first event talked about integrating personal values in professional lives. The second event focused on how we can make the transition from being "allies" to "change agents" in the fight for racial equity and social justice. Read the "values" article and the "allies" article.
Drawdown Georgia Contributions
The Center is honored to be working with the Drawdown Georgia team on the top 21 carbon mitigation solutions for the state. Michael Oxman and Beril Toktay, the Center's managing director and faculty director, respectively, are serving on the core team and the "beyond carbon" working group. Also, Bahar Gunes, a 2019-20 graduate research assistant, contributed her energy sector know-how to the project. Read the article about Oxman and Toktay and the interview with Gunes.
Spotlight on Alumna Impact
In a recent interview, Chris Hagler (MSM '96), Southeast practice leader of climate change and sustainability services at Ernst & Young, talks about her career trajectory, Covid-19's impact on corporate sustainability, and advice for students looking to incorporate their passion for sustainability into their careers.  Read the interview.
Ecocentricity Blog: New Beginnings
By: John A. Lanier
As we wandered down our sidewalk, one that we've walked together hundreds of times, we kept an eye out for different foods that were growing. We have an apple tree in our yard that tied our food-hunt into the curriculum, but we also spotted figs, tomatoes, and watermelons in our neighbors' yards.
It's been an amazing last seven years working for the Ray C. Anderson Foundation. I'm proud of the grants we have made, but even more proud of the relationships and partnerships that have resulted from those grants. We've done so much good, and I know that the foundation will continue to advance the legacy of our namesake. The brightest years are ahead for this amazing organization, but today, I'm excited to say that I'm starting a new job as an assistant preschool teacher.
Don't get me wrong, I will still be the executive director of the foundation – I just wanted to see if anyone would fall for the head-fake in my title and first paragraph. It's also true that I'm going to be assisting my wife in home schooling our young children. We got started this week, and I already feel like preschool teachers are criminally underappreciated and underpaid … and we only have to wrangle two wee ones!  Read the full blog.
Upcoming Events
Chattahoochee Riverkeeper Patron Dinner - 9/10/2020
Southface Visionary Dinner - 9/17/2020  
Contact
Ray C. Anderson Foundation