Brightening Our Corner Newsletter - August 2019
Brightening Our Corner Newsletter - August 2019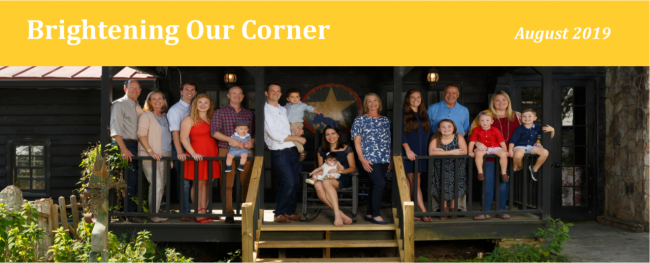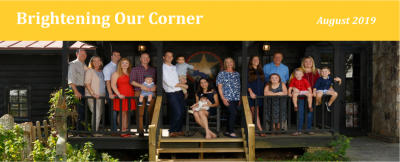 tweet me:
The Ray C. Anderson Foundation's August newsletter is full of great stories from their key funding initiatives and a busy schedule of events with grantees, friend and partners. Ray always said, "Brighten the corner where you are." @johnalanierRCAF http://bit.ly/34dfBCy
Summary
The August issue of the Ray C. Anderson Foundation's newsletter is full of exciting stories from their key funding initiatives; RayDay, Ray C. Anderson Center for Sustainable Business, Biomimicry Global Design Challenge, The Ray and more.
Thursday, September 5, 2019 - 10:00am
The Ray Highway is a Smart Highway
This is the summer that The Ray has become The "smart" Ray. In just the last few months they have announced a partnership with the Curiosity Lab at Peachtree Corners, a 5G enabled autonomous vehicle and smart city living laboratory located in a northern suburb of Atlanta. Together they'll work to draw more transportation technology and innovation to Georgia.
Then in August, The Ray and the Georgia Department of Transportation announced a joint project with Panasonic to pilot connected vehicle technology along The Ray. This ambitious partnership seeks to trial technology along The Ray's 18-mile corridor that can then be implemented across the state to improve roadway safety, reduce traffic congestion, and improve organizational efficiency. And finally, following the repaving of 13 of The Ray's 18 miles, a Fortune 500 company will be partnering with The Ray on smart lane striping, creating redundancy in the lane lines to increase visibility for autonomous vehicles.
To cap all this exciting news off, The Ray has formalized its relationship with both the Georgia Department of Transportation and the Federal Highway Administration. The three organizations have signed a charter that defines the parties full commitment to working in partnership on the living transportation innovation laboratory known as The Ray.
Are You Registered for RayDay 2019?
Plans for the 7th Annual RayDay™celebration are well underway with more than 1,400 tickets already reserved, and full expectation that we will reach capacity well before the event.  Have you reserved your tickets yet? Don't wait. It's all FREE, but you need to RSVP to attend. Learn more about RayDay.
RayDay  is Sunday, October 20th at Serenbe, 3:00-6:00 p.m.
We've booked 65 sustainability themed exhibitor booths under the main tent, surrounded by some of the best food trucks in Atlanta, with something for everyone.  Plenty of vegan and vegetarian options.  Savory, sweet, you name it, we'll have it.
The Kids Area will be the largest ever. Build a birdhouse, paint a rain barrel, watch a puppet show, get your face painted, ride a pony, try kid yoga & juggling and watch the acrobat.  Pet a once-wild Mustang, learn about responsible dog ownership and make a dog leash from recycled climbing rope.  If that's not enough, we will also have the big slide, ferris wheel and the large climbing wall with bungees. Yes...it's all FREE.
EV Caravan to RayDay
The future of transportation is electric. And that is good news for our families, for Georgia, for our economy, and for our planet! The EV Caravan to RayDay is a celebration of the growing popularity of electric vehicles in Georgia. Last year 30 EV drivers joined us on this drive and this year we're aiming for 100! Grab your keys and be a part of Georgia' s EV community! Sunday 10/20 at 1:00 PM we'll rally at the Georgia Power Headquarters in downtown Atlanta then make the 34-mile drive to Serenbe and the RayDay celebration.
Mid-Course Correction: Lessons for a Circular Economy
Guest Blog by Jim Hartzfeld
Reprinted from Pyxera Global
"To everyone's surprise, on Day Zero of Interface's sustainability journey (August 31, 1994), founder and CEO Ray Anderson described the outline of a radical vision of a cyclical enterprise that would become ecologically restorative through its influence on others."
On a steamy August morning in Atlanta, a 60-year old engineer and entrepreneur walked into a nondescript hotel conference room to kick off a new task force assembled to answer nagging questions about the environment from a few insistent customers. He had finally relented to multiple requests to share his environmental vision with the team, which he had only discovered a few days before.
No one was expecting anything special. In fact, the meeting had been bumped from the corporate offices for "more important" matters. The taskforce leader himself thought this side project would be wrapped up within 6-9 months. Everyone loved spending time with the CEO but expected him to make only a cursory and motivational appearance and get back to his real job. 
No one knew the CEO was as inspired as the day he first saw carpet tiles 22 years before.
Read the full blog on Pyxera Global's website.
Mid-Course Correction: Revisited is on Sale Now
Together with his family, John A. Lanier is keeping the voice and vision of Ray C. Anderson alive, and documenting the evolution of the green business world in the tradition of his grandfather, a masterful storyteller.  Click here to learn more, and buy your copy today.
Students Champion Workplace Sustainability in the Third Annual Carbon Reduction Challenge
How do you stop millions of pounds of heat-trapping CO2 from ever being emitted? In Georgia Tech's Summer 2019 Carbon Reduction Challenge, student interns used their ingenuity to identify opportunities for scalable carbon reduction projects at a wide variety of partnering organizations. In doing so, they delivered large energy and cost savings to their employers. Over the ten-week challenge, the students benefited from frequent coaching sessions led by faculty co-directors Kim Cobb (Director of the Global Change Program and professor in Earth and Atmospheric Sciences) and Beril Toktay (Director of the Ray C. Anderson Center for Sustainable Business and professor in the Scheller College of Business).
Now in its third year, the internship-based Challenge has resulted in a total of over 30 million pounds of avoided CO2 emissions while delivering hundreds of thousands of dollars in avoided energy costs to partner organizations. In this year's Challenge, 45 students from Georgia Tech, Agnes Scott College, Clemson University, Emory University, Georgia State University, and the University of Georgia competed for prizes provided by the Sheth Foundation.
Georgia Drawdown Hosts First Webinar
The Ray C. Anderson Foundation is proud to fund research to identify the key elements of a strategy to achieve carbon neutrality in Georgia, while demonstrating the many co-benefits that come with scaling these solutions - from advancing equity in our communities, to improving human health, to providing new economic opportunities for our state. The Georgia Drawdown team consists of globally recognized leaders from The Georgia Institute of Technology, Emory University, and The University of Georgia. The team hosted its first informational webinar on August 2nd with 147 participants and 100 live questions, proving that there is great interest in identifying solutions for achieving carbon neutrality in Georgia.
Ten Finalist Teams Use Lessons from Nature to Create Radical Climate Change Solutions
The Biomimicry Global Design Challenge is an annual competition in its 5th year that invites innovators to learn how to use biomimicry—the process of looking to nature for design inspiration—to develop solutions to climate change. This year, nearly 100 teams from 17 countries entered the Challenge with hopes of becoming a finalist and being invited to join the 2019-2020 Biomimicry Launchpad, a program that supports prototyping, a path toward commercialization, and the potential to win the $100,000 Ray C. Anderson Foundation Ray of Hope Prize®.
Continue reading to learn about this year's ten finalists, including the top three student teams and honorable mentions.
Upcoming Events
Sept. 16-18 -
Research to Action: The Science of Drawdown
, State College, PA
Sept. 19 -
UN Regional Centre of Excellence Book Club Lunch & Learn
, Atlanta, GA
Sept. 19 -
Southface Visionary Dinner
, Atlanta, GA
Oct. 3 -
VoLo Foundation's Climate Correction Conference
, Orlando, Florida
Oct. 13-14 -
Chattahoochee Riverkeeper Water Warriors Summit
, Atlanta, GA
Oct. 15 -
Brower Youth Awards Ceremony
, San Francisco, CA
Oct. 17 - Lifecycle Building Center's
Revel in Reuse Fundraiser
, Atlanta, GA
Oct. 20 -
RayDay
, Chattahoochee Hills, GA
Oct. 24 -
Chattahoochee Riverkeeper Patron Dinner
, Atlanta, GA
Oct. 29-30 -
3BL Forum: Brands Taking Stands
, Washington, DC
Nov. 2  -
Serenbe Fellows Presents John Lanier
, Chattahoochee Hills, GA
Nov. 7-8 -
Georgia Climate Conference
, Atlanta, GA
Nov. 15-17 -
Southeastern Council of Foundations Annual Meeting
, Atlanta, GA
Nov. 16 -
Captain Planet Foundation Benefit Gala
, Atlanta, GA
Nov. 18-20 -
Sustainable Brands: New Metrics '19
, Philadelphia, PA
Nov. 20-22 -
Greenbuild Conference
, Atlanta, GA
Contact
Ray C. Anderson Foundation
More From Ray C. Anderson Foundation
Wednesday, March 3, 2021 - 9:30am
Tuesday, March 2, 2021 - 11:45am
Tuesday, March 2, 2021 - 9:30am