Brightening Our Corner Newsletter - August 2018
Brightening Our Corner Newsletter - August 2018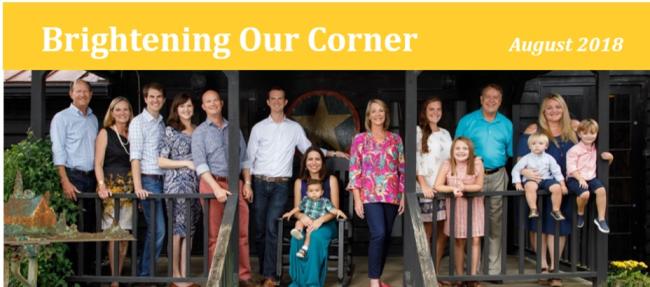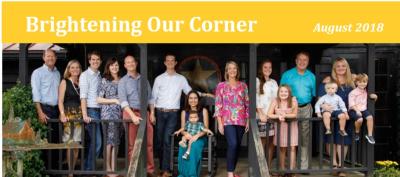 tweet me:
The Ray C. Anderson Foundation has published its quarterly newsletter. Check it out here: http://bit.ly/2PSws6q @GT_ACSB @GT_GlobalChange @johnalanierRCAF @BiomimicryInst @TheRayHighway #RayDay2018 #NextGenGrant #RidetheRay
Summary
This is the quarterly newsletter for the Ray C. Anderson Foundation, a private family foundation that seeks to promote a sustainable society by supporting and funding educational and project-based initiatives that advance knowledge and innovation in sustainability.
Thursday, August 30, 2018 - 3:30pm
Ray C. Anderson Foundation Achieves Carbon Neutral Company Certification
In keeping with its commitment to create a better world for tomorrow's child, the Ray C. Anderson Foundation has recently become a  CarbonNeutral® Certified Company effective year-end 2017.  The Foundation has committed to reduce its carbon footprint as much as possible in its daily operations, and to measure and offset related greenhouse gas emissions through the purchase of certified carbon credits.  Read more.
Get Your Tickets to #RayDay2018
RayDay 2018 is only seven weeks away!  The response this year has been phenomenal, and we are set to have the largest crowd yet. The word has spread quickly, and we are sure we will reach capacity before the event happens.  RayDay is FREE, but you must register to attend.  If you have not already reserved your tickets for RayDay, please don't wait.  Click here and get them now.
NextGen Spotlight: Jay Lanier
"It's interesting really. Of all the family, I am the one with the most 'outdoor' inclination," says Jay Lanier, who is Ray Anderson's oldest grandchild and son of Foundation Trustees, Jaime and Mary Anne Lanier.
And with that, it seems natural that Jay would be most comfortable spreading the power of his influence among those organizations and initiatives that have the most impact on forests, water and wildlife.  Read more.
The Ray Wants You to Get Involved
The Ray Team has announced two new ways you can support and interact with their work towards a zero waste, zero carbon, zero fatality highway! This month they launched their monthly email series. You can sign up here for regular updates from The Ray.
 
Looking for more? The Ray has also launched a volunteer program.  On the first workday of each month, a list of volunteer projects will be sent to registered volunteers. These projects will be diverse and appeal to people with diverse skill sets and different time constraints. (And you don't even have to live in Georgia to participate!)  Read More.
Carbon Reduction Challenge Awards Top Prize to Chick-Fil-A Intern
A Georgia Tech undergraduate student teamed up with Chick-Fil-A staff over the summer to reduce millions of pounds of heat-trapping greenhouse gases while delivering significant cost savings.  Read more. 
The Ray of Hope Prize® is Coming!
In just over eight weeks, we will award the 3rd Annual Ray of Hope Prize® at the Bioneers Annual Conference in San Rafael, California.  Eight finalist teams that were identified last summer are completing the accelerator phase in preparation for final judging the week of October 15th.  The big prize announcement is scheduled for the morning of October 20th.
Ecocentricity Blog: Summertime and the Living's Easy
I've fallen out of the habit of reading in the summer, but fortunately, I was able to restart the habit this year. It was a good summer with some great books, and I'll share a few over the next several weeks.  Read More.
Upcoming Events
September 6 - Lifecycle Building Center Annual Dinner
September 12 - Southface's Visionary Dinner
September 12-14 - Global Climate Action Summit
September 20 - Earthshare of Georgia's Sustainable Speaker Series: Dennis Creech
September 21-22 - Partnership for Southern Equity Just Energy Summit
September 26 - Chattahoochee Riverkeeper's Patron Dinner
October 14 - RayDay - Tickets now available!
October 20 - Ray of Hope Prize® Ceremony at Bioneers
November 7-9 - Southeastern Council of Foundations Annual Conference
November 14-16 - Greenbuild
Every Sunday at 9AM Eastern - Talk with Green Guy Show
Contact
Ray C. Anderson Foundation