Big Brands, Industry Leaders, Seasoned Experts, One Conference
Big Brands, Industry Leaders, Seasoned Experts, One Conference
Early bird rates for 3BL Forum: Brands Taking Stands™ – What's Next end on June 30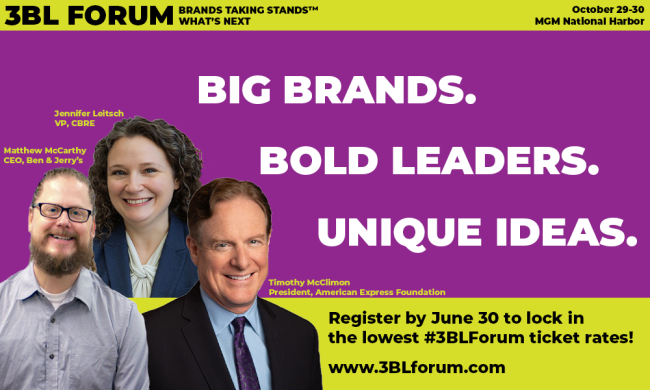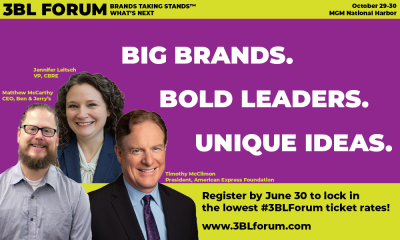 tweet me:
With insights from a roster of 70+ speakers with unparalleled experience, #3BLForum : #BrandsTakingStands ™ – What's Next is set to explore some of the most hot-button topics in business today http://bit.ly/2ILH2ed
Thursday, June 27, 2019 - 8:00am
NORTHAMPTON, Mass., June 27, 2019 /3BL Media/ - The days of remaining on the sidelines in a rapidly changing business environment are over for companies large and small. Whether it is meeting new expectations of stakeholders, embedding sustainable business practices into legacy systems, pioneering innovation, building a pipeline of talent or taking a public stance on a pressing issue, it is clear companies around the world are increasingly being asked to be bold. 
But how can today's executives and corporate responsibility and sustainability leaders stay ahead of this trend, learn best-in-class practices and anticipate what's next when demands for sustainable operations and social responsibility are growing at unprecedented rates?
With insights from a roster of 70+ speakers with unparalleled experience, including leaders like Ben & Jerry's CEO Matthew McCarthy and CBRE VP of Corporate Responsibility Jennifer Leitsch, 3BL Forum: Brands Taking Stands™ – What's Next is set to explore some of the most hot-button topics in business today, including:
– How will "brands taking stands" continue to evolve?
– When is bold leadership required?
– Can sustainability sit at the epicenter of your internal stakeholders?
– What innovations are shaping sustainability?
– How do legacy companies view sustainability as a guide to their future?     
– What is driving the ESG discussion with investors?
– Can we move beyond the buzzwords of diversity and inclusion?
– What are you doing to embrace the oncoming wave of the next generation?
– What's next and where are we headed?
Taking place at the MGM National Harbor from October 29-30 outside Washington, D.C., 3BL Forum aims to create a better understanding of corporate thinking and spark new ideas by seeking out answers to the simple yet impactful questions of "why," "how," "what's next" and "where are we headed."
Participants in this year's event can expect to be among several hundred corporate leaders, industry experts and corporate responsibility/sustainability professionals for two days of fast-paced discussions that have been meticulously curated to be as high-octane as they are informative.
"Our stage is designed to explore corporate thinking and decision-making, which transcends industry and sector, as companies develop strategies, define their purpose, respond to stakeholder expectations and demonstrate bold leadership," said Executive Producer Lynne Filderman. "This year's Forum will focus on how companies are navigating a transformative business environment and collectively explore where we are headed. It's fast-paced because we have a lot of territory to cover, and the setting is intimate enough that these conversations continue on and off the stage."
Register for 3BL Forum by June 30 to receive special early bird pricing (https://www.3BLforum.com/registration) and check out this year's full lineup of speakers and topics (https://www.3BLforum.com).
Interested in bringing your whole team? Contact forum@3blmedia.com to learn more about special team rates.
Contact
Director of Brand Marketing at 3BL Media