Arrow Electronics Supports Effort to Build First 3D Printed Home for the Developing World
Arrow Electronics Supports Effort to Build First 3D Printed Home for the Developing World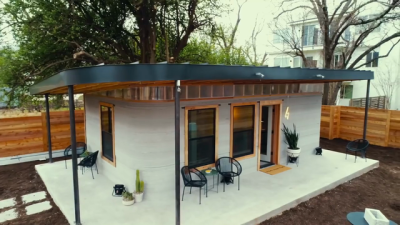 tweet me:
.@ArrowGlobal Supports Effort to Build First 3D Printed Home for the #DevelopingWorld http://bit.ly/2IB9iOu @NewStoryCharity #3DPrinting #Innovation
Wednesday, March 28, 2018 - 10:40am
Arrow Electronics has teamed with Silicon Valley non-profit New Story to help complete the first low-cost, 3D printed house for humanitarian purposes. The nonprofit, which focuses on providing safe homes for people living in inadequate housing around the world, plans to print a small concrete test home later this year in rural El Salvador.
This week, New Story took a major step towards its humanitarian goal by successfully printing a demonstration house in Austin, TX at the South by Southwest Festival (SXSW). The house, and the prototype 3D printing technology developed by their partner ICON, won the SXSW social and culture technology prize at the SXSW Accelerator 2018 Pitch Event for potential investors.
The 350-square foot demonstration house is the first 3D printed home to meet municipal building codes in the U.S. The home serves as proof-of-concept for sustainable homebuilding that will allow safer, more affordable housing for more families, faster. New Story's goal is to print a 600-square foot home in a single day at a projected price of about $4,000.
"At Arrow, we guide innovators forward to a better tomorrow, and New Story offers a dramatic innovation to solving the global need for safe, basic shelter," said Joe Verrengia, Arrow director of corporate social responsibility. "Supporting the launch of the demonstration house was our first step with New Story in efforts to better the lives of underserved populations around the world."
According to the World Resources Institute, 1.2 billion people around the world lack permanent shelter as a result of natural disasters, war and chronic poverty. They live in huts made of scrap materials, plants and tarps, offering no real protection.
New Story already has built hundreds of conventional concrete-block homes in poor communities in El Salvador, Haiti and Bolivia. Those homes take two weeks to build and cost $6,500 apiece – too slow and too expensive to meet the global housing shortage.
"We need a quantum leap in affordability, speed and quality to reach the families who need shelter most," said Brett Hagler, New Story co-founder and CEO.
The massive printer used to produce the demo, called Vulcan, moves down parallel metal tracks.
Loaded with a computer design on the home, it precisely squirts a concrete mix in a repeatable pattern on a slab floor to form the exterior and interior walls for a four-room dwelling. Each layer is three-quarters of an inch thick. The structure sets quickly, and is designed to be three times stronger than cinder block. The thick, dense walls keep interior temperatures relatively cool.
The printer leaves spaces for windows and doors to be manually installed. The roof is not 3D-printed. New Story and Icon plan to continue to use local materials and labor in its switch from conventional construction to 3D printing.
About Arrow Electronics
Arrow Electronics is a global provider of products, services and solutions to industrial and commercial users of electronic components and enterprise computing solutions. Arrow serves as a supply channel partner for more than 150,000 original equipment manufacturers, contract manufacturers and commercial customers through a global network. The company maintains over 300 sales facilities and 45 distribution and value-added centers, serving over 80 countries. Learn more at fiveyearsout.com.
About New Story
New Story is a non-profit working to create a world where no human lives in survival mode by providing one of life's most basic needs – shelter. The organization currently works in Mexico, Haiti, El Salvador, and Bolivia and, in just three years, has funded more than 1,300 homes for families in need. 850+ of those homes have been built and families have moved in. Their 100% model ensures that every penny of each donation goes to build homes while organization overhead and R&D is covered by private donors. See more at https://newstorycharity.org/
More From Arrow Electronics
Thursday, December 24, 2020 - 12:25pm
Thursday, December 17, 2020 - 12:00pm
Tuesday, December 8, 2020 - 3:45pm