Arrow Electronics Presents Colorado Educators with Prestigious "Excellence in Technology Enabled Learning" Award
Arrow Electronics Presents Colorado Educators with Prestigious "Excellence in Technology Enabled Learning" Award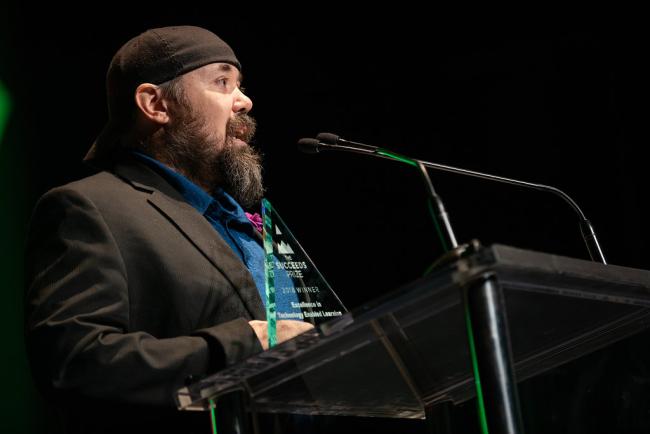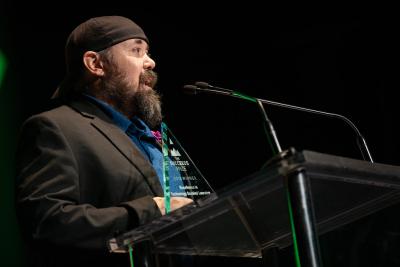 tweet me:
.@ArrowGlobal presented Sean Wybrant and Scott Fuller with the The 2018 Succeeds Prize for Excellence in Technology Enabled Learning during a celebration honoring Colorado #publicschools and educators in Denver. http://bit.ly/2ylSOFO @COSucceeds #TheSucceedsPrize #FiveYearsOut
Wednesday, October 10, 2018 - 9:55am
Denver – Arrow Electronics presented Sean Wybrant and Scott Fuller with The 2018 Succeeds Prize for Excellence in Technology Enabled Learning during a celebration honoring Colorado public schools and educators in Denver. Wybrant, a teacher at William J. Palmer High School in Colorado Springs and Fuller, next-generation learning coordinator for Colorado Springs School District 11, received $15,000 to create augmented and virtual reality learning experiences.
"Colorado educators are hungry for opportunities to use technology to transform their students' experience, accelerate learning and help their student learn how to be innovators," said Joe Verrengia, global director of corporate social responsibility at Arrow. "We are committed to working with schools and teachers to support better and more inspired uses of technology tools."
Wybrant, Colorado's 2017 Teacher of the Year, and Fuller will apply technology to enhance learning for their students as well as high schoolers in Saipan, a U.S. commonwealth in the Western Pacific. Both groups will build 3D models from East Carolina University's Maritime Studies department and the Smithsonian in hopes of teaching others about the Saipan Maritime Heritage Trail and the Battle of Saipan. The funding will allow the students to utilize tools, such as podcasts, to share their work more broadly.
"Colorado's students are capable of having a tremendous impact on the world, if we give them the opportunity," said Wybrant. "Thank you to The Succeeds Prize and to Arrow for investing in our work to pioneer learning experiences across the globe."
The Succeeds Prize—a partnership between Colorado's business community, 9NEWS (KUSA-TV), Colorado Succeeds and mindSpark Learning— recognizes and rewards Colorado's transformational public schools and educators who are driving strong student success. Wybrant and Fuller captured the Excellence in Technology Enabled Learning award after submitting a two-minute video pitch, which was reviewed by a selection committee of education, business, and philanthropic leaders in Colorado. Their concept was then presented at a live pitch event at Arrow's headquarters.
The award is part of Arrow's Innovation in Technology awards program launched by the company to honor the world's brightest innovators and emerging technologies, transforming ideas into real and influential achievements that will help people and the communities in which Arrow works.  
About Arrow Electronics
Arrow Electronics guides innovation forward for over 150,000 of the world's leading manufacturers of technology used in homes, business and daily life. With 2017 sales of $26.6 billion, Arrow aggregates electronics and enterprise computing solutions for customers and suppliers in industrial and commercial markets. The company maintains a network of more than 345 locations serving over 80 countries. Learn more at FiveYearsOut.com.
More From Arrow Electronics
Monday, February 10, 2020 - 12:30pm
Monday, February 3, 2020 - 2:35pm
Thursday, January 23, 2020 - 4:20pm