Arrow Electronics Honored with Corporate Social Responsibility Awards
Arrow Electronics Honored with Corporate Social Responsibility Awards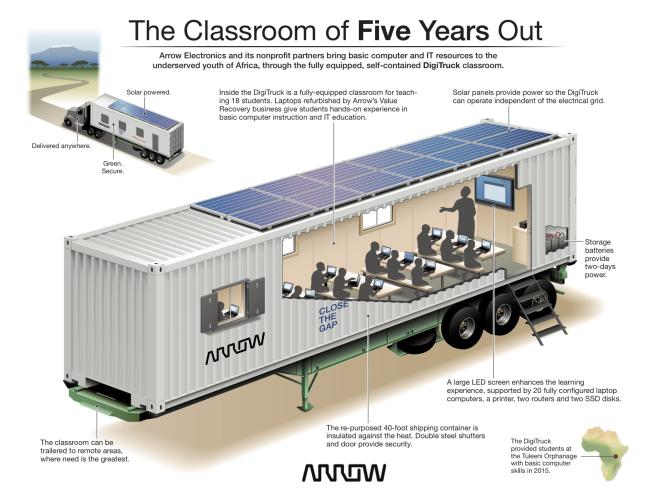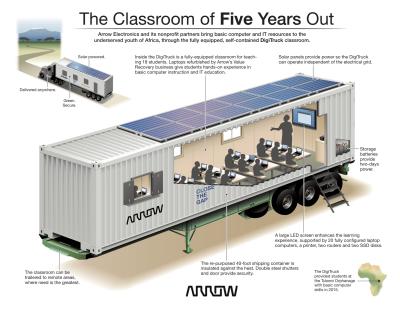 tweet me:
.@ArrowGlobal honored with Corporate Social Responsibility Awards http://bit.ly/2vhw2eF #fiveyearsout
Tuesday, September 12, 2017 - 8:00am
CENTENNIAL, Colo. September 12, 2017 /3BL Media/ - Arrow Electronics was recently honored with two 2017 Corporate Social Responsibility (CSR) Awards from PR Daily.
The global technology-solutions provider won top honors in the education or scholarship program category for its innovative DigiTruck project, and in the print or digital report category for its annual Corporate Social Responsibility & Sustainability Report.
"Arrow is honored to be recognized with these CSR awards," said Joe Verrengia, global director of corporate social responsibility at Arrow. "Acknowledgements like this reaffirm our commitment to working Five Years Out and investing in projects and partnerships that make a real difference in the communities where our employees live and work."
This year, PR Daily's judges reviewed more than 90 submissions for over a dozen different CSR award categories. In addition to Arrow's two top-place finishes, the company also received an honorable mention in the CSR video or visuals category for its SAM Car Pikes Peak video.
Arrow's dedicated CSR team selectively develops partnerships and projects that advance the company's mission to guide today's innovators to a better tomorrow. "Some organizations throw money at causes. Arrow invests innovation and talent," PR Daily affirmed in its review of Arrow's CSR report.
To read the full list of PR Daily 2017 CSR Award winners, please visit http://www.prdaily.com/Main/CSRWinners2017.aspx.
About Arrow Electronics
Arrow Electronics is a global provider of products, services and solutions to industrial and commercial users of electronic components and enterprise computing solutions. Arrow serves as a supply channel partner for more than 125,000 original equipment manufacturers, contract manufacturers and commercial customers through a global network of more than 465 locations serving over 90 countries. Learn more at www.fiveyearsout.com. 
More From Arrow Electronics
Tuesday, February 9, 2021 - 12:35pm
Monday, February 1, 2021 - 2:20pm
Tuesday, January 26, 2021 - 2:20pm