The American-Italian Cancer Foundation Honors Stefano Pessina, Executive Vice Chairman and Chief Executive Officer of Walgreens Boots Alliance
The American-Italian Cancer Foundation Honors Stefano Pessina, Executive Vice Chairman and Chief Executive Officer of Walgreens Boots Alliance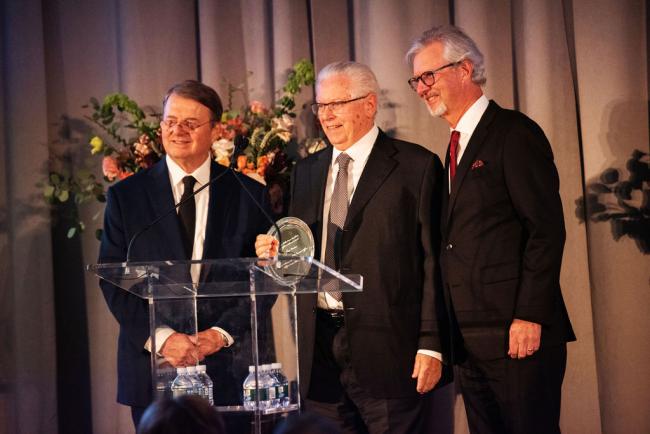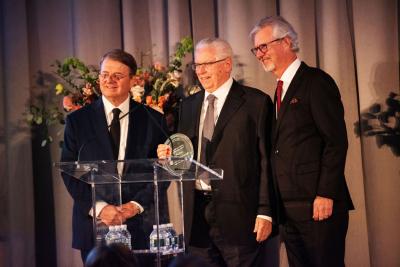 Friday, November 15, 2019 - 1:00pm
The American-Italian Cancer Foundation (AICF) has presented Stefano Pessina, executive vice chairman and chief executive officer of Walgreens Boots Alliance (WBA) with the organization's Lifetime Achievement Award for his outstanding career in health care.
AICF, a New York nonprofit supporting cancer research and early detection, honored Pessina at the organization's Benefit Dinner & Auctions in New York on Nov. 12. AICF funds postdoctoral fellowships for talented Italian scientists who conduct research in the U.S. and provides no-cost mammograms to medically underserved women. Since 1980, AICF has awarded more than 480 post-doctoral fellowships and provided more than 107,000 women with no-cost mammograms, clinical breast exams, and educational services.
"I am honored to receive this award for work that I have been passionate about for many decades," said Pessina, executive vice chairman, chief executive officer of Walgreens Boots Alliance. "I am incredibly proud to lead WBA, an organization whose purpose is to help people live healthier and happier lives. Supporting people affected by cancer is at the heart of our global effort to be a force for good in society. I would like to thank the chair of the WBA CSR Committee and its members for their commitment."
Other honorees included two recipients of the prize for Scientific Excellence in Medicine for groundbreaking discoveries in the fields of cancer biology, prevention, diagnosis or treatment.
Claudio Del Vecchio, chairman and chief executive officer of Brooks Brothers Group, Inc. served as the event chair. The evening will feature live and silent auctions with exclusive items from Artemide, Bauer Hotel, Borgo Egnazia,
For the past 20 years, Walgreens Boots Alliance (WBA) and its businesses, which include Boots UK, Boots Ireland, Alliance Healthcare and Walgreens, has sought to create innovative and meaningful support for cancer patients and their loved ones. 
To learn more about WBA's cancer initiatives, click here and here.
More From Walgreens Boots Alliance
Tuesday, June 30, 2020 - 6:00am
Friday, June 5, 2020 - 2:45pm
Thursday, May 21, 2020 - 12:45pm