An 'Activist at Heart' from the Nonprofit World Joins Nestlé
An 'Activist at Heart' from the Nonprofit World Joins Nestlé
Riham shares a look behind the Nestlé curtain and gives insight on making the jump from nonprofit advocacy to food innovation.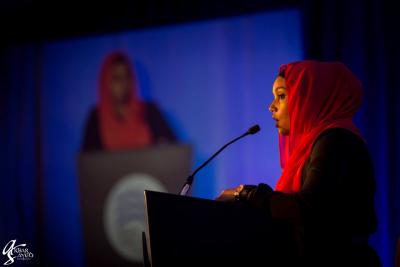 tweet me:
An 'activist at heart' shares insight on making the jump from #nonprofit advocacy to food innovation at @NestleUSA http://bit.ly/2sl2ugC
Thursday, May 31, 2018 - 11:30am
NEWSROOM: Nestlé
CONTENT: Blog
by Brittan Maisch, Employer Brand Digital Manager at Nestlé
Riham recently came to Nestlé after spending nearly five years working for a nonprofit. In her new role as an Employee Ambassador and Thought Leadership Manager, she will help Nestlé employees from across the company share their stories. Riham works with the communications team at Nestlé USA's new Arlington, Virginia headquarters. We spoke with her during her fourth week on the job about what drew her to Nestlé, the transition from the nonprofit sector, and advice for others considering an industry change.

What spurred your move from the world of nonprofits to a major corporation?


I'm an activist at heart, so I never expected to join the corporate sector, but the move had to do with Nestlé itself. I agree with the company's values and principles. Before I got to know Nestlé, I believed a lot of stereotypes about how corporations work, that they're only trying to make money, for instance. But at Nestlé, the goal and mission is bigger. There's a greater purpose. Nestlé is really trying to improve people's lives in how we do business.

Wherever I work, I need to feel like I'm actually doing something to make people's lives better. Here, I know I have that opportunity.

Plus, when I came in for my interview, it felt really comfortable. Nestlé felt like home.

What made you feel so comfortable, so quickly?

I was really surprised when I realized how diverse this company is. I felt it right away. I came in and immediately felt at home, especially as my interviewer took me around the communications offices. I felt at ease in that moment.

What's the transition from the nonprofit world been like?

Nestlé didn't feel like what I thought a corporation would feel like. It has a lot of the same qualities I experienced and loved in the nonprofit world, like creativity and collaboration. I see those here, but it's even better for me because there's more organization and structure than in the nonprofit world. My creativity can take on new life here, because if I have an idea there's a process for it and resources to make it happen.

You also have a team behind you. A concern I had in the nonprofit world was that if I came up with an idea, I would have to carry a heavy load — by myself — to execute it. Here, you come up with ideas and five people are ready to help you make it happen. And they all want to succeed with you.
More From Nestlé
Friday, March 27, 2020 - 8:05am
Thursday, March 26, 2020 - 1:10pm
Thursday, March 5, 2020 - 10:20am