The AEG Community Foundation Launches Social Media Campaign #SpreadCheer Challenge to Kick Off AEG's 2019 Annual Season of Giving
The AEG Community Foundation Launches Social Media Campaign #SpreadCheer Challenge to Kick Off AEG's 2019 Annual Season of Giving
Boys & Girls Clubs of America, Playworks and Special Olympics USA Have an Opportunity to Receive $25,000 from the AEG Community Foundation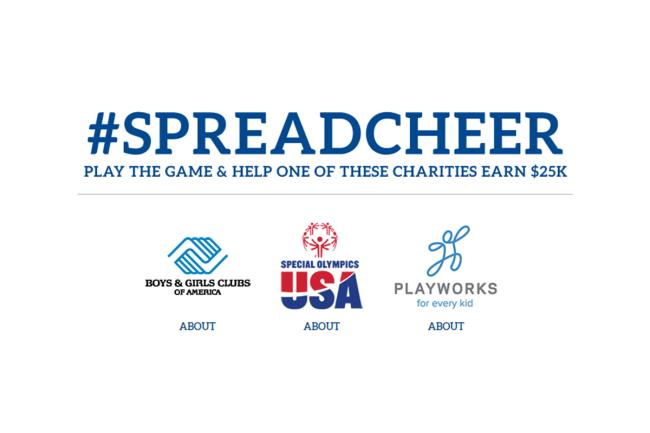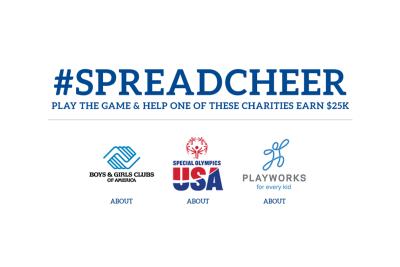 Monday, November 18, 2019 - 1:30pm
LOS ANGELES, November 18, 2019 /3BL Media/ – In celebration of its annual Season of Giving initiative, AEG, the world's leading sports and live entertainment company, and the AEG Community Foundation today launched the 2019 #SpreadCheer Challenge, a social media campaign that will provide three charities – Boys & Girls Clubs of America,  Playworks and Special Olympics USA – with an opportunity to earn $25,000 from the AEG Community Foundation.
Beginning today and running through December 16, fans across the world can visit www.aegspreadcheer.com and complete a digital puzzle where they can earn points for one of the three non-profit organizations. The organization with the most points by 11:59 p.m. PT on December 16, will be awarded $25,000.
"At AEG we pride ourselves on supporting our community partners throughout the year and shining a spotlight during the holiday season on the important work they do," said Martha Saucedo, Executive Vice President, External Affairs, AEG. "The AEG Community Foundation is excited to partner with Boys & Girls Clubs of America, Playworks and Special Olympics USA to engage audiences and raise awareness about these organizations through a fun and entertaining game challenge."
The 2019 #SpreadCheer Challenge participants are:
Boys & Girls Clubs of America: For more than 150 years, Boys & Girls Clubs of America has provided kids and teens with a safe, affordable place during critical out-of-school time. Boys & Girls Clubs offer life-changing programs to all youth across America, including youth on native lands and on U.S. military installations worldwide.
Playworks: Playworks is the leading national nonprofit leveraging the power of play to provide schools with support to quickly transform their culture into one of inclusion - where every child has the opportunity to be physically active, feel safe, and returns to class ready to learn. Playworks supports more than 1.25 million kids in 2,500 schools during recess and after school.
Special Olympics USA: Special Olympics is a global inclusion movement using sport, health, education and leadership programs every day around the world to end discrimination against and empower people with intellectual disabilities. Founded in 1968, the Special Olympics movement has grown to more than 6 million athletes and Unified Sports partners in over 190 countries. Special Olympics USA is the national team that represents the United States at the Special Olympics World Games, when the world transcends the boundaries of geography, nationality, political philosophy, gender, age, culture and religion. Alternating between summer and winter Games every 2 years, this event is the flagship event of the Special Olympics movement.
Over the past 10 years, AEG has contributed more than $120 million in direct financial and in-kind support to community and civic programs with a focus on children and youth in the areas of education, the arts and health and wellness.  To find out more about AEG 1Community and the AEG Community Foundation, click here. 
Since awarding its first grant in December 2018, the AEG Community Foundation has awarded nearly $1.2 million in grants to 75 nonprofit organizations in more than 20 cities throughout the United States.
ABOUT AEG
Headquartered in Los Angeles, California, AEG is the world's leading sports and live entertainment company. The company operates in the following business segments: Facilities, which through its affiliation with ASM Global, owns, manages or consults with more than 300 preeminent arenas, stadiums, convention centers and performing arts venues around the world; Music through AEG Presents, which is dedicated to all aspects of live contemporary music performances, including producing and promoting global and regional concert tours, music and special events and world-renowned festivals such as the Coachella Valley Music and Arts Festival; Real Estate, which develops world-class venues, as well as major sports and entertainment districts like STAPLES Center and L.A. LIVE, Mercedes Platz in Berlin and The O2 in London; Sports, as the world's largest operator of high-profile sporting events and sports franchises including the LA Kings, LA Galaxy and Eisbären Berlin; and Global Partnerships, which oversees worldwide sales and servicing of sponsorships including naming rights, premium seating and other strategic partnerships. Through its worldwide network of venues, portfolio of powerful sports and music brands and its integrated entertainment districts, AEG entertains more than 160 million guests annually. More information about AEG can be found at www.aegworldwide.com.
Media Contact
Allegra Batista
AEG
213.763.7738
abatista@aegworldwide.com 
More From AEG
Monday, June 29, 2020 - 1:45pm
Friday, June 26, 2020 - 4:30pm