2018 Pharma Innovation Awards
2018 Pharma Innovation Awards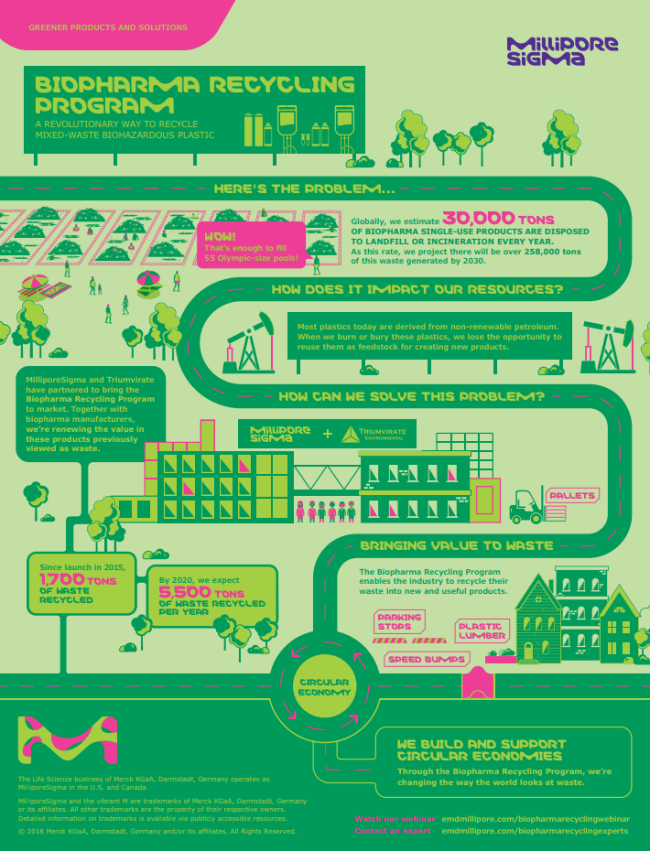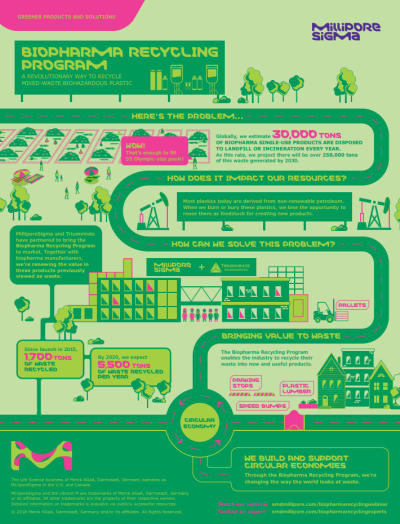 tweet me:
.@MilliporeSigma is taking big steps toward #smallerfootprints w/ @Triumvirate and changing the way the world looks at #waste w/ #Biopharma #Recycling Program. @PharmaMfg recently named @MilliporeSigma as a finalist for the #Innovation Awards http://bit.ly/2ODf701
Wednesday, August 15, 2018 - 11:10am
Wrapping up our bioprocessing category is MilliporeSigma's Biopharma Product Recycling Program. The increase in single-use plastics waste is pushing biopharma manufacturers to address the environmental impact of currently utilized methods of disposal, such as landfilling and incineration, and question whether there is a better option.
In an exclusive partnership with Triumvirate Environmental, MilliporeSigma has developed this better option — a program that enables bioprocess manufacturing customers to fully recycle plastic single-use and disposable products, including bio-hazardous classified material, without requiring segregation or disassembly.
MilliporeSigma is the only company that has partnered with a waste management company to address these unique and challenging disposal issues that come with single-use products.
More From MilliporeSigma
Wednesday, March 11, 2020 - 1:30pm
Tuesday, February 18, 2020 - 9:45am
Thursday, February 13, 2020 - 10:45am