Wireless in the Wild
Wireless in the Wild
A look at our ever-evolving digital landscape
Multimedia from this Release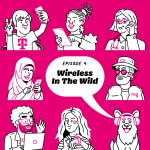 Tuesday, July 12, 2022 - 11:00am
Just a couple short years ago, had someone said they were going "wireless in the wild," one may have conjured images of a free soloist climbing an intimidating rock wall without so much as a rope, her hands being her only protective equipment. But flash forward a couple years, and more than a few leaps in wireless network availability, and the phrase very literally means that mobile-minded hikers can often just as reliably count on their smartphone as an outback safety essential as they would a trusty pair of boots or a pocket knife. On this episode of Mobile Diaries, Shawna and Jason are joined by Jay Christianson, a Search and Rescue member for El Paso County in Colorado, to talk about how mobile technology really has helped many connect with nature via the latest connectivity capabilities, even in the remotest of regions. The outdoors safety expert offers tips on how you too — from essential mapping apps to geotagging social media shots — can use your device to heed the call of the wild.
GUEST BIO
"Jay Christianson has been a member of El Paso County Search and Rescue (EPCSAR) since 2018. Starting from a background as an avid outdoorsman, especially in winter mountaineering, the transition to a Mountain Rescue Association-accredited team was a natural progression for him after arriving in Colorado Springs.
Jay is an MRA level-Rescue Member, on-duty coordinator, and the current Vice President of the team. He is also a Pikes Peak Region Type III Incident Management Team member. Additionally, he is one of eight K9 handlers on the team. He and his dog Saxby, a Fox Red Labrador Retriever, are certified in wilderness area search, human remains work, evidence searches, and have had multiple successful finds.
Outside of his volunteer time for SAR, Jay and his wife own a business coaching and consulting company, working primarily with wineries and other small direct-to-consumer businesses. Previously, he was the owner and winemaker of one of Colorado's pioneering wineries, Canyon Wind Cellars."