Webinar: Using ESG Ratings and Disclosure to Your Advantage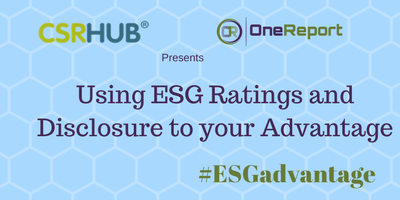 As previously seen on CSRHub.com
Join us for a new webinar, 
Using ESG Ratings and Disclosure to your Advantage, co-hosted by Janice Warren, President of OneReport, Inc. and Cynthia Figge, CEO of CSRHub.
Wed, Oct 4, 2017 2:00 PM – 3:00 PM EDT
Register for the webinar here.
During this lively and informative session, we will discuss Environmental, Social, and Governance (ESG) factors that are recognized as relevant for assessing corporate performance, risk, and value, in addition to the societal and environmental impacts themselves. Yet, investor relations and corporate responsibility practitioners often have a love/hate relationship with the corporate responsibility (CR) and ESG or sustainable and responsible investments (SRI) raters and frameworks that have helped identify and shape these metrics. This webinar helps untangle the what, the why, and the "how-tos" of tackling ratings and disclosure.
In this webinar, we will focus on 2017 challenges and opportunities including:
ESG landscape shift and the new business case
 
Materiality – Identifying and tracking the metrics that matter most
 
Internal stakeholders and process: challenges and opportunities
 
Navigating the road ahead: ESG ratings and reporting pitfalls, perception, and performance
 
Who should attend:
Those involved in developing or managing a corporate or ESG strategy
 
Corporate Responsibility (CR) and sustainability practitioners
 
Investor relations
 
Corporate communications, corporate affairs, and public affairs
 
Leads for ESG disclosure, reporting, and framework/ratings response management
Register for the webinar here.
If you have any questions on how this topic can be of value to your company, please contact us here.
Cynthia Figge is a forerunner and thought leader in the corporate sustainability movement who co-founded EKOS International in 1996, one of the first consultancies integrating sustainability and corporate strategy. Cynthia is CEO and Cofounder of CSRHub. Cynthia has worked with major organizations including BNSF, Boeing, Coca-Cola, Dow Jones, and REI to help craft sustainability strategy integrated with business. She was an Officer of LIN Broadcasting/McCaw Cellular leading new services development, and started a new "Greenfield" mill with Weyerhaeuser. She serves as Advisor to media and technology companies, and served as President of the Board of Sustainable Seattle. Cynthia has an MBA from Harvard Business School. Cynthia is based in the Seattle area.
Janice Warren is President of OneReport, an innovative provider of corporate responsibility (CR) software for information management, reporting, and publishing. She and her firm help companies navigate leading investment research organizations and environmental, social and governance (ESG) frameworks and address evolving ESG metrics for raters, investors, and stakeholders. Previously, Janice managed investor relations and corporate communications for a specialty materials manufacturer, where she handled responses to ESG questionnaires, external reporting and communications.  Janice is a long-standing National Investor Relations Institute (NIRI) member and has served on the board of the NIRI Boston Chapter.  Her involvement with responsible investment and corporate responsibility began as an undergraduate student at Bowdoin College.  Janice holds an MBA from Northwestern University's Kellogg School. View more information on OneReport.