Sustainable Brands Prioritizes the Importance of Measuring the ROI of Sustainable Business
SAP, Lyft, Danone and others confirmed to speak at New Metrics 2018 Conference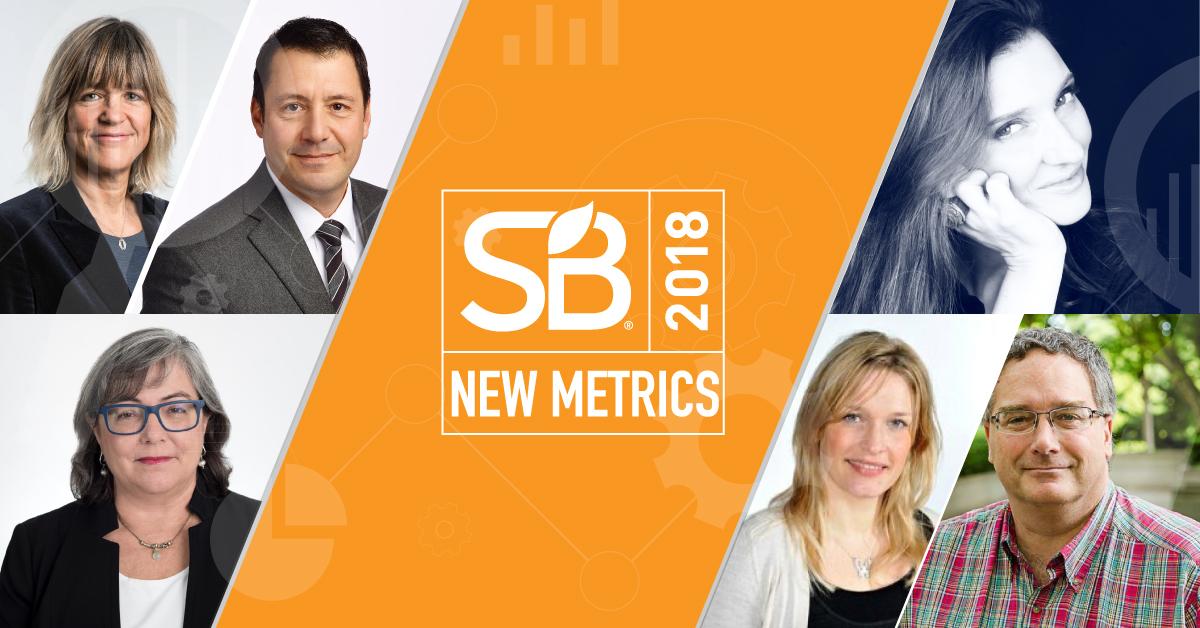 Sustainable Brands® recently unveiled full program details for New Metrics 2018: The ROI of Sustainable Business, running October 29-31 in Philadelphia, PA.
*/
SAN FRANCISCO, August 9, 2018 – Sustainable Brands® recently unveiled full program details for New Metrics 2018: The ROI of Sustainable Business, running October 29-31 in Philadelphia, PA. Gathering together a unique combination of more than 400 business leaders from financial, sustainability and marketing backgrounds, New Metrics '18 will explore how cutting-edge brands are identifying and quantifying new forms of business value through sustainable and social innovation.
Programming will take place on the mainstage, in sponsored lunch plenaries, in breakout sessions, and at collaborative roundtable discussions each day. Content will cover 4 tracks: value in finance & investing, value in product & service innovation, value in strategy & operations and value in marketing & communications.    
Over 100 speakers from leading brands and organizations will share case studies and novel frameworks for incorporating environmental and social value into the core of a business. Highlights of the full program include: 
Joey Bergstein, CEO of Seventh Generation, divulges why and how sustainable living brands outperform others in growth and profitability.
Rachel Wilson, Senior Vice President of Finance at Iron Mountain, reveals how sustainability and finance can be powerful allies and achieve win-win results when they combine forces.
Gwen Migita, Social Impact and Inclusion VP at Caesars Entertainment Corp., Alison Dasilva, Executive Vice President at Cone Communications and Annie Longsworth, Executive Managing Director at RFB|Siren, discuss how to navigate risks and take stands in the era of the purpose-driven corporation.
Bob Laux, North American Lead at International Integrated Reporting Council (IIRC), Alyson Genovese, Head of North America at Global Reporting Initiative (GRI), David Post, Director of Research at SASB, Bill Baue, Co-Founder at Reporting 3.0, and other leaders present the latest developments and trends in sustainability reporting.
William Theisen, CEO of EcoAct North America, provides insight from soon to be released, Dow Jones 30 Report, the latest edition to EcoAct's annual Sustainability Reporting Performance, examining the extent and quality of carbon and sustainability measurement, reporting and reduction by some of the largest companies in the US.
Katherine Hand, Global Head of Strategic Communications, Sustainability and Social Innovation at Hewlett-Packard, explores new research and a framework for thinking strategically about the value created by the circular-digital product transformation.
Libby Bernick, Managing Director, Global Head of Corporate Business at Trucost, part of S&P Dow Jones Indices, shares insights gained from incorporating future carbon price risks into the S&P Dow Jones Index Series.
"This year's New Metrics program will cover critical developments in the sustainability metrics space, offering a great glimpse into the future of multi-capital performance, accounting and reporting," says Dimitar Vlahov, Director of Content Development at Sustainable Brands. "In addition, the event will also dive into a number of other timely topics, such as risks and opportunities in taking a stand on hot-button social issues, understanding the emerging science of well-being, and monetizing the SDGs by translating them into win-win solutions and consumer engagement tactics, to name a few."
For further conference program information and a list of confirmed speakers, please visit the conference website at www.NewMetrics18.com or download the full conference brochure.
Proud supporters of this event include Premier sponsors Rubicon Global and EcoAct, Major sponsor Innate Motion, and Supporting sponsor FigBytes. Additional partners include AICPA, Wharton IGEL, SustainAbility, South Pole, Terracycle, Bonneville Environmental Foundation, and G&A Institute.
Sponsorship opportunities are still available for companies seeking to showcase their initiatives to drive business value through environmental and social impact. For more information, please email engage@sustainablebrands.com or call 415.626.2212.
About Sustainable Brands
Sustainable Brands® is the premier global community of brand innovators who are shaping the future of commerce worldwide. Since 2006, our mission has been to inspire, engage and equip today's business and brand leaders to prosper for the near and long term by leading the way to a better future. Digitally published news articles and issues-focused conversation topics, internationally known conferences and regional events, a robust e-learning library and peer-to-peer membership groups all facilitate community learning and engagement throughout the year. Sustainable Brands is hosted by Sustainable Brands Worldwide, a division of Sustainable Life Media headquartered in San Francisco, CA.