STEM for Girls: Shaping Women's Education and Careers in India
By Jasbir Kaur and Neha Parti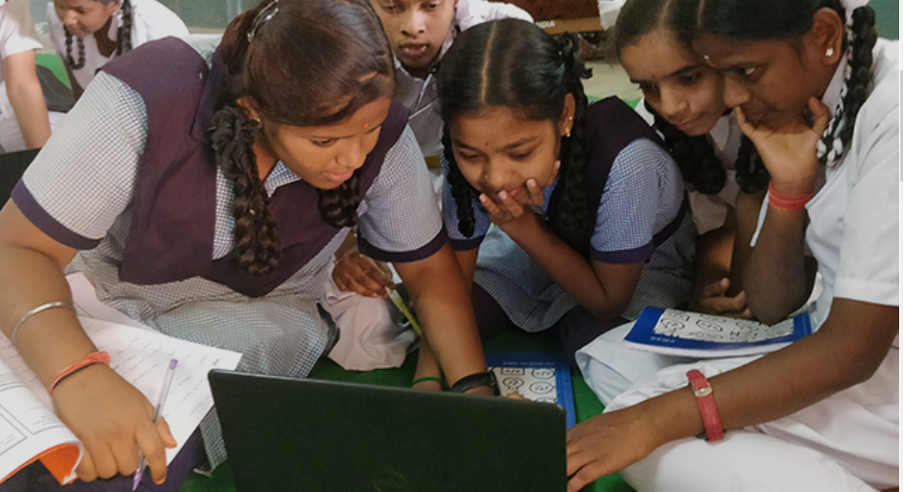 It is well understood that Science, Technology, Engineering and Math (STEM) skills are critical to enhance employability across industries in India and around the world. The country's National Science Foundation predicts that 80 percent of jobs in the next decade will require STEM skills, and IBM estimates that STEM careers will offer 24 percent higher pay and longevity in the future.
What a great opportunity, or so it would seem. In reality, women make up about 50% of STEM graduates but only 34% of the workforce in India's information technology industry highlighting a gap between women's education and careers.
A recent study by IBM STEM for Girls and Quest Alliance, found that most young, educated girls in India have high aspirations to get into STEM careers like medicine, engineering, agriculture, and scientific research. However, converting their aspirations into actual career pathways poses a challenge due to societal stereotypes and family pressure (23%), lack of organizational support (19%), and the difference in abilities (10%).
As the leaders of STEM for Girls, we find ourselves thinking about how we can empower our girls in India for the careers of the future – especially today on International Women's Day.  More opportunity for our girls is not just good for India, but also for the world.  An estimated 18 millionIndians are living (and working) abroad, making India the largest diaspora in the world.
STEM for Girls is an initiative launched in India by IBM in 2019 to improve education and career pathways for girls in government high schools.  Our vision is to prepare over 200,000 high school girls here in India, across multiple states, through a 3-year program to pursue and understand their potential in STEM careers.
IBM has joined forces with partners Quest Alliance and American Indian Foundation Trust to take this program to government schools in select cities. In the last two years, IBM has reached over 140,000 students through 1,200 schools.
The STEM mindset: Empowering our girls
Through this experience, we've seen the emergence of a vital mindset necessary for success. STEM subjects are often inter-linked and need to be learnt holistically. The curriculums of mainstream educational organizations are yet to incorporate professional skills training as a priority and often teach subjects in a siloed manner. It results in a significant skills gap among the youth, which can be addressed by cultivating a STEM mindset among students.
A STEM mindset has its roots in scientific temperament, marked by a nuanced understanding of the subjects, and their application in everyday life. It's a mindset that drives students to become change makers, steering social development. Cultivating a STEM mindset is about becoming critical thinkers, problem solvers, experimenting, and challenging the status quo using technology as a tool.
It's important that a STEM mindset is instilled among students, especially girls, at a very early stage in the education system to dispel biases. There's a strong need for cultivating STEM skills and mindset among girls to ensure gender parity.
Enabling success with STEM
An exploration of the current education system shows that life skills like problem solving, critical thinking, and entrepreneurship could be better incorporated in school curriculums – by offering practical hands-on work to develop conceptual understanding and problem-solving approaches rather than blindly following trends like coding languages.
The industry also needs to support and enable this change by acknowledging the need for a STEM mindset and collaborating with academia to develop skills-based curriculum and experiential learning based courses.
Through our partnerships with Quest Alliance and American Indian Foundation Trust, we seek to do just that.  STEM for Girls offers agency building, life skills, career counseling and mentoring to instill the value of lifelong learning and expand opportunities for workplace success.
We have seen girls amplify their understanding and start to develop necessary negotiating skills, which will be useful in advocating for themselves. We have seen these amazing students dream big and grow their skills for the jobs of tomorrow.  There is much more work ahead but by fomenting a STEM mindset and expanding possibility, we hope to shape the education and careers of women, by starting with our girls.
Jasbir Kaur leads the STEM for Girls initiative for IBM.  Neha Parti is an Associate Director with Quest Alliance, which is a key STEM for Girls partner across India in Punjab, Haryana, Rajasthan, Uttarakhand, Gujarat, Odisha, Assam, Bihar, Telangana, Andhra Pradesh, and Karnataka.
IBM's STEM for Girls program seeks to inspire the next generation of  girls to embrace STEM. Leveraging an ecosystem of partners, we collaborate through engaging programs, learning platforms and role modeling to encourage girls to explore careers in Science, Technology, Engineering and Mathematics (STEM).  The program is active in India, Canada, Taiwan and South Korea.