Spence-Chapin Services to Families and Children Announces Legacy Addition to Its Board of Directors
Martha Ulman, Grandchild of Clara Spence, Joins Board of Adoption & Family Support Agency as Honorary Director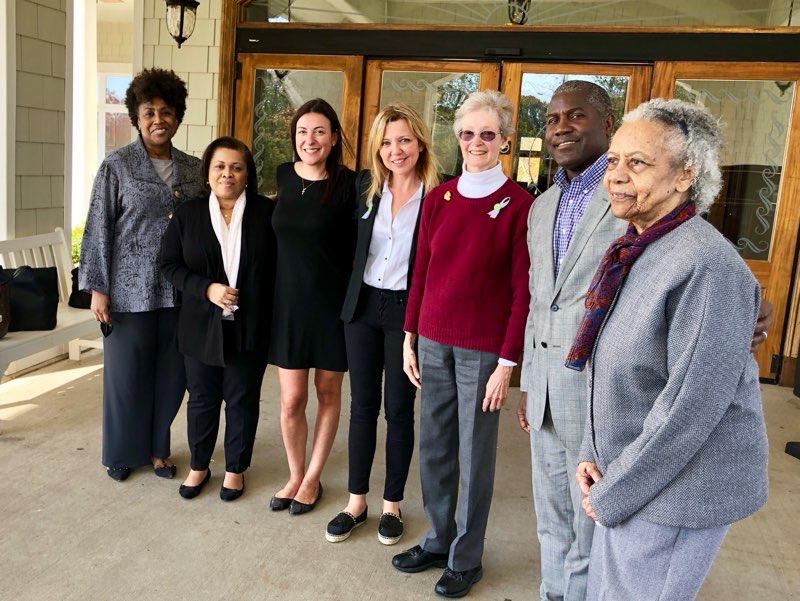 Martha Ulman, 3rd from right, with Spence-Chapin Leadership Team, including CEO, Kate Trambitskaya, 4th from right, and Board Chair, Ian Rowe, 2nd from right.
NEW YORK, June 17, 2021 /3BL Media/ - Spence-Chapin Services to Families and Children (Spence-Chapin) announced the addition of Martha Ulman, the grandchild of Clara Spence, Spence-Chapin's Co-Founder and Spence School in Manhattan Founder, as an Honorary Director to its Board of Directors. Spence-Chapin is honored to have Mrs. Ulman join their illustrious team of emeritus directors.
"It is wonderful to formalize our long-standing and important partnership with Mrs. Ulman in this way. Her relation to Clara Spence and knowledge of the roots of our organization provide unique and special opportunities for collaboration, and we look forward to working together to further our mission," stated Kate Trambitskaya, Spence-Chapin Chief Executive Officer.
Mrs. Ulman began her career working for the Fulbright Program at the Institute for International Education after graduating from Wheaton College in Massachusetts in 1959. She served as President of Raynham Hall Museum in Oyster Bay for five years and later became Development Chairman and headed the Strategic Planning Committee for Reaccreditation by the American Museum Association. At the same time, she earned her master's degree in History from Long Island University in 2008. Currently a resident of Greenport, NY, Mrs. Ulman has served on the Board of the Lifetime Learning Association and initiated an annual grant for an extracurricular program for pre-kindergarteners at a local school there. Mrs. Ulman is also a Spence-Chapin Adoptive Parent, who adopted her daughter in 1973. Mrs. Ulman's mother was adopted by Clara Spence in 1909.
An expert on the topic of Clara Spence and her legacy, Mrs. Ulman has written, "Clara Spence not only managed to make adoption an accepted practice, but one that became the method of choice for hundreds of families. It was largely because of her work and influence that New York became recognized as a leader in child welfare reform and adoption in particular."
Clara Spence was a noted philanthropist at the turn of the 20th century who made her mark by serving children in New York City. At a time where adoption was not a globally accepted practice, Ms. Spence established a nursery out of concern for homeless infants abandoned in hospitals and shelters and adopted four children with her partner Charlotte Baker. In 1940, the Spence Nursery merged with another nursery in Manhattan, founded by Dr. Henry and Alice Chapin, and Spence-Chapin Services to Families and Children was formed.
Spence-Chapin continues their important work through its programs and services to children, women, and families, through the guidance and support of its Board of Directors.
About Spence-Chapin
Spence-Chapin has been offering exceptional adoption and family services for more than 100 years. The organization helps find loving families for children whatever their needs or circumstances, and provides counseling and support for all children and the families to whom they have been born or entrusted. Spence-Chapin's roots were established in the early 1900s with the pioneering work of Ms. Clara Spence and Dr. and Mrs. Henry Chapin, who created nurseries for infants abandoned on the streets of New York City, led humanitarian efforts, and created families for children of all abilities through adoption. Spence-Chapin has since expanded to include other comprehensive, award-winning support programs and has served more than 25,000 children, women, and families through domestic, international and special needs adoption, post-adoption support, and humanitarian aid programs such as the International Granny Program. Find out more at spence-chapin.org.
###