Saying "Thank You" Through Action. How We Provide Veterans The Post-Military Careers They Deserve.
By Troy Vandenberg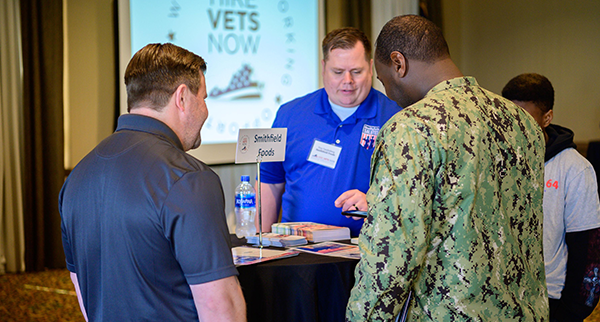 Originally published on LinkedIn
Many military veterans find themselves in uncharted territory once they begin to transition out of service. A 2012 study conducted by Prudential Financial, Inc., revealed that nearly half of post-9/11 veterans say they are unprepared for the move to the civilian workforce, citing the greatest challenge as finding a job. They often struggle for long periods of time to find a new career path—sometimes going back to school to earn a traditional or vocational degree.  
There are an estimated 200,000 service members exiting the U.S. military annually, and post-career service placement has become a critical issue for each of them. Many companies are eager to hire veterans due to the many benefits their military service brings to a business environment, but often find it challenging to transition an individual's unique military skill set into an applicable position within the company.
As a Navy veteran, I understand these challenges. In my role today as a civilian and military talent acquisition manager, I've witnessed many servicemen and women achieve successful post-military careers at Smithfield and in various industries. This is not by chance, but by intentional design. 
Veterans are a valuable asset to any workforce with their strong work ethic, leadership skills, sense of purpose, and ability to adapt. I am proud that Smithfield has recognized the increasingly vital role that our over 1,800 veterans play in our workforce and our initiative Operation 4000! which is our company goal to employ 4,000 veterans, 10% of our U.S. workforce, by the end of 2020. Achieving this goal requires robust recruitment efforts and, just as importantly, intentional efforts to retain these veteran new hires.
We've created purposeful programs that support service members during their transition into civilian life and we've also created programs to keep them engaged once they begin their career at Smithfield.
I've been involved in a variety of military recruitment and development efforts, but what's most important is that we encourage other companies to do the same for our nation's veterans.
I want to share some insight into the programs and initiatives that we've developed where our veterans have truly succeeded in finding their place after military service: 
Smithfield Salutes
This is our veteran employee business resource group at Smithfield that supports military personnel as they transition out of active service. This group is made up of both veterans and other Smithfield employees who are actively involved in supporting our military. This group aids and embraces incoming military service members as they transition into careers at Smithfield and is a continuous resource throughout an employee's career at the company. This group also volunteers in numerous capacities, helping support veterans in need across our local communities.
Military Fellowship Program
This program aims to prepare veterans entering the Smithfield workforce for leadership opportunities. The Military Fellowship program offers an 18-month rotational leadership development curriculum for first-rate, recently transitioned military leaders. As the new year approaches, we encourage veteran job seekers to consider this fellowship program that introduces these individuals into a variety of skilled careers at Smithfield.
Military Supervisor-In-Training Program
This 52-week training program also supports leadership development for veterans working at Smithfield. This program is geared toward giving junior military leaders, E-4 and above, operational training to equip them with the skills needed to become an effective leader in manufacturing. Upon completion of this program, individuals are eligible for promotions into full-time production supervisor roles at over 40 locations nationwide.
As a veteran, I'm proud of Smithfield's long history of supporting veterans and military families through volunteerism, food donations, and philanthropic partnerships. There has been a conscious effort to commit substantial resources toward veteran recruitment, engagement, and career development with the intention to make a difference for veterans in their post-military career—and it's been successful.
As Veterans Day approaches, I want to challenge employers to say thank you through action and to make an impact where it really counts—supporting those who have served and sacrificed for our freedom, and rewarding our veteran community with fulfilling, lifelong careers.
As a proud veteran employer, we're always looking to expand our military workforce and encourage individuals that are interested in producing good food in a responsible way to learn more at smithfieldfoods.com/veterans.