The Rise of Employee Engagement Through Social Action
The Rise of Employee Engagement Through Social Action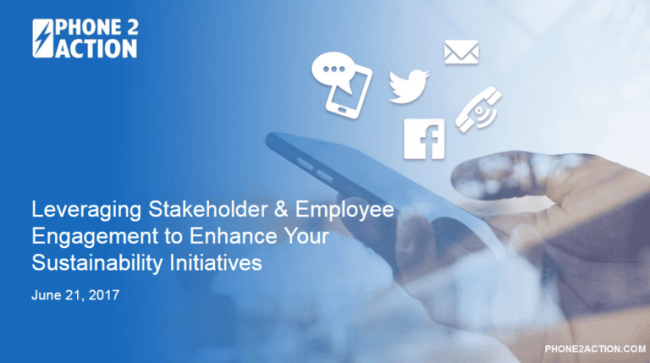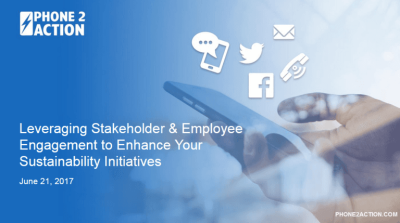 Friday, July 21, 2017 - 8:05am
​Companies are under increasing pressure from stakeholders to demonstrate their commitment to social and environmental initiatives. Whether it's providing shelter or meals for homeless families, increasing funding for educational programs or lobbying for change in Washington about issues that affect their businesses, consumers, clients and investors want to know that the companies they invest in aren't afraid to engage in social initiatives.
According to a recent survey by the Public Affairs Council, 60 percent of corporate respondents said their stakeholders expect the company to engage socially in their communities. More than 70 percent of those respondents also said they expect that demand from stakeholders to increase, not decrease, in the coming years.
That's because social programs are also helping to drive consumer behavior. According to the survey, a growing number of consumers are willing to switch to brands that are aligned with a social message. 55 percent of consumers said they would pay more for a product or service that has a positive social or environmental impact.
That momentum is fertile ground for companies looking for ways to increase their sustainability initiatives, said Jeb Ory, CEO and founder of Phone2Action. Ory was one of several experts on hand to offer tips during Corporate Responsibility Association's June Innovation webinar, which looked at ways that companies can leverage that momentum to increase their own sustainability commitments.
The webinar was hosted by Corporate Responsibility Association CEO Dave Armon and included input from Stephanie Klein, Engagement Manager for Phone2Action, a digital advocacy firm, and Lindsay Dahl, vice president of community affairs at Beautycounter, a sustainable skincare company.
Social engagement that motivates employees
One common way to build engagement is to develop social initiatives that engage employees and promote social activism.
For example, JetBlue's employee engagement programs, which encourages employees to create and support local advocacy initiatives, Deloitte's nation-wide Impact Day, which harnesses the enthusiasm of more than 20,000 volunteers on a single day and Community Solutions' revitalization of low-income neighborhoods are some of the recent examples of this approach. So is Whirlpool's partnership with Habitat for Humanity, (covered last month by 3BL Media), which helps ensure that low-income families not only have dependable, safe houses, but the appliances needed in today's homes.
Reengineering today's businesses
Reengineering the way you run your business also speaks volumes to customers, clients and investors about your sustainability initiatives said Stephanie Klein. Adopting sustainable business practices through cleaner energy use, smart recycling methods, resource management and green purchasing choices tell stakeholders that you're in for the long haul when it comes to building a sustainable, environmentally friendly operation.
According to Klein, 68 percent of Americans say they want to do business with companies that have environmental commitments. That's good news for companies, since green business practices have been shown to not only protect environmental resources, but save money.
Lastly, Klein noted, environmentally supportive brands get attention. A former employee of Energy Star, Klein said the organization's household-name logo made it easy to encourage companies to do business with them, especially when they knew that consumers trusted that logo and wanted it in their homes.
Phone2Action: Harnessing technology for good
New technology is making it easier than ever for companies to promote their social campaigns. Companies like Phone2Action, which markets software for company advocacy campaigns have realized that the place to engage stakeholders isn't on the phone or on email, but on the internet, where today's consumers spend the majority of their time.
For Patagonia, that shift in thinking made sense, said Ory. After the Trump administration announced that it was considering delisting Bear's Ears National Monument in Utah (which was established as a national protected area during the Obama administration), Patagonia hired Phone2Action to help tailor an online advocacy campaign that would allow individuals to submit comments to the government. By using Phone2Action's software, the company was able to embed a form on its website that would connect hundreds of thousands of consumers directly with lawmakers in Washington within minutes. In the end, more than 35,000 messages were sent to Secretary of Interior Ryan Zinke just from Patagonia's efforts. Ory pointed out that the technology they used also allowed them to track responses, making it easier to see the true impact of their efforts.
Beautycounter's 'March Forth' campaign
Social advocacy is also a key issue for the personal care product company Beautycounter, said Lindsay Dahl, who spearheads social engagement initiatives at the company. The company believes that part of being a responsible beauty product manufacturer is making sure there are good laws on the books to protect consumers. For Gregg Renfrew, Beautycounter's founder, said Dahl, it's part of the company's mission "to get safer beauty products into the hands of everyone." Dahl pointed out that beauty product industry is actually one of the least regulated in the country.
"The last time the federal government signed a law regulating beauty products was in 1938," said Dahl. So in Renfrew's view, the "root of the problem of the kind of broken industry we were in was the broken federal regulatory system" when it came to cosmetic manufacturing.
To address that, each March 4th (the company's official anniversary), Beautycounter is transformed into a powerhouse of legislative effort. Company employees write letters, make phone calls, and actively publicize the company's mission. Consumers are educated and encouraged to text their support for better laws. Beautycounter consultants make visits to their congressional representatives and explain the need for better legislation.
It's a "multi-targeted approach" that like Patagonia's online advocacy is not only is getting attention in Washington, but appeals company's stakeholders.
As technology improves, the ability for companies to reach out to consumers and make a difference in issues they really care about will also grow. It's a transformation that speak to what today's consumers value most: good products that have the ability to make a social and environmental difference.
To gain practical skills to boost stakeholder and employee engagement, join us at the COMMIT!Forum in DC October 11-12, 2017
Jan Lee is a former news editor and award-winning editorial writer whose non-fiction and fiction have been published in the U.S., Canada, Mexico, the U.K. and Australia. Her articles and posts can be found on TriplePundit, JustMeans, and her blog, The Multicultural Jew, as well as other publications. She currently splits her residence between the city of Vancouver, British Columbia and the rural farmlands of Idaho.