Regions' Top 10 of 2021
Throughout 2021, Regions Bank and the Regions Foundation reached new heights in serving others.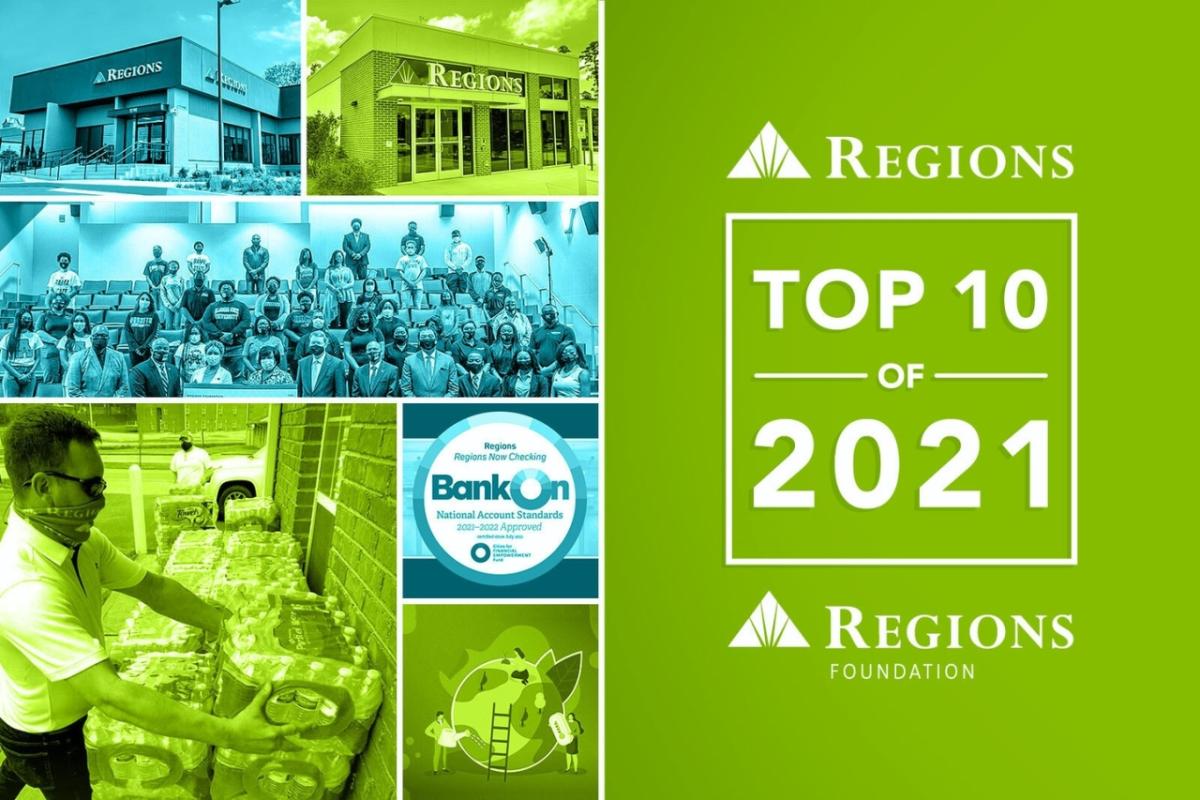 At Regions Bank, incredible accomplishments took place throughout 2021 in terms of business growth, community engagement, product development, and more.  At the same time, the Regions Foundation made further progress in uplifting communities, creating more inclusive prosperity, and removing barriers to success.
As 2022 begins, Doing More Today looks back on 10 of Regions Bank's and the Regions Foundation's most important announcements from 2021.
How could we choose only 10? It was really tough. Both the bank and the foundation, which is a nonprofit organization funded primarily by Regions Bank, accomplished so much all year. So the 10 announcements compiled below reflect more than these individual stories. Rather, they are representative of the much broader, deeply impactful ways teams from Regions Bank and the Regions Foundation are making a real and valuable difference.
Please see below, and accept our best wishes for a happy new year and a prosperous 2022.
Building Growth through Specialty Capabilities, Bolt-On Acquisitions Acquisitions
Doing More Today – June 8, 2021
Regions Bank's strategic plan includes identifying areas where the company can expand its specialty capabilities to offer more solutions to existing customers – while reaching new clients that are drawn to additional products and services the bank can now deliver. This is reflected through Regions' non-bank, or "bolt-on," acquisition strategy. The first of three recent examples is the news release linked above, when Regions Bank announced its agreement to acquire home improvement point-of-sale lender EnerBank. This news was later followed by the acquisition of Sabal Capital Partners and an agreement to acquire Clearsight Advisors. By incorporating these additional teams and their years of experience and insights, Regions Bank is well positioned to build on its growth in 2022 and beyond.
Standing Strong with the Communities we Serve
Doing More Today – March 30, 2021
People and businesses across the Regions Bank footprint experienced natural disasters that will forever change certain communities. Consider the December tornadoes in the Mid-South and Midwest, the devastating flood that ravaged portions of Western Tennessee, Hurricane Ida, and the March tornadoes near Birmingham. After each disaster, announcements and stories like the one linked above were quickly shared to reflect how Regions Bank and the Regions Foundation are committed to helping communities recover. The approach is not only to provide initial announcements about storm recovery and then move on. Rather, Regions Bank and the Regions Foundation follow up with community engagement examples, articles, and videos showing their commitments being put into action. Because Regions Bank and the Regions Foundation are here to serve people at all times, even – and especially – the really difficult times.
No One Serves These Markets Like Regions Bank …
Doing More Today – Aug. 17, 2021
A strong example of building back better – and making new investments in a core market – can be found in Nashville, Tennessee. The bank has had a strong presence in the North Nashville neighborhood for many years. When a tornado destroyed its North Nashville branch in 2020, Regions was determined to continue its long-term commitment. In 2021, it was headline news when elected leaders, community partners, and longtime neighbors joined Regions as the bank unveiled its rebuilt North Nashville location. The new facility reflects Regions' modern branch-design strategies while delivering personalized services from bankers who know the needs of the people and businesses they serve.
… And These Markets are Growing – Fast
Doing More Today – May 18, 2021
Population and business growth are happening in states around Regions' footprint. That means Regions Bank is positioned to reach more customers by introducing its brand and superior service to prospective clients. The announcement linked above is one of many publicized in 2021 as Regions optimized its branch network. As Houston Market Executive John Stacy shared in this example, "The Woodlands and metro Houston are significant growth markets for Regions, and the investments we are making here further illustrate our commitment to bringing greater innovation and a superior customer experience to Houston and Southeast Texas … Our local bankers are focused on tailoring services to each customer's individual banking needs while providing more modern technology that enables them to bank with us however and whenever they desire."
More Inclusive Prosperity – With More Progress to be Made
Doing More Today – Dec. 14, 2021
Just recently, Regions Bank and the Regions Foundation announced that, together, they had surpassed an important milestone. In June 2020, the bank and foundation said they would contribute a combined $12 million over two years to advance racial equity and economic empowerment for communities of color. In December 2021, Doing More Today shared how the goal was exceeded by over 20 percent – and six months ahead of schedule. If you missed the update, be sure to read the story linked above, and see the wide range of nonprofits the bank and foundation are supporting to advance six key components of their racial equity commitment.
Supporting Affordable Housing – in More Ways than One
Doing More Today – Aug. 25, 2021
Also in 2021, Regions Bank shared a series of announcements reflecting how the bank is providing financial solutions in support of more affordable housing. As Rob Chiles, president of Regions Affordable Housing explained in the announcement linked above, "Helping provide affordable housing is one of the most personal and powerful ways a bank can make a difference for the people and communities we serve." Indeed. And the above announcement isn't the only example. Regions' Community Affairs division also supports affordable housing opportunities as part of its community engagement strategy.
Innovative Solutions, Important Services for Customers
Doing More Today – Sept. 30, 2021
"We're here to meet people where they are and help them get to where they want to be in terms of reaching their financial goals," said Scott Peters, head of the Consumer Banking group for Regions Bank, when Regions announced the debut of Regions Now Checking – a checking account that combines the convenience of modern banking with no overdraft fees. "This account also complements the financial wellness and budgeting tools available to everyone for free through the Regions Next Step program and Regions.com," Peters added. "Our teams work every day to connect people with customized financial insights and guidance, and we are excited to add Regions Now Checking to our comprehensive network of services and solutions."
Financial Wellness – for all Seasons
Doing More Today – Nov. 16, 2021
Through media interviews, impactful news releases, and additional strategies, a lot of progress was made in 2021 as business groups collaborated to consistently raise the profile of the Regions Next Step suite of financial education tools. Advancing financial wellness is not just an ideal; at Regions Bank, it is part of a long-term commitment to reaching more consumers, more students, and others who can benefit from helpful context, updated insights, and effective methods of building their savings, successfully managing credit, and more. The above announcement is just one example. Look for others very soon in the year to come.
Doing More Today – May 3, 2021
Regions Bank and the Regions Foundation are longtime supporters of Historically Black Colleges and Universities (HBCUs) in several states. A series of grants in 2021 helped the bank and foundation make an even greater impact, not only at the schools themselves but also for students on an individual level. The above story is one of the most powerful examples. At Alabama State University, students were called in by university leaders to discuss balances they still owed the school before they could graduate. But during that meeting – those students learned their balances had been paid – in full – due in large part to a $250,000 grant from the Regions Foundation. Funding like this removed significant barriers for students who were able to receive their diplomas shortly afterward and begin successful careers.
Doing More Today – June 30, 2021
Regions Bank also took new steps to advance its public disclosures and reflect to community members, investors, the media, and others, how the company is addressing important topics such as climate change. In June, the bank announced the release of its first-ever Task Force on Climate-related Financial Disclosures (TCFD) Report. In addition to illustrating how Regions is addressing risks and opportunities related to climate change through its own business operations, the report showed how the bank is providing capital to advance similar efforts made by clients.
Did we miss anything in the above list? Yes – we did. Because the bank and foundation are doing so much – every day – that, frankly, we'd need a whole year just to recap every accomplishment. But there are so many more coming in 2022 that we are keeping our focus on what is yet to come – as we build on the foundation for success prepared by teams from Regions Bank and the Regions Foundation throughout 2021.
About Regions Foundation
Regions Foundation supports community investments that positively impact the communities served by Regions Bank. The Foundation engages in a grantmaking program focused on priorities including economic and community development; education and workforce readiness; and financial wellness. The Foundation is a nonprofit 501(c)(3) corporation funded primarily through contributions from Regions Bank.
About Regions Financial Corporation
Regions Financial Corporation (NYSE:RF), with $126 billion in assets, is a member of the S&P 500 Index and is one of the nation's largest full-service providers of consumer and commercial banking, wealth management, and mortgage products and services. Regions serves customers across the South, Midwest and Texas, and through its subsidiary, Regions Bank, operates approximately 1,400 banking offices and 2,000 ATMs. Regions Bank is an Equal Housing Lender and Member FDIC. Additional information about Regions and its full line of products and services can be found at www.regions.com.