Raising the Pride Flag High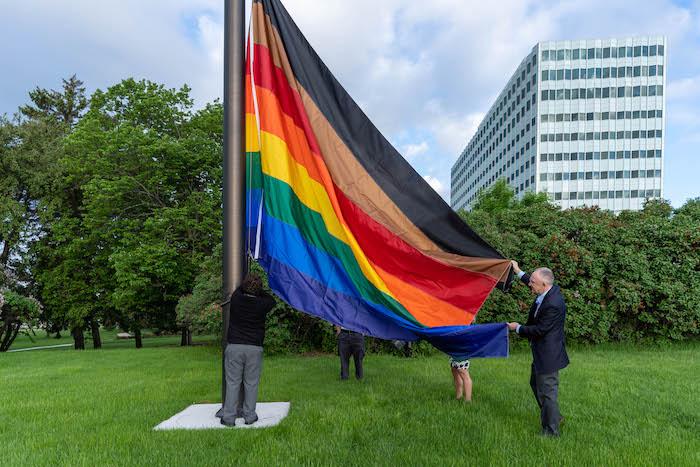 Photo: Peter Gibbons, group president of Enterprise Operations and 3M Pride executive sponsor, raising the Pride flag outside 3M Center in Maplewood, Minnesota.
Originally published on 3M News Center
To celebrate Pride Month, 3M locations around the world have raised the LGBTQ+ Pride flag.
There's something different about the Pride flag flying outside 3M headquarters in Maplewood, Minnesota. It's the Philadelphia Pride flag, which includes black and brown stripes along with the familiar rainbow.
In 2017, the Philadelphia Office of LGBT Affairs debuted this new take on the Pride flag to be more inclusive of LGBTQ+ people of color. They aimed to promote intersectionality – the idea that the many aspects of our identities are interlinked with one another – and bring awareness to the specific struggles of this segment of the LGBTQ+ community.
"Seeing the Pride flag flying lets 3Mers and our communities everywhere know that we support the LGBTQ+ community," said Laura Podgornik, 3M Pride chair. "In my eCommerce role, we talk a lot about reflecting our consumers in our products and our external content. It's the same with the Pride flag — we're telling the LGBTQ+ community that 3M supports and welcomes people who look and love like them. And the inclusion of the black and brown stripes is a nod to the activists of color who shaped Pride into what it is today."
Raising the Pride flag is just one of the ways of showing 3M's commitment to promoting a positive and open working environment for our employees.
3M has a long-standing commitment to being an Equal Opportunity Employer, offering a respectful work environment free from discrimination and harassment, and promoting individuals based on their merits, regardless of race, color, religion, sex, national origin, age, disability, veteran status, pregnancy, sexual orientation, gender identity or expression, marital status, citizen status, status with regards to public assistance, compensation disclosure or discussion, or any other protected classification.
You can join 3M's Pride Employee Network at the Twin Cities Pride Festival during the Twin Cities LGBTQ+ Pride March, Sunday, June 26. The festival will feature local BIPOC and LGBTQ+ vendors, food courts, a beer garden and music stages. The march and parade starts at 7th street and Hennepin Avenue at 11 am in downtown Minneapolis and proceeds to Loring Park.
The history and current work of 3M's Pride Employee Resource Network was recently featured in a piece by Lavender Magazine.