Peloton and the Steve Fund: Mental Health Awareness Month Panel on Community and Connectedness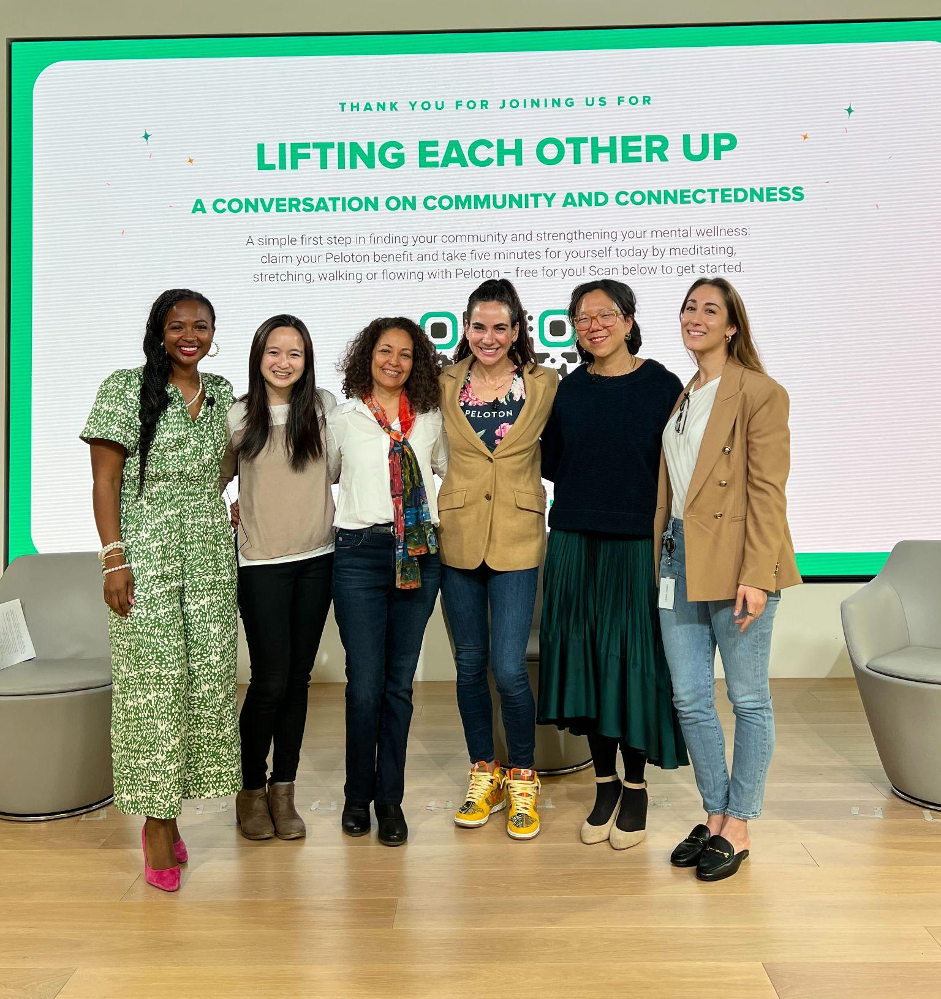 In honor of Mental Health Awareness Month, Peloton hosted a panel conversation for the Peloton Corporate Wellness Community where we discussed the importance of community and connection  when it comes to mental wellbeing. The panel featured Marcia Liu, Ph.D., Licensed Counseling Psychologist and National Advisor at the Steve Fund and Mariana Fernández, Peloton Yoga and Meditation Instructor, and was hosted by Peloton's Director of ESG - Social Impact, Alia McCants.
The Steve Fund, a Peloton Pledge partner, is the nation's leading organization focused on supporting mental health and emotional well-being for young people of color. Peloton is proud to support them as part of our mission to dismantle systemic barriers to mental health care.
During the session, our panelists shared how valuable community and connection were to their own mental wellbeing, as well as ideas on getting started, or taking the next steps, in a fitness and mental health journey.
Building community with The Steve Fund
Both Dr. Marcia and Mariana shared insights on how community and belonging have critically shaped their own mental health experiences. Dr. Marcia explained that community plays an essential role in how we live in this world and feel about ourselves:
"When we surround ourselves with people we can connect with – people we matter to, and who accept us for who we are – it's easier to feel understood and valued."
But community isn't always easy to find, especially during transitional periods like going to college or starting a new job. The Steve Fund, as Dr. Marcia explained, works to bridge this gap by partnering with colleges and universities, workplaces, and community spaces to help institutions think more intentionally about the needs of young people of color at these times. 
Prioritizing one's mental health is often a deeply personal and individual experience, and so much of it is influenced by the systems and structures in which we live and work. One innovative approach to addressing this reality from the Steve Fund is the Equity in Mental Health Framework, which helps institutions identify the needs of young people of color and strengthen their support systems.
Mariana also discussed her role as an Instructor Ambassador for the Steve Fund at Peloton. She spoke about her own experiences using her platform to break down stigmas around mental health by sharing personal stories and helping others find belonging and connection.
Carving out time to care for yourself
Our panelists both highlighted the importance of prioritizing mental health and well-being while taking time for yourself. As Dr. Marcia shared, "It's a radical act to take care of yourself." When days get busy – as they are so often do – be courageous and carve out a few personal minutes to check-in and take a breath.
Everyone's form of self-care for their mental wellbeing will be different - it could be meditating, running, swimming, contributing to a community group, or any other practice which unlocks a sense of mindfulness. And these practices may shift over time as our priorities and personalities change. It's about finding what works on a personal level. Mariana shared that her form of self-care is getting outside and into the fresh air to help clear her mind. Meanwhile, Dr. Marcia lifts her mental wellbeing by connecting with her family, even if just through a short phone call.
The panel acknowledged the pressures and expectations we're all guilty of placing on ourselves, whether that be not meditating right, not exercising enough, or not being the best parent. It becomes very easy to become critical of ourselves for not doing things perfectly, but in these moments self-compassion and self-acceptance become so important.
Learn more about Peloton's partnership with the Steve Fund by visiting the Peloton Pledge website and reading our 2022 ESG report.