Northern Trust's Commitment to Global Diversity and Inclusion Strategy and Governance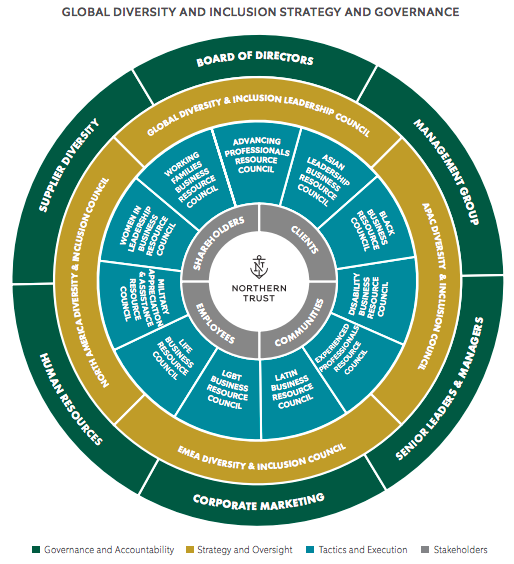 Business Resource Councils
Northern Trust believes in fostering an inclusive environment where our employees' unique mix of attributes and diversity of perspectives can serve as catalysts for innovation. To help ensure our commitments to diversity, inclusion and innovation are embedded in the fabric of our company, Northern Trust sponsors 11 business resource councils (BRCs). These councils are employeeinitiated, governed and led, and are open to all Northern Trust employees around the globe who share an affinity for the strategic mission of the group. 
Northern Trust's BRCs help foster a culture of inclusion by:
Helping employees support one another in their personal and professional growth
Providing networking and mentoring opportunities
Supplying assistance on branding strategy and business development across communities and demographic groups
Serving as liaisons to prospective and existing clients
The BRCs also play a vital role in the recruitment, retention and development of a globally diverse workforce and serve as an advocate on behalf of their constituencies, further enabling Northern Trust to be an employer of choice.