Nominations Now Being Accepted for the 2022 Responsible CEO of the Year Awards and Lifetime Achievement Award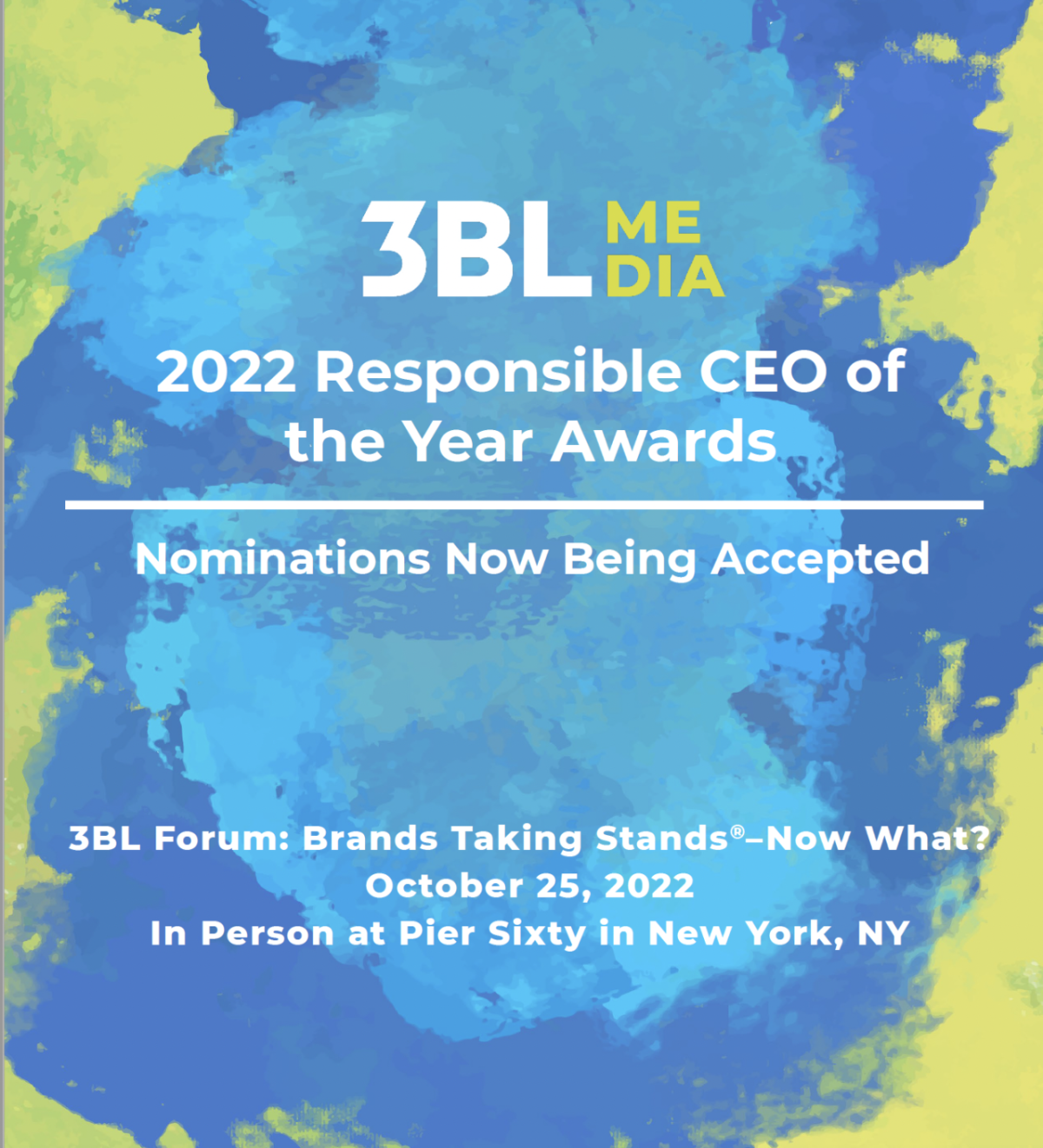 3BL Media is proud to announce that nominations are now being accepted for 2022 Responsible CEO of the Year Awards. A unique distinction in the business community, Responsible CEOs play an active and influential role in ensuring that their organizations deliver on their corporate purpose and on environmental, social, governance (ESG) commitments. Similarly, the recipient of the Lifetime Achievement Award recognizes an individual whose career-long commitment to progress led to significant achievement in the corporate responsibility field.
To nominate a CEO for Responsible CEO of the Year, download the nomination package here. Please complete the nomination form and send all materials to ResponsibleCEO@3blmedia.com by March 31. Note: There is no cost to nominate your CEO. 
The 14th Annual Responsible CEO of the Year awards will recognize CEOs who lead with purpose with a focus on ESG, sustainability and stakeholder engagement. CEOs are also recognized for their leadership in shaping their company's purpose, culture and operations while navigating the changing business environment and meeting multiple stakeholder expectations. 
Consider nominating your CEO if she or he leverages their position and ability to scale broader worldwide, regional, community impact and/or demonstrates bold leadership, moral courage, or risk to reputation in addressing an issue the CEO is firmly committed to.
All awardees are nominated by members of the ESG community and selected by an independent panel of a number of past recipients of the Responsible CEO of the Year Awards and other recognized leaders. Finalists will be notified by June 30, 2022.
See the full list of past award recipients here. 
Awardees will be honored at luncheon during the 3BL Forum: Brands Taking Stands® – Now What? on October 25, 2022 at Pier Sixty in New York.