New Benefits for Remote Workers Linked to Better Workplaces [Survey]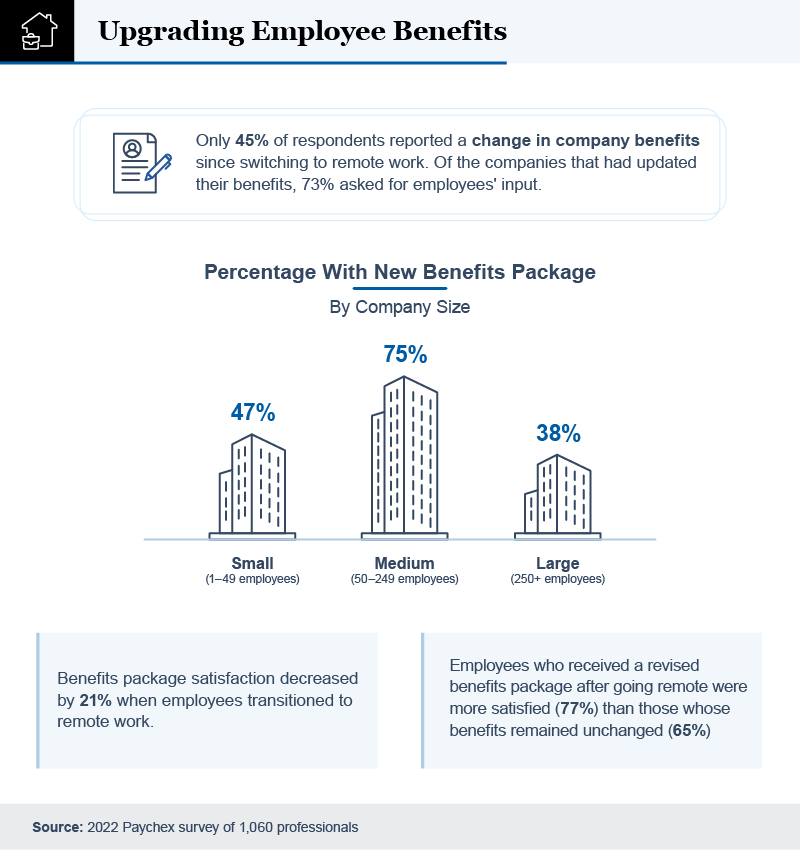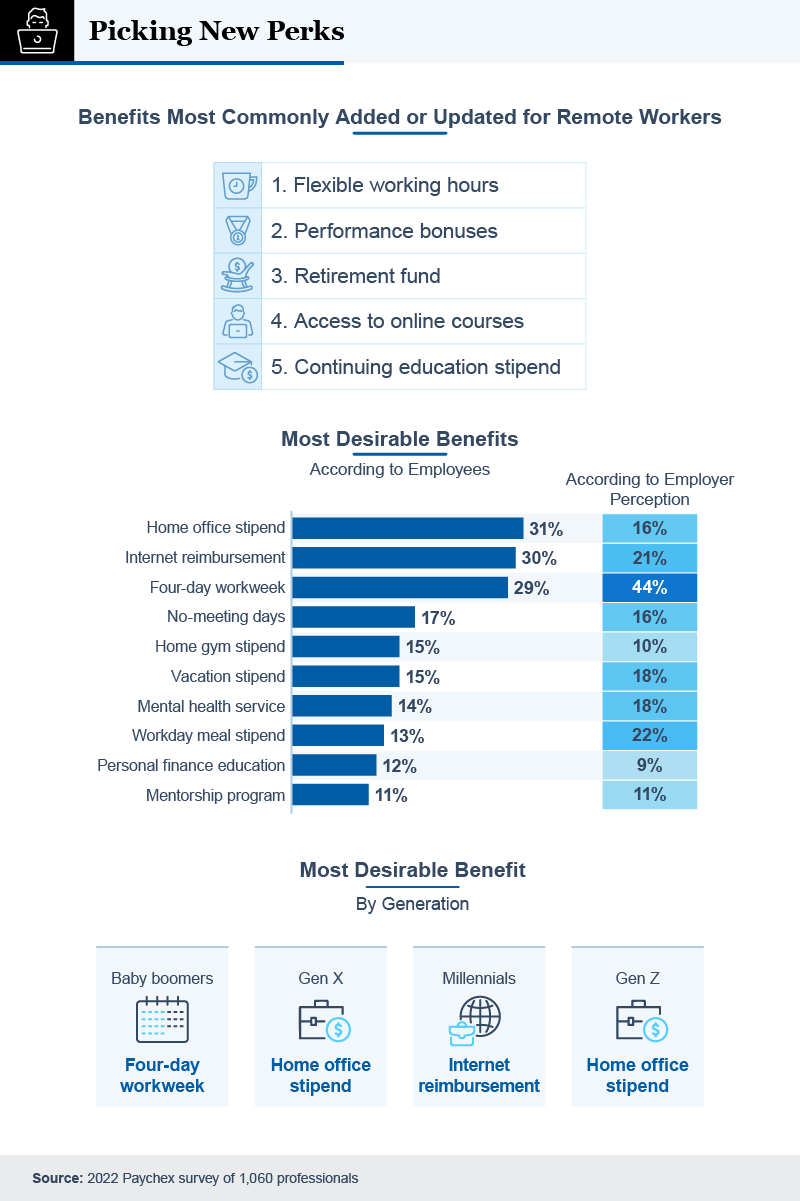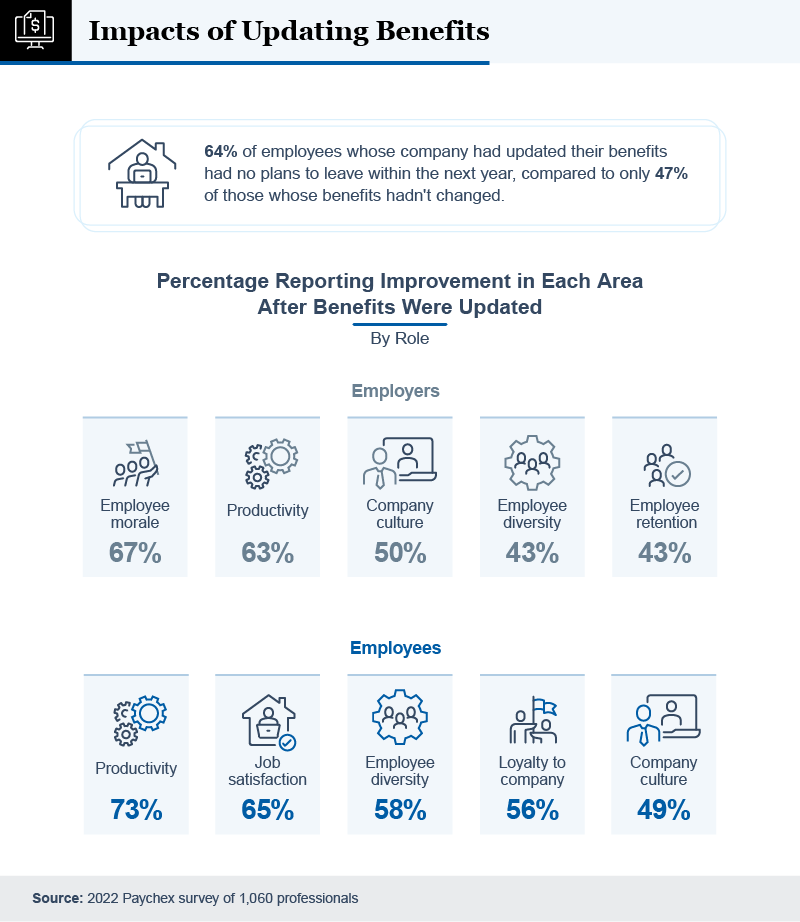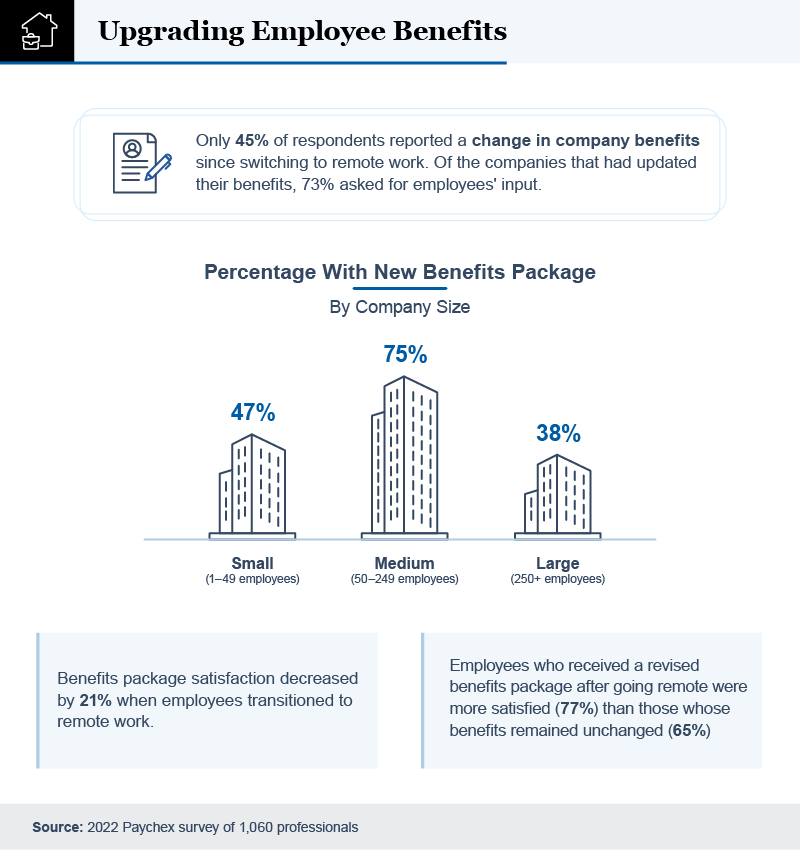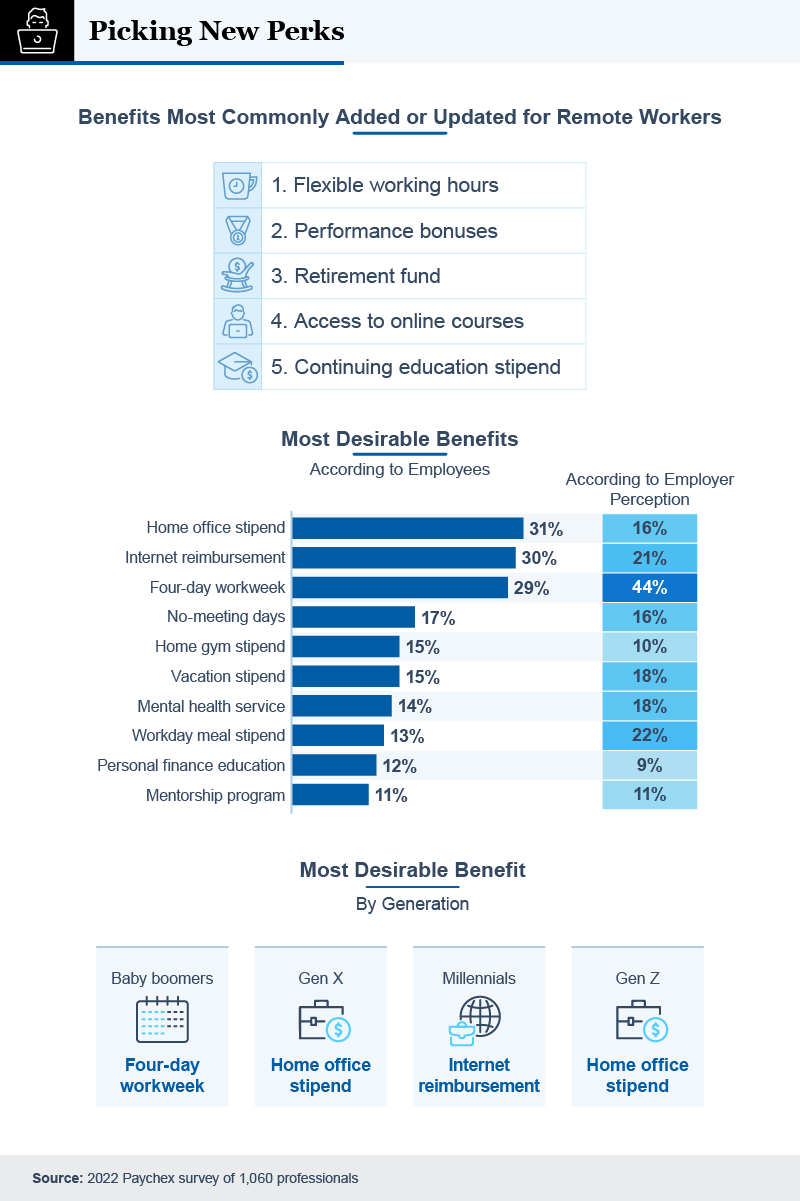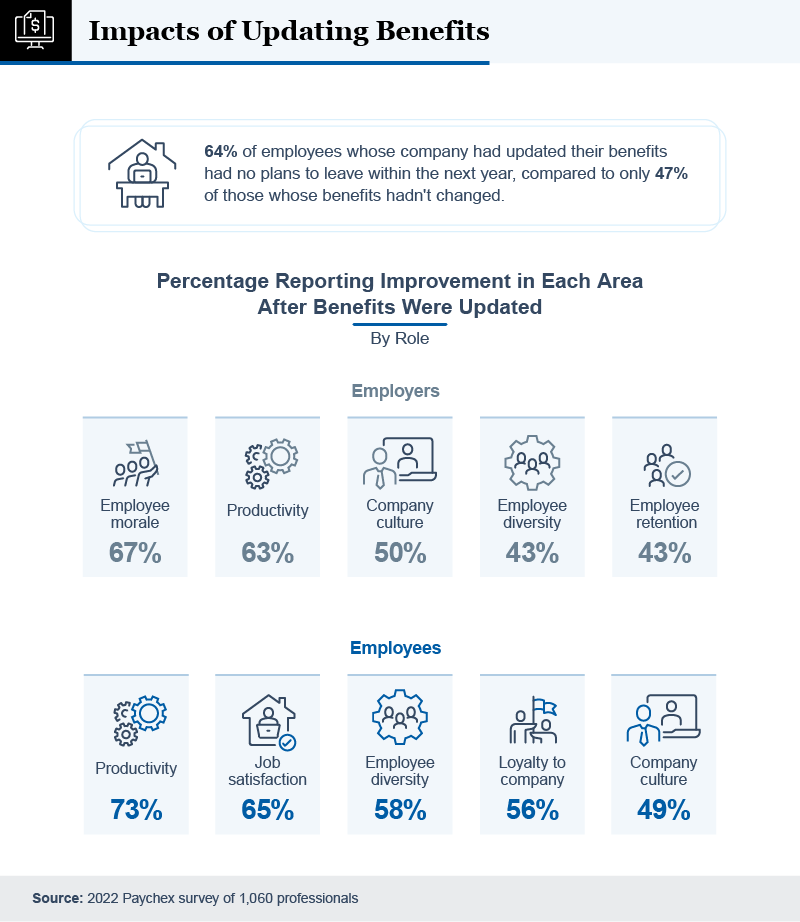 Key Takeaways
55% of respondents reported that their companies didn't update their benefits package since switching to a remote work format.
The most desired perk was a home office stipend.
65% percent of employees whose benefits had changed since switching to remote work reported an increased level of job satisfaction.
Sure, remote work comes with many inherent benefits—flexibility, saving money on the daily commute, travel possibilities—but are actual "benefits" relevant to the remote worker anymore? Take office snacks and coffee, day care, or even extra vacation time—do these things matter as much to someone working remotely as they would to someone on-site? Since remote work has become a new norm for many in the corporate world, employee benefits may need a tune-up.
After surveying more than 1,000 employees across the U.S.—from executive through entry level—the team at Paychex has uncovered new insights into the remote employee benefit conundrum. Employees and employers alike were asked how benefits programs have been adjusted to accommodate their new remote workforce and how those decisions have impacted workers and the company at large. Respondents also shared the benefits they'd most like to see incorporated in the future. If you're curious how benefits for remote workers can look, keep reading.
Updating Benefits for Remote Employees
Paychex first asked respondents to divulge how their company had adapted benefits to suit their new remote work format, if at all. Employees also shared how satisfied they were with these changes and responses were further categorized by company size.
It immediately became clear that updating benefits packages was associated with several advantages when employees start working remotely. While 88% of employees had been satisfied with their benefits while working on-site, the number dropped to 71% when they switched to remote work. The percentage increased to 77% for those participants whose companies had updated benefits to reflect their new needs but dropped to 65% when packages remained unchanged.
The survey also found that among companies that had changed their benefits policy, nearly three-quarters asked for their employees' input to do so. This process is part of what's known as the employee feedback loop which can help achieve everything from improving employee tenure to uplifting company culture. As indicated by the survey results, it can also help improve benefit packages. Large companies were the least likely to make these much-needed changes.
Benefits Remote Workers Want the Most
So what were the updates most desired by employees after switching to remote work? The next section of the survey asked respondents to share the most common benefit changes experienced as well as the ones they wanted most.
The most common benefit updates for remote workers included flexible working hours and performance bonuses. When asked which additional benefits they most wanted, however, employees placed a home office stipend (31%) and reimbursement for internet costs (30%) in the top two spots.
Setting up a home office can create a highly valuable ripple effect for both employees and their companies. Practical and aesthetically pleasing home offices can improve everything from an employee's family life to their productivity, professional appearance, and even the value of their home. This kind of stipend was the single most desirable benefit for Gen Zers and Gen Xers, with 22% and 35% requesting one, respectively.
Internet reimbursement was another benefit commonly desired by remote workers. On average, internet access costs anywhere from $47 to $69 per month, and with remote work, it typically isn't optional. Over the course of the year, this can result in an almost $1,000 expense if paid out of the employee's own pocket. Certain states already require employers to reimburse employees for any business-related expenses, but it seems to have popularity across the country. A third of millennials wanted this stipend, making it this generation's top priority; however, only 21% of employers gave it top billing when asked to guess their employees' most wanted benefits.
Baby boomers' top desire was a four-day workweek. With more free time available as a result of increased productivity and not having to commute, there's a strong argument for why working five days a week may no longer be a necessary norm. Interestingly, this was also the benefit the vast majority of employers felt was their workers' top priority. A four-day work week was proposed in Congress in March of 2022, proving that this idea is gaining some serious traction.
Impact of Updated Benefits on Companies and Employees
The last section of the study looks at how companies with updated benefits have been impacted. Respondents were asked to rate everything from their productivity to morale and company culture.
There were serious perks to updating benefits. Everything from employee loyalty to job satisfaction and company culture saw improvements, according to both employees and employers. A large number of employees noted productivity levels improving when employers adjusted their benefits package (73%). It seems there's potential for even more productive working hours.
Employers most often noted an improvement in employee morale (67%) after they updated their benefits packages. Considering how severely tested morale has been during the pandemic years, it's encouraging to see a path to improvement. Employees also noticed improvements in diversity levels (58%).
Since going remote, 24% of employers said they started hiring employees working in other states. However, one-third of employers limited to where their remote employees could live.
A wider applicant pool may also have occurred simply as a result of the company going remote. Instead of selecting employees who can commute to the office within a reasonable time frame, companies are now able to cast a wider net. That said, one-third of employers still reported limiting where their employees could live.
Evolving Benefits for the Remote World
The evidence strongly supports the positive impact of employers adapting their benefits to suit new remote work cultures. But adapting them without careful thought generally won't cut it. Instead, employers should listen to the specific wants of their employees and engage in a positive feedback cycle. Employers who do this will likely enjoy benefits ranging from increased productivity to greater diversity and improved morale.
If hiring, maintaining, and managing effective and happy employees is something your business needs and thrives upon, we're here to help. Paychex is an American provider of human resources, payroll, and benefits outsourcing services for small to midsize businesses. To learn more about how companies can begin to adapt to remote worker needs, simply visit Paychex.com.
Methodology and limitations
We surveyed 1,060 professionals, including 203 employers and 857 employees. 47% worked for large companies, 30% worked for midsize companies, and 23% worked for small companies. In terms of generational breakdowns, 14% were baby boomers, 17% were Gen Xers, 56% millennials, and 26% were Gen Zers. Survey data has certain limitations due to self-reporting.