Nestlé Partners with Tembo Education to Drive Greater Nutritional Awareness in East Africa
New partnership, launched through HENRi@Nestlé, aims to utilize Nestlé for Healthier Kids initiative in the Nestlé East and Southern Africa Region (ESAR) by sending customised, nutrition based curriculum to parents via SMS and WhatsApp messages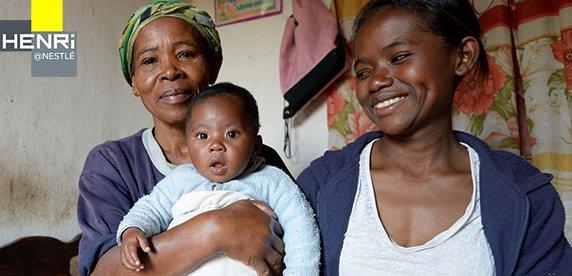 NAIROBI, November 1, 2018 /3BL Media/ - Nestlé has partnered with Tembo Education to deliver customised, nutrition-based curriculums to families across Kenya, through SMS and WhatsApp messages. The aim is to help families provide their children with the best possible nutritional start in life by delivering information, tools and tips that could tackle malnutrition and potentially save lives.
The initiative, launched through Nestlé's open innovation platform - HENRi@Nestlé, forms part of Nestlé's ambition to improve nutritional levels across the East and Southern Africa region (ESAR). According to joint assessments conducted by Kenya's County Departments and UNICEF last year, nearly 73,000 children are severely malnourished in Kenya alone.
At the same time, mobile connectivity in the region is increasing rapidly. Technological advancements have meant that phone penetration is as high as 80% in parts of the region, with more than 672 million people across the continent benefiting from 2G services according to Intelsat.
The initiative aims to leverage feature phone connectivity to spread nutritional knowledge in the ESAR. Together with Tembo Education, a social enterprise that educates young children around the world, Nestlé is piloting a programme that uses SMS and WhatsApp messages to educate parents with low levels of nutritional awareness and limited access to information sources.
The programme forms part of Nestlé's ambition to make 50 million kids healthier by 2030 and will deliver Nestlé for Healthy Kids initiative to over 200 families in the region, targeting parents in particular. This focus stems from research suggesting the importance of parental involvement in the education of young children.
Parents enrolled in the programme will receive frequent customised lesson plans and health tips directly to their phones. Those who successfully disseminate the lessons to their children are rewarded with various incentives, including free data for their mobile phones. After the pilot, the programme aims to expand to a further six countries in the region.
Phil Michaels, Founder and CEO, Tembo Education said: "Tembo's aim is simple – to reach every parent in the world with a mobile phone. Mobile is without a doubt the most utilised communication platform in the world – it's only right that organisations start to use the platform to reach those who need help the most. In no area is this more critical, than in the education of the region's young children. Parents need to be involved in their children's education – the mobile is the perfect portal to enable them to do so."
James Ojambo, Project lead, Nestlé said: "We believe this project is a real step forward in realising our joint goal of making 50 million healthier kids by 2030. With the Kenyan Ministry of Education's support, the partnership is only likely to grow and we would love Tembo Education to one day become a staple part of a national curriculum. The future is exciting and we can't wait to see how the project progresses."
Gerardo Mazzeo, Global Innovation Director at Nestlé, said: "We're continuously on the lookout for innovative and creative partners to help us tackle some of the world's biggest health, wellness and sustainability issues. By opening our objective up to external partners, we were able to draw on the fantastic talent and knowledge of the outside world. Together with Tembo Education, we've identified a potential solution to a challenge of real magnitude and we're excited about what the initiative could achieve for the region. Combining Tembo's educational capabilities with our scale and reach, we're confident that we're going to improve health - and ultimately lives - across the region."
Optimising cellular connectivity to help solve some of the world's sustainability and wellness challenges has formed a key part of some of HENRi@Nestlé's recent efforts. Last year, HENRi and Nespresso launched 'Connected farms' with US-based startup, Kakaxi. Streaming video via SIM card, the project uses online portals and live video streams to connect consumers directly with their farmers in Colombia – increasing transparency of supply chains and raising the profile of sustainability initiatives. 
About HENRi@Nestlé
HENRi@Nestlé is an open innovation platform where Nestlé partners with companies to create innovative, high-potential solutions in response to brand and business challenges. The platform is part of a wider group of innovation initiatives at Nestlé known as NEXT. It is named after Nestlé's founder Henri Nestlé, a pioneer and entrepreneur who was motivated by the challenges and the needs of the society he was living in.
The HENRi platform offers real business opportunities for companies to collaborate with Nestlé on product innovation, sustainability initiatives, creative brand campaigns and more. Selected companies receive $50,000 and senior business support to fund pilots to bring their products and ideas to individuals and families. For entrepreneurs, it starts with a simple click. Visit henri.nestle.com to start working on projects that matter.
HENRi@Nestlé Media Contacts:
Beau Bass
Account Manager
+44 (0) 20 7067 0765 
beau.bass@webershandwick.com