National Diversity Council Receives $500,000 Grant from USAA For New Career and Professional Programs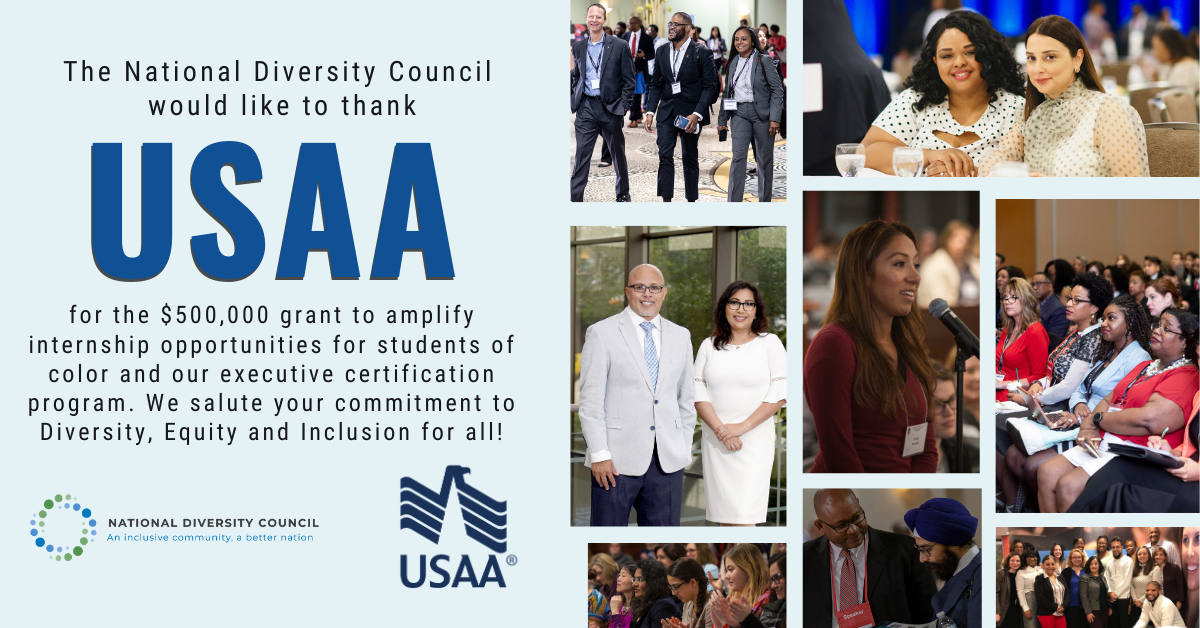 HOUSTON, April 6, 2021 /3BL Media/ - The National Diversity Council has been awarded a $500,000 grant from USAA to increase access to internship opportunities for students of color and to create an executive diversity certification program to train senior leaders in organizations nationwide.
"We are grateful for USAA's support of our services and programs. This generous gift allows us to continue our efforts to champion and advocate for diversity, equity and inclusion in the workplace and our communities," says Dennis Kennedy, Founder and Chair and Angeles Valenciano, Chief Executive Officer of the National Diversity Council. 
Upon the launch of the internship and executive diversity certification program, the National Diversity Council will collaborate with students of color and executives from diverse sectors globally. The internship is designed to promote racial equity within organizations' talent pipelines while providing access and exposure to true meaningful business projects. In addition, the internship will bridge qualified diverse talent with valuable internships at organizations that value diversity, equity and inclusion. The executive diversity certification program is an extension of the DiversityFIRST Certification Program where professionals develop certified organizational strategies for the field of DEI. Executives will be certified as DEI experts and by doing so they will provide guidance and leadership to their enterprises as they execute and change their organizations to become more inclusive.
The National Diversity Council plans to launch the executive diversity certification program at the end of 2021, and the NDC Young Leaders Internship Program in the summer of 2022. A pilot of the internship will take place this summer with the first pilot class being students from the HBCU Morgan State University and the HSI St. Mary University.
"As part of USAA's commitment to advance equality, we are proud to support the programs and initiatives of the National Diversity Council," said Harriet Dominique, Chief Diversity, Inclusion and Corporate Responsibility Officer. "These two programs will help to close gaps across education and job training, employment and ultimately the wealth gap."
About The National Diversity Council
A non-profit organization committed to fostering a learning environment for organizations to grow in their knowledge of diversity. The council affords opportunities for organizations to share best practices and learn from top corporate leaders in the areas of diversity and inclusion.  More information about the National Diversity Council is available at: www.nationaldiversitycouncil.org.
Media Contact:
Katrina Glenn
Communications Supervisor
National Diversity Council
katrina.glenn@nationaldiversitycouncil.org 
###