Merck for Mothers Blog | A Note from Dr. Etiebet: Reflections from WEF 2018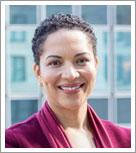 Dr. Mary-Ann Etiebet is the Executive Director of Merck for Mothers
The MSD for Mothers team recently returned from the World Economic Forum annual meeting in Davos, where we joined leaders from business, government, civil society and academia in discussions around the theme, "Creating a Shared Future in a Fractured World." In keeping with the focus on the global economy, MSD for Mothers and our partners made the business case for investing in maternal health, argued for greater private sector involvement in innovative financing for development, and advocated for more research on the experiences of women and girls to guide more equitable decisions about allocating resources.
As we know, an investment in maternal health – especially in low and middle-income countries – is an investment in a country's economic future. In Davos, we highlighted the need for strong public-private partnerships and creative approaches to help fill the $33 billion funding gap to achieve the Sustainable Development Goals by 2030. We hosted two events that emphasized how leveraging private capital can generate impressive returns on women's and children's health – both drew spirited discussion about the role of business in development.
The first was with our new partners in the Utkrisht Development Impact Bond (DIB) in India, one of the world's first health impact bonds – and the largest. This innovative financing mechanism is designed to improve the quality of private maternity care for 600,000 women in Rajasthan, a region with very high rates of maternal mortality. What's exciting about the DIB is that private investors assume the risk traditionally assumed by governments and donors – encouraging greater ambition and creativity – and are only repaid if the desired outcomes are achieved. USAID Administrator Mark Green spoke enthusiastically about ushering in a new path for sustainable development that the DIB represents. Representatives from the UBS Optimus Foundation, Population Services International, Palladium, the Brookings Institution and MSD for Mothers described learnings from this complex multi-sector partnership and the long-term value of experimentation and paying for performance.
A second event with the World Bank's Global Financing Facility (GFF) focused on the power of mobilizing private funding and expertise to ensure that development funds are used more strategically and scale evidence-based programs that improve women's and children's health. Other panelists included Dr. Oly Ilunga Kalenga, Minister of Health of the Democratic Republic of Congo; Kristalina Georgieva, CEO of the World Bank; Chris Elias, President of the Global Development Program at the Bill & Melinda Gates Foundation; and Mariam Claeson, Director of the GFF. MSD for Mothers shared insights from its support of a public-private partnership to scale up an innovative supply chain model to deliver modern contraceptives to "last mile" health facilities, which has increased access to contraceptive products for more than 3 million women.
Speaking at the Equal Measures 2030 Strategic Roundtable on gender equality in development research and data collection, we emphasized the need to close gaps in data related to women and girls' health and development, including maternal death, maternal morbidity and child marriage. At the global, national and local level, we need better data to quantify how investing in women's health – like maternal health – can strengthen health systems which, in turn, can keep women and girls in school longer, support higher productivity for women, improve families' health, and even increase GDP.
MSD for Mothers is committed to connecting the dots between maternal health and economic prosperity and expanding knowledge that will help save women's lives. Over the past five years, we have invested in both asking and answering critical questions about maternal health to help advance the global health field and accelerate progress in reducing maternal mortality and morbidity.
We believe in breaking down silos and forging critical alliances among the business community, governments, multilateral agencies, NGOs, health provider associations, academia and civil society. When partners pool their core assets and complementary strengths, the results are quicker, stronger and more sustainable.
Thank you all for contributing your perspective on how we can ensure a world where no woman dies giving life.