Marina Bay Sands: An Inclusive Workplace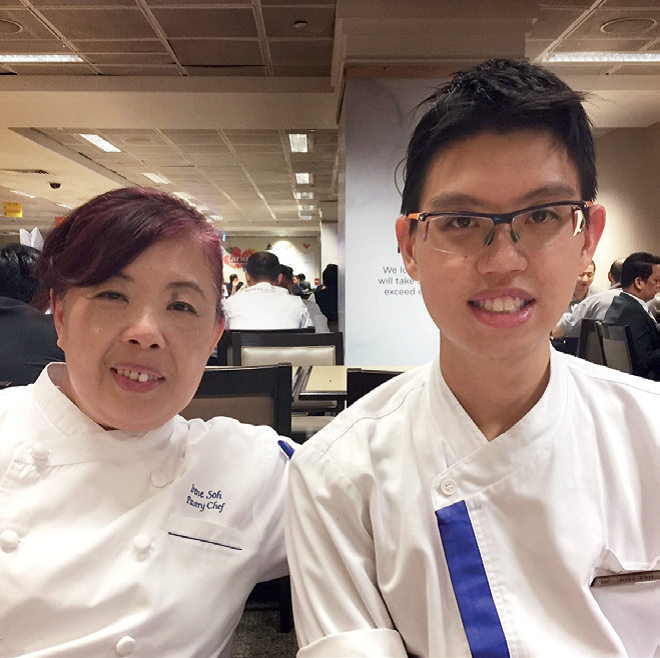 Lee Poh Tee and Jovi Tan at the Marina Bay Sands
After a decade of service in the consumer goods sales line, 63-year-old Lee Poh Tee joined Marina Bay Sands earlier this year as a Valet Cashier in the Transportation department as she wanted to branch out of her comfort zone.  However, her supervisors realized that she was having difficulties performing her duties as she was unable to hear the phone ring.
"My hearing aid gives me up to 80% of my hearing back," Poh Tee said.  "I'm only aware of a guest's presence when they speak directly to me.  After realizing that I had problems doing my job because of my hearing condition, I was very worried – it affected my self-confidence.  Fortunately, my managers were very understanding and they helped me by explaining my issue during our discussions with Human Resources."
Due to these challenges, her managers submitted an internal transfer request for her when a suitable opening was available in Public Area Department (PAD).  Despite the six-month inter-department transfer policy, HR expedited the request for Poh Tee's transition.  After a seamless transfer to PAD, Poh Tee has settled into her new role and looks forward to work every day.  With her self-confidence restored, she no longer allows her condition to define her and attributes this improvement to MBS' inclusive culture.
"I used to put my hair down to hide my hearing aid," she said.  "Over time, I understood that my fellow Team Members didn't discriminate against me – in fact, when they found out about my condition, they made an effort when communicating with me to make sure I could hear them.  Working here boosted my confidence as my work here speaks for itself.  I'm touched that MBS supports The Purple Parade so that people with special needs have equal opportunities in the workplace."
For many years, Marina Bay Sands has supported The Purple Parade, a movement that supports the inclusion and celebrates the abilities of persons with special needs. Including Marina Bay Sands, several iconic buildings in Singapore displayed their solidarity by lighting up in purple the first week of November.  Las Vegas Sands, along with Marina Bay Sands, encourages the development and support to enrich the personal and professional lives of its Team Members around the world. 
Jovi Tan, a pastry chef in Banquets, has been with Marina Bay Sands since he graduated from Metta School in 2011, a school for students with special needs.
"Tan first joined us as an intern when he was still a student at Metta School," Chef Irene Soh, his supervisor, said.  "He has grown tremendously over the last eight years in terms of skills and capabilities.  I rely on him for many important things in the kitchen.  If he wasn't around, I don't know what I would do." 
Tan can often be seen with trolleys of equipment and moving between halls to facilitate the setup of buffet tables during exhibitions and events at Sands Expo and Convention Centre.  A car and photography enthusiast, he is also very passionate about people. 
"I don't know how he manages to have the energy to do this for the whole day," Soh said.  "I can totally count on him.  He sticks closely to our schedule and I'm assured knowing that he is on the job. This way, I can focus entirely on running the kitchen.  People like Jovi are capable – all they need is a nurturing environment to grow. I have seen Jovi mature since he was 16 and I have no regrets opening my kitchen to him and his peers.  It is heartening to know that Marina Bay Sands supports The Purple Parade as it reaffirms our commitment to be an inclusive and supportive employer."