Lehigh Valley County Animal Response Team (LVCART) Receives Donation from Purina to Boost Animal Emergency Life-Saving Efforts
Purina and LVCART offer tips for pet owners to be prepared for winter emergencies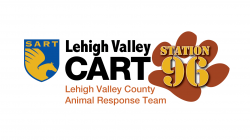 ALLENTOWN, Pa., December 19, 2017 /3BL Media/ – Natural disasters and severe storms have impacted countless people and pets in 2017. Animals are especially vulnerable when the unthinkable happens, and thanks to Pennsylvania State Animal Response Teams in place across the state, volunteers are available 24/7 to facilitate a rapid, coordinated and effective response for any emergency affecting animals. The Lehigh Valley County Animal Response Team (LVCART) recently received monetary support for its life-saving efforts from Purina, which has been making high-quality dog and cat food at its Allentown manufacturing facility for 81 years.  
LVCART handles any 911 call involving animals, including technical rescue or for temporary emergency sheltering. Each county-based team keeps a variety of equipment on hand to aid in their response, such as large crates, leashes, cleaning supplies, pet oxygen masks, trailers and pet emergency kits, but LVCART has never had a permanent, efficient place to store them – until now. Purina recently donated $7,000 to LVCART to fund the purchase of a permanent storage unit.
"Since CART is 100 percent volunteer-run, we do not have our own facility, and as you can imagine, we need a lot of equipment to do what we do," said Chuck Thomas, LVCART Safety Office and Training Coordinator, who has been a volunteer since 2010. "We're grateful to have had the support of Purina for several years and are especially thankful for this most recent contribution. We're happy to have a permanent home for the equipment that is critical in our response to save the lives of animals in need."
"Pets enrich our lives in so many ways, and Purina and LVCART have a shared commitment to keep people and pets together, especially in times of crisis," said Winston Silva, Plant Manager at Purina's Allentown facility. "With pets contributing to our families in so many ways, we're thankful for the LVCART volunteers and all they do to help pets in emergencies."
The new 280-square foot storage unit is located on the property of the Tri-Clover Fire Department. LVCART maintains close relationships with area fire departments, providing training on animal emergencies and equipment such as pet emergency kits and pet oxygen masks, which Purina has also supported through monetary and in-kind donations.
"LVCART has filled a very necessary niche assisting with emergency responses involving animals," said the Tri-Clover Fire Department. "The team's volunteers, trained in animal handling, rescue and sheltering, provide a service to our community, which local fire, police and EMS responders were unable to render. The Tri-Clover Fire Department is more than pleased to offer a site for the LVCART equipment storage shed."
If you have a domestic animal emergency, please call 911 to ask for the CART to be deployed.
LVCART is always looking to welcome new members who are interested in helping animals in emergencies. Please visit www.lvcart.com for information on how to join the team.
PREPARE YOUR PET FOR WINTER EMERGENCIES
With the arrival of winter weather, LVCART and Purina remind pet owners of the following tips to keep dogs and cats safe this winter.
Never leave your dog inside a parked car, which can quickly amplify the effects of extreme weather. During the winter cars can act as an icebox and trap cold air inside.
Keep an eye out for hypothermia. If you notice shivering, lethargy, low heart rate and unresponsiveness, bring your pet into a warm area, place a light blanket over him, and call your veterinarian.
Watch out for antifreeze. Be extra vigilant about keeping your pet away from antifreeze. It tastes sweet, but is extremely toxic. Look out for blue or green-colored substances on driveways, sidewalks and car surfaces. 
Be alert for signs of frostbite and injury. Dogs' ears, paws and tails are especially susceptible, and if you suspect frostbite, contact your veterinarian. Always wipe your dog's feet after a walk in the snow to remove ice balls and salt deposits from the road. Salt can irritate a dog's paws and can be toxic if ingested. Use only pet-safe ice melt.
When outdoors, keep your dog on a leash. Dogs rely heavily on a strong sense of smell to figure out where they are and can easily get lost during winter storms. Snow covering the ground will make their surroundings less familiar.