LA Galaxy Helps Fulfill Chicago Teen's Wish Through Make-A-Wish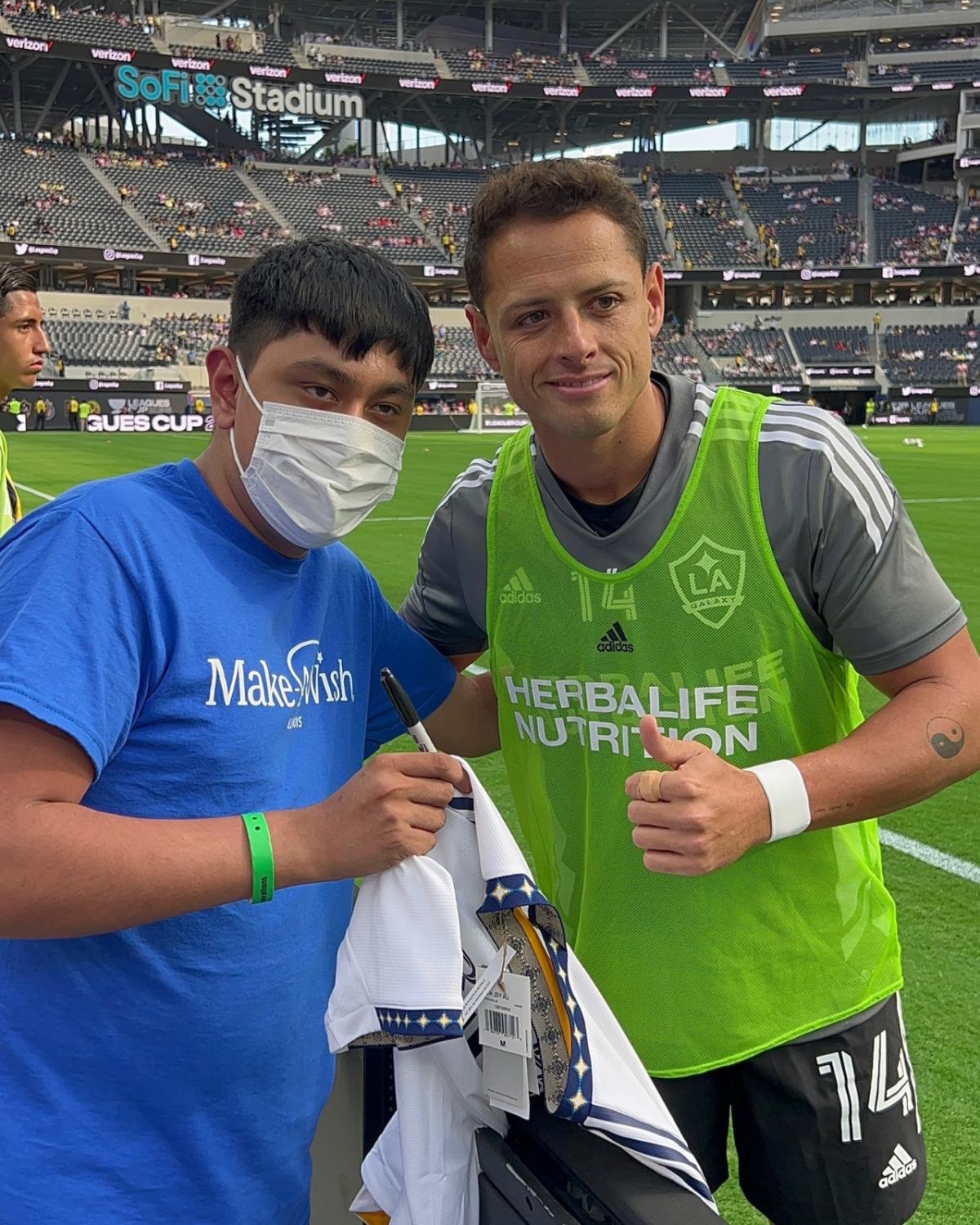 Richey, a Make-A-Wish recipient from Illinois, poses with LA Galaxy's striker Chicharito.
On August 3, 2022, AEG's LA Galaxy made a wish come true for Richey, a 17-year-old teenager from Chicago, IL who flew to Los Angeles for the League Cups Showcase 2022 and attended both the LA Galaxy soccer match against Chivas de Guadalajara as well as the Los Angeles Football Club's game against Club America. The double header games were held at SoFi Stadium in Los Angeles, CA and marked the first time the stadium has hosted soccer matches since the sports and entertainment complex opened in 2020.
Through the LA Galaxy's partnership with Make-A-Wish, Richey had the opportunity to not only attend both games with his younger brother and parents, but he also watched the pregame warmups on the field, received a customized LA Galaxy jersey, and met one of his favorite players, Javier "Chicharito" Hernandez.
Additionally, after hearing that Richey loves WWE, as a final surprise during his visit, the LA Galaxy arranged for him to meet his favorite wrestler Rey Mysterio at the game.
"It was an honor to have the opportunity to grant Richey's wish. Partnering with Make-A-Wish is always special for the LA Galaxy because we know that we are helping to provide hope by fulfilling someone's wish," shared Mariah Rodriguez, Community Relations Coordinator for the LA Galaxy. "To support the youth and give back to the community is what the LA Galaxy is all about."
Make-A-Wish grants the wishes of children with critical illnesses to enrich the human experience with hope, strength and joy. Founded in 1980 when a group of caring volunteers helped a young boy fulfill his dream of becoming a police officer, the organization is now the largest wish-granting charity in the world.
Founded in 1985, Make-A-Wish Illinois has granted over 16,000 wishes to children in all 102 counties across the state. For more information about Make-A-Wish, please click here.