Inspiring and EMPOWERing Women During Women's History Month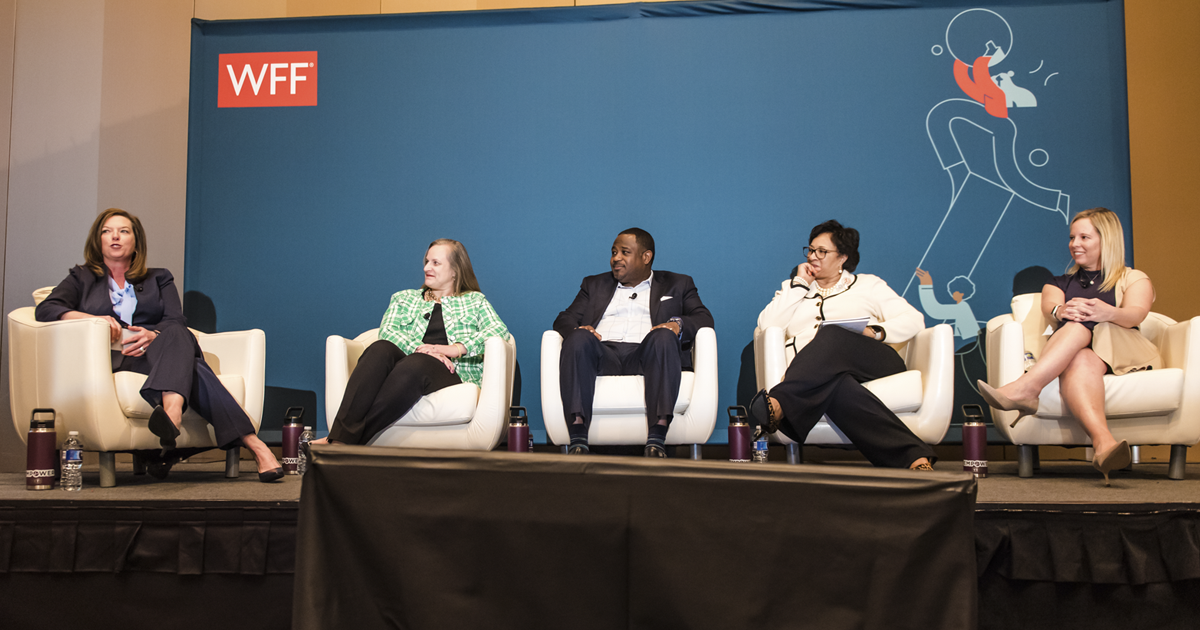 During Women's History Month and International Women's Day in March, Aramark employees organized a packed calendar of events to celebrate women across the company while finding ways to learn from, engage with, and inspire together.
Many of the efforts were led by Aramark's employee resource group (ERG) EMPOWER, which works during the year to accelerate the advancement of women leaders throughout the company while advocating for women in the workplace and beyond.
Launched in 2011, EMPOWER now has more than 2,000 members around the world.
"In addition to being part of our overall Diversity, Equity, and Inclusion strategy, ERGs are a critical element in how we help our people grow. They offer professional development, mentorship, support, and more," said Lauren Harrington, Senior Vice President and General Counsel at Aramark. "I am fortunate to serve as executive sponsor of EMPOWER and proud of all of the programming the highly engaged team put together to shine a light on and inspire women throughout our company."
Kick-Off Celebration
EMPOWER kicked things off with a high-energy webinar March 6 that embraced the "Inspire Together!" theme.
Attended by more than 250 employees around the world, the webinar featured presentations from Harrington and EMPOWER ERG leads, along with a keynote address by Chef Grace Ramirez, an Aramark partner.
Chef Ramirez is a highly respected culinarian, philanthropic activist, author, television personality, and an ambassador of Latin food culture who continuously uses her skills to bring people together.
Chef Ramirez offered some advice for women just entering the culinary field.
"You have to absolutely love the culinary industry. Being in hospitality, it's hard. There are long hours. But being able to serve others joyfully is the most gratifying feeling," said Chef Ramirez.
Chef Ramirez, who volunteers for World Central Kitchen, among other charitable endeavors, said she draws strength from mentoring others and working within the community.
"It's what keeps me going," she said. "When I've been at low points and had the least, I have taken those opportunities to give back to the community, and that's when I got the most in return. It is humbling and helps keep me grounded.
Chef Ramirez went on to offer more advice to participants: "Always leave the room better than you found it. If it's a dish, learn to make it a little better every day. Make your space your own—as if it's your home—and ask questions. You don't have to know all the answers."
Also during the webinar, EMPOWER teamed up with members of the PRIDE and IMPACTO ERGs to host a presentation on intersectionality and how social categories like race, class, sexual orientation, and gender can affect how people are perceived and treated in the continued fight for equality.
International Women's Day
March 8th has been designated by the United Nations as International Women's Day, a day to celebrate the achievements of women and to address inequality around the globe.
To commemorate the day, Aramark dropped the latest episode of the Mark This! podcast highlighting exceptional Aramark leaders who happen to be women.
In the podcast, Barbara Flanagan, President and CEO of Aramark Student Nutrition, and Brisbane Vaillancourt, Regional Vice President, Aramark Collegiate Hospitality, shared insights about their leadership paths, vision, and motivation in a celebration of trailblazing women.
Women's Foodservice Forum
The annual, industry-wide Women's Foodservice Forum (WFF) Leadership Conference took place in Dallas, Texas, March 12-14, at which more than 130 Aramark team members participated either in person or virtually in sessions that were designed to develop women leaders and provide connection, growth, and inspiration.
EMPOWER Leadership Panel and Networking Event
Aramark's EMPOWER ERG hosted a leadership panel discussion and networking opportunity March 13th.
Moderated by Flanagan, panelists included Abigail Charpentier, Senior Vice President and Chief Human Resources Officer, Aramark; Shannon Heard, Regional Vice President, Aramark Healthcare+; Octavia Matthews, Vice President of Operations - Southeast Region, Aramark Facilities Management; and Amy Mellides, Senior Vice President of Finance, Aramark.
The panel and audience focused on digging deeper into what inspires them, discussing how they handled setbacks, how they've grown personally and professionally, and offered ideas to drive career advancement, maintain motivation, and meet the demands of—and thrive in—their personal and personal and professional lives. The audience submitted questions through a QR code during the panel.
Community of Interest Session: LGBTQ+
Also on March 13th, Shenelle Brooks, Aramark DEI Manager, participated as a panelist on one of WFF's Community of Interest sessions. During the discussion, she spoke to the challenges and needs of the LGBTQ+ community and shared with audience members ways to be an ally to LGBTQ+ colleagues to create a more inclusive and welcoming work environment.
WFF Change Makers Award
One of the highlights of the WFF Leadership Conference each year is the presentation of the Change Maker Awards.
The WFF Change Makers program helps build a strong pipeline of women leaders eager to propel their personal career advancement and champion the professional growth of others in the foodservice industry.
Congratulations to May Limbach, Brand Marketing Director, Aramark Convenience Retail, who was one of 50 people to be recognized as a 2023 Change Maker.
"It's an incredible recognition for all the work over the past few years, but also it's a jumping-off point for me because I recognize that so much more work has to be done," said Limbach, who is also co-chair of Aramark EMPOWER. "So many people have been integral in helping me along the way—and I'm determined and motivated with my work and in my life to mentor others and to fan the flame I have inside me."
EMPOWER Hour: Influencing with Impact
Aramark ERGs have regional centers—called Hubs—around the world where employees gather to organize and activate their Hub's local interests and members.
EMPOWER's newest Hub, Florida's Sunshine Hub, engaged members by hosting their first EMPOWER Hour, a dynamic and exciting webinar on "Influencing with Impact" on March 21st. They also held a live watch party at the University of South Florida.
Mark Walker, Vice President, Convenience Retail, Aramark, opened the session by sharing a personal story about why he is involved in EMPOWER.
"One evening, my 9-year-old daughter stunned me by declaring, 'All the bosses are men! You know, dad, like you and your boss, Chris Hackem [President of Aramark Education at the time.]' Mady didn't realize Chris Hackem was a woman," recounted Walker.
The next week, Walker took Mady on a business trip to Aramark's headquarters.
"She was able to meet many of the remarkable women I work with and report to," said Walker. "She was impressed and inspired! I think I learned more that week than she did—and that's why I am so excited to be part of EMPOWER. As a leader and a dad, I don't have all the answers. But I believe that identifying and discussing concerns, and working together, is a great place to start."
Also on the call were representatives from Feeding Tampa Bay and Dress for Success Tampa Bay, who shared stories about the impact the Sunshine Hub has had in the community.
Nourish the Body + EMPOWER Award Winners
To close out Women's History Month, EMPOWER held a webinar March 29th. Members from EMPOWER and the Dietitian-led NOURISH ERG co-hosted a powerful discussion on diet culture and finding ways to balance health and wellness, entitled Nourish the Body.
Participants explored what it means to be an intuitive eater, were introduced to the principles of Health at Every Size® (HAES), and learned about diet myths fabricated by the wellness industry.
Following the discussion, EMPOWER held their annual awards ceremony recognizing women leaders for their work in the ERG and their commitment to driving diversity, equity, and inclusion among ERG members and beyond.
Congratulations to the following winners of the 2023 EMPOWER Awards!
Katie Beattie, Senior Marketing Manager, Sports + Entertainment, won the Workplace Impact Award for delivering sustainable impact to the organization through powerful programming, development of others, and taking initiative to bring innovative solutions to support women at Aramark.
Virlene Tyler, IT Portfolio Manager, Facilities was recognized with the Workforce Ally Award, for going above and beyond to engage various stakeholders and groups to support EMPOWER and ongoing DEI Initiatives to make Aramark a more diverse and inclusive workplace.
Emily Mellon, Data Management Analyst, Global Supply Chain and Procurement, winner of the Marketplace Service Award, was recognized for their role as a community leader. Mellon exemplifies dedication, integrity and honorable service to their local community, suppliers, colleagues, and clients of Aramark.
UK/Ireland Hub won the Hub of the Year Award for delivering EMPOWER's mission to the workplace, workforce, and marketplace in which they serve.

Thonie Borowiak, Senior Director of Growth, Harvest Table, and Co-Chair of EMPOWER's Sunshine Hub, was recognized with the EMPOWER Leadership Award for achieving extraordinary outcomes related to empowering others through leadership development, mentoring, networking, community outreach—and for exemplifying the very best of the EMPOWER ERG.

 
More About Aramark ERGs
Through a growing network of ERGs, Aramark is giving voice to the diverse communities that make up its workforce and help create a more inclusive workplace.