GRI's Collaboration With PRI Boosts Responsible Investment and Action Towards the SDGs
GRI's Collaboration With PRI Boosts Responsible Investment and Action Towards the SDGs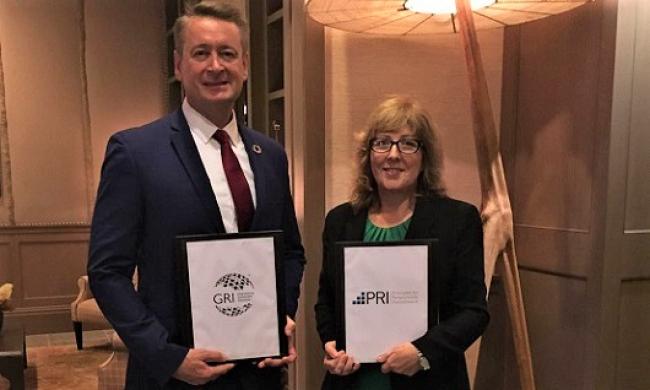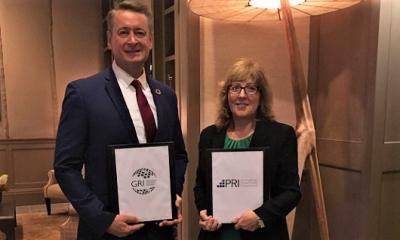 Tuesday, October 24, 2017 - 9:00am
GRI's Chief Executive Tim Mohin and PRI's Managing Director Fiona Reynolds signed a collaboration agreement on September 19 in New York.​
The collaboration agreement signed by the two organizations reinforces the joint efforts between the leading global sustainability reporting framework and the world's principal initiative for responsible investment, to align corporate sustainability reporting with investor expectations. Aligning the two is believed to be a crucial enabler of sustainable development. With GRI providing the corporate sustainability reporting perspective and PRI the investor viewpoint, together the organizations can mobilize capital flows towards sustainable business solutions.
 
The aim of the collaboration is to advance projects that support wider mainstream adoption of sustainability reporting, with a focus on impact and outcomes. It is also aimed at supporting investor and corporate reporting on the Sustainable Development Goals (SDGs). According to estimates, the SDGs will require an annual investment of $5-7 trillion, which urgently demands the mobilization of mainstream capital. Issuers of sustainability reports relying on the GRI Sustainability Reporting Standards and investors signing up to the six PRI principles represent a large segment of the global economy and capital flows.
 
"To achieve real progress we must align capital investment with sustainable business practices," said GRI's Chief Executive Tim Mohin. "To do this the current practice of sustainability reporting needs to improve to ensure sustainability disclosures are decision-useful for all stakeholders, including investors."
PRI Managing Director Fiona Reynolds commented: "We think that our collaboration with GRI will help to move the flow of investor capital to more long-term sustainable programs, supported by improved, transparent reporting."   
 
GRI and PRI have set out to collaborate both at a strategic and technical level, among others to advance company and investor reporting on the SDGs. This is an area the organizations have already started working on together, as co-conveners of the Stockholm Declaration. ​
For more news from the corporate responsibility and sustainability realm, subscribe to the monthly GRI Newsletter.