GRI Impact Story: Sustainability Reporting "Fundamental" For Triodos Bank to Manifest Purpose
Interview with James Niven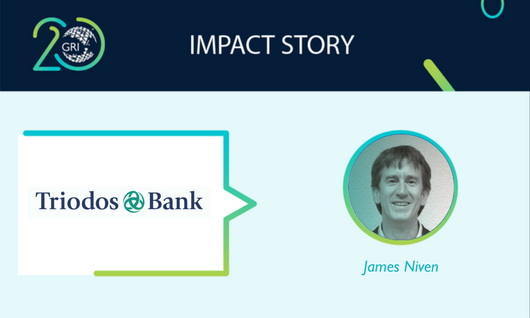 The Dutch-based Triodos Bank is one of the world's most sustainable financial institutions. Its mission is to make money work for positive social, environmental and cultural change. We spoke with James Niven, Head of Corporate Affairs at Triodos Bank, to find out what role sustainability reporting plays in how the bank pursues its mission.
James Niven: Reporting on our non-financial, as well as our financial impacts, is a logical extension of being a values-based bank. It allows our stakeholders to judge the extent to which we fulfill our purpose. Reporting in this integrated way enables us to be both credible as a financial institution – arguably banks are judged by their reporting more than other organizations because they are in the business of money – and to be transparent about the impact of our activities. That's fundamental to an institution like ours, which was created and exists to use money to benefit people, the environment and culture.
 
When we think about how an organization impacts the economy, the environment and society, for a bank, the bulk of those impacts are through the investments you make, as opposed to direct activity. How difficult is the materiality process for Triodos Bank and what insights do you gain from this analysis?
Identifying meaningful differences between the bank and our stakeholder's perspectives on what should be most important to our work and our reporting, is one of the most challenging parts of the materiality process. Historically, we have been closely aligned. Nevertheless the materiality process means we have regular, structured dialogue about what these issues are, even if that reinforces what we already knew. It can also be particularly helpful in identifying what's emerging in the future. One of our three stakeholder groups, for example, are 'advisors and inspirers' who provide important insights into emerging trends in society, outside the bank, that are very relevant to our work inside it. We want to do more to deepen and extend these insights and use the materiality process to help further challenge what 'we think we know'.
 
Triodos Bank publishes its sustainability disclosures with its financial disclosures in an integrated annual report. How has integrating ESG disclosures with your financials benefited the bank and how do you use the GRI Sustainability Reporting Standards (GRI Standards) in this context?
Integrating our disclosures hasn't so much benefited the bank as reflected who we are. The GRI Standards are extremely helpful in providing a consistent approach which enables us to structure our reporting and to provide stakeholders with a tool to compare our sustainability performance to that of other banks. It is one of a number of important ways to help make sure we focus on the right things. And, because so many organizations use the GRI Standards, it's a common language that makes it easier for us, as a business, to learn from and share with others.
 
One of the things GRI has been advocating for years now is that while companies must continue reporting, they also need to move beyond the report and use the data to drive action. A good example of this is Triodos Bank and a number of other Dutch financial institutions' Platform for Carbon Accounting Financials. Please tell us about this effort?"
Triodos Bank is a member of a group of Dutch financial institutions, the Platform for Carbon Accounting Financials, that's co-creating an open source, common methodology to account for the carbon footprint of their loans and investments. The group was launched at the Paris climate conference in 2015 and is committed to a transition to a low carbon economy. A credible way to account for the carbon emissions of our loans and investments can be used to set meaningful objectives, and help monitor and steer the business so it can integrate meaningful carbon emissions data in its wider management decisions. Ultimately this information can be linked to a 1.5 or 2 degree increase in temperature from pre-industrial levels, allowing stakeholders to see what a financial institution's lending and investment decisions add up to. The group's final report is due in October 2017.
 
When we look at connecting sustainability efforts to the big picture challenges facing human society, the UN Sustainable Development Goals have become the focal point. How is Triodos Bank working to connect its reporting to those global goals?
So far our focus has been on mapping the SDGs against our existing activity. We want to build on this and explore how the SDGs can further help our business. As part of that effort we participate in the GRI's SDG Corporate Action Group (via the GRI GOLD Community), where we can learn from other businesses, inside and outside the financial industry, about best practice around the SDGs. The group has already provided a great focus for developing both higher level thinking around how best to contribute to and benefit from the SDGs, and more detailed thinking and practice, working on specific goals. 
With the GRI Sustainability Reporting Standards, companies are able to unlock the transformative power of transparency, while contributing to the common sustainability agenda and reaping the benefits of increased stakeholder trust. Visit the GRI 20th Anniversary hub for more impact stories, and join the effort to create a sustainable global economy.