The Global Diversity Council To Host 2022 Dubai Women In Leadership Symposium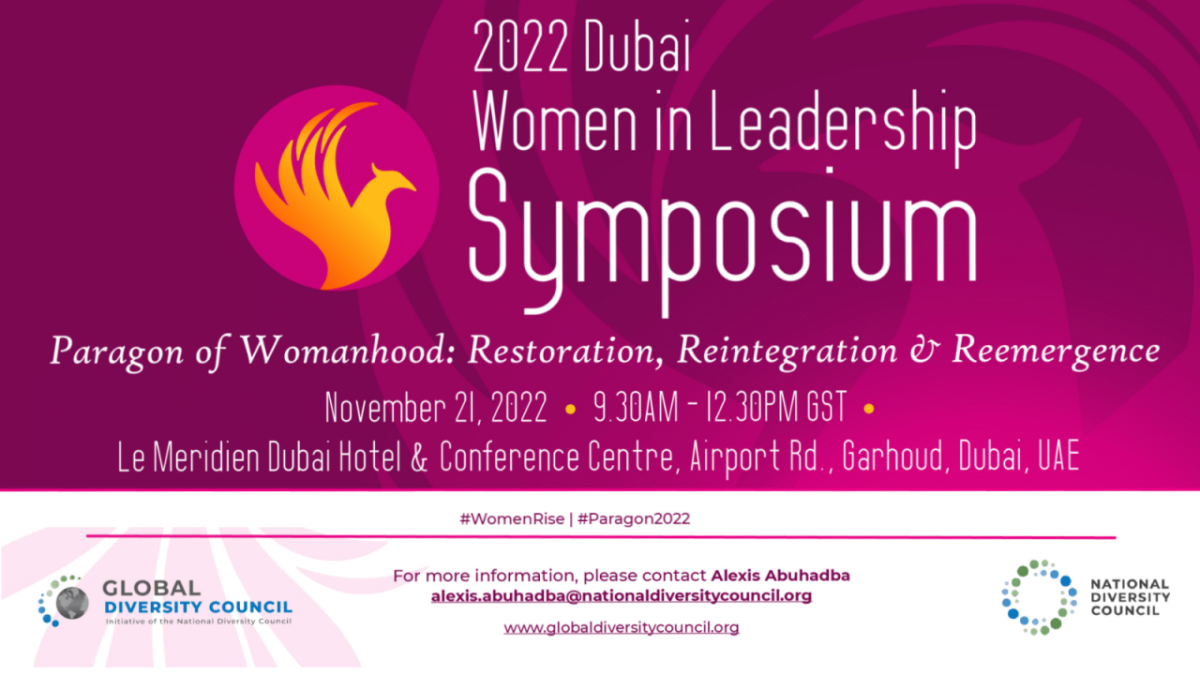 DUBAI, UAE, November 8, 2022 /3BL Media/ - The Global Diversity Council will host its annual Women in Leadership Symposium (WILS) on Monday, November 21, 2022 from 9:30 a.m.-12:30 p.m. GST at Le Meridien Dubai Hotel & Conference Centre, Airport Road, Garhoud, Dubai, United Arab Emirates (UAE). The 2022 Women in Leadership Symposium theme, "The Paragon of Womanhood: Restoration, Reintegration and Reemergence" will focus on topics such as adaptation and flexibility to changing tides in work structure, pay equity and interpersonal relationships.
"As women combat obstacles and become forces of leadership in the UAE, the National Diversity Council stands with Sheikh Mohammed bin Rashid, Vice President and Ruler of Dubai's declaration of 2022 being the year of distinction and precedence, a path that unites us with strength," said Angeles Valenciano, Chief Executive Officer (CEO) of the National Diversity Council. "As we embark on two decades of progress and advocacy for women's equality in workplaces and communities, we invite you to join us for the Dubai WILS to restore, reintegrate and reemerge!"
The conference will feature a keynote by Ángeles Valenciano, CEO of the National Diversity Council (NDC); moderator, Pragya Sharma, Director of Media, Amazon and panelists, Fatima AlQubaisi, Legal Counsel, Leading Abu Dhabi Bank; Joy Aljouny, Co-Founder and CMO, Fetchr; Candice D'Cruz, Vice President, Luxury Brand Marketing & Management, Europe, Middle East and Africa, Marriott International; Widad Haddad, Vice President & General Manager, United Arab Emirates, Oman, Yemen & Lebanon, Emerson Automation Solutions; Alexis Lecanuet, Regional Senior Managing Director for Accenture in the Middle East, Accenture; Maysoun Ramadan, Global Diversity and Inclusion Partner, Roche; and Patricia Tiller, Partner, Hunton Andrews Kurth.
To learn more information about the event or sponsorship opportunities, please contact alexis.abuhadba@nationaldiversitycouncil.org or visit https://globaldiversitycouncil.org/v2/en/events/middle-east/women-in-leadership-symposium/dubai/_2022/.
About the National Diversity Council
A non-profit organization committed to fostering a learning environment for organizations to grow in their knowledge of diversity. The council affords opportunities for organizations to share best practices and learn from top corporate leaders in the areas of diversity and inclusion. More information about the National Diversity Council is available at: www.nationaldiversitycouncil.org.
About the Global Diversity Council
The mission of the Global Diversity Council (GDC) is to be both a resource and an advocate for the value of diversity and inclusion. The GDC serves as a medium for international affiliates to foster an understanding of diversity and inclusion as a dynamic strategy for business success and community well-being through various initiatives. The vision of the Global Diversity Council is to cultivate a worldwide network to advance diversity and inclusion and transform our work places and communities into inclusive environments where individuals are valued for their talents and empowered to reach their fullest potential. For more information about the Global Diversity Council, please visit http://globaldiversitycouncil.org.
###