Forest Management Helps Sustain Maine Farm
Sappi North America's local initiatives help businesses thrive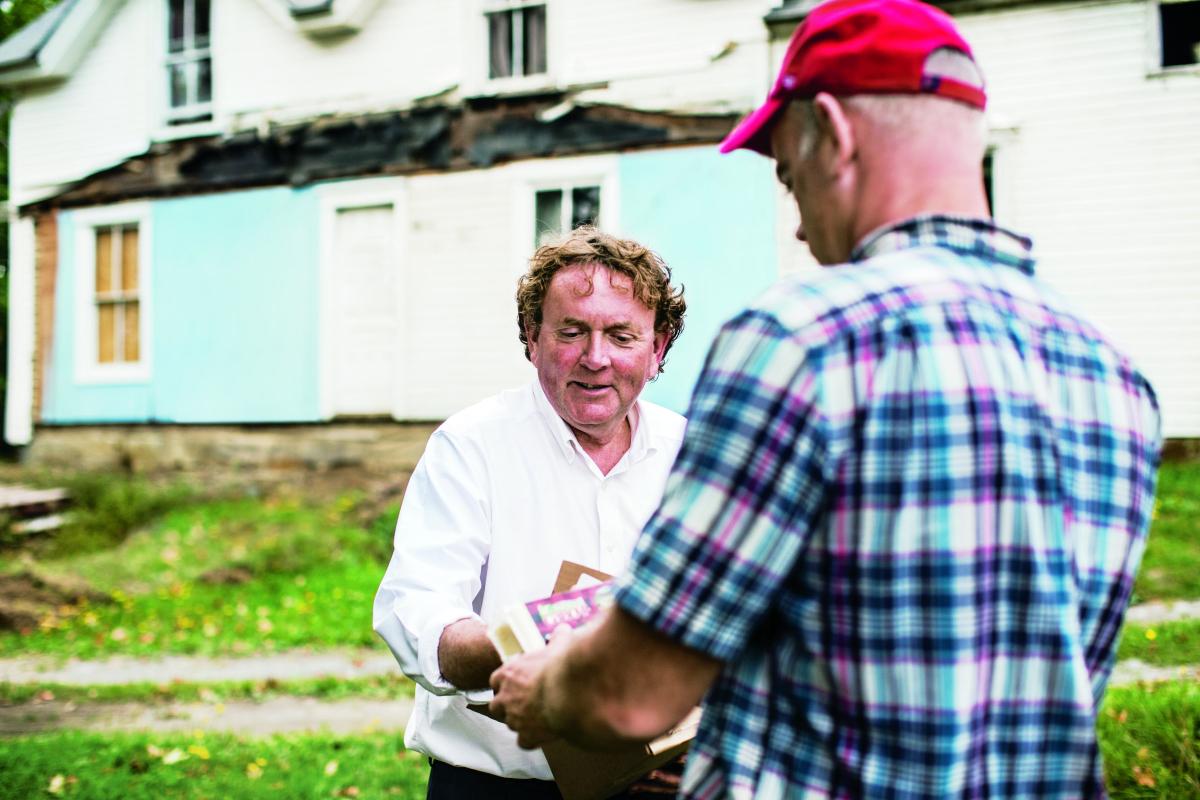 Bill Randall is working hard to sustain the 400-acre family farm he inherited from his father. "A village idiot can have anything given to him. It takes a genius to keep it," Bill jokes. The Sappi Forestry program is helping Bill manage the land for the long term.
Bill's farm includes approximately 300 acres of woodlands that he has been managing with the help of the Sappi Forestry team for about 10 years. This year he worked with two of Sappi's foresters, Bryan Savoy and Julie Davenport, on a 95-acre selective harvest. He says that the Sappi team is good about watching the markets for him, and "they cut what you want cut and leave what you want left." Bill says that since he started managing his land under Sappi's Forestry Program, "the woodlot is growing more logs now, the forest is cleaner, and the light can get right to the ground."
Bill was raised on the farm, which his family started in 1871. The farm has been in the family for all but 15 years since then. Bill helped his father run a profitable dairy operation for many years, but sold his dairy herd a few years ago. He says that it is difficult for a small farm to compete with larger, more mechanized dairy farms. Whether talking about the dairy industry or his woodlot, Bill says, "it is all about sustainability." Bill has worked for 25 years for Cabot Cooperative, helping dairy farmers to ensure that their milk meets strict quality control standards. He sees his job with Cabot not as being a quality control specialist, but as keeping the dairy farms he works with and the company he works for sustainable.
"The dairy industry is a lot like the forest products and paper industry," Bill notes. "Both make commodity products. The price for the product is highly influenced by factors not in the control of the farmer, landowner or mill owner. Dairy farming and logging are natural resourcebased industries that have been around for years, but to be sustainable in today's market requires large investments in equipment and a thorough knowledge of best practices and scientific principles."
Bill compares improvements and mechanization in the dairy industry to the harvesting on his woodlot, being done by Delbert Franklin and his daughter, Megan Smith, of Franklin Forest Products. He says that mechanized milking equipment, though very expensive to install, allows the production of milk at a lower cost with fewer quality issues. Using a mechanical harvester Delbert and Megan are able to cut just the trees that should be harvested with minimal impact on soil and the remaining forest stand.
Managing his woodlot with the Sappi Forestry program enhances tree growth, and produces a healthy forest which supports water, air and soil quality, wildlife habitat and many other values for future generations. Bill is using a portion of the income to restore the farmhouse on the property where he grew up. Forest management is keeping Bill Randall's farm sustainable. 
"Dairy farming and logging are natural resource-based industries that have been around for years, but to be sustainable in today's market requires large investments in equipment and a thorough knowledge of best practices and scientific principles." - Bill Randall
Read more from Sappi North America's 2016 Sustainability Report here: http://bit.ly/SNA-2016SR​