Forbes and JUST Capital Rank IBM No. 5 in America's Top Corporate Citizens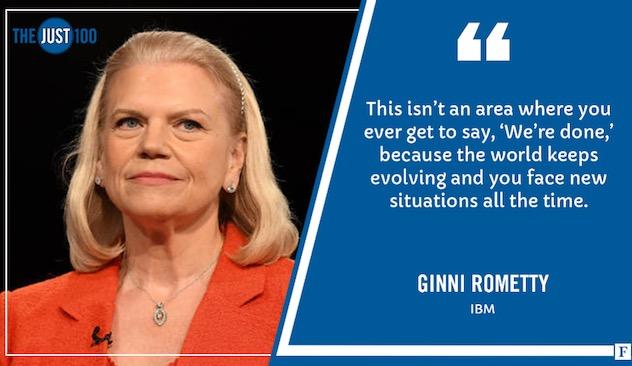 CEO Ginni Rometty says IBM invests $500 million in global professional development annually to allow employees to continue growing.
Just 100: 14 CEOs On Why Treating Workers Well Is Good For Business
"No one sector – whether government, business, academia or civil society – can tackle today's challenges all by itself. All sectors must work together, and all must raise their game." On THINK Blog, IBM Foundation President Jen Crozier writes about IBM's longstanding commitments to collaboration, diversity, inclusion and service - commitments shaped by IBM's enduring values, and recognized today by IBM's Number 5 ranking among America's Top Corporate Citizens by Forbes and JUST Capital.
Read more about IBM's leadership in service and citizenship, and about how it informs a positive future for the global community. And read what IBM's Ginni Rometty and other CEOs have to say in Forbes about Why Treating Workers Well Is Good for Business.