Follow the Money: How Sands Cares Assists Nevada Homeless Alliance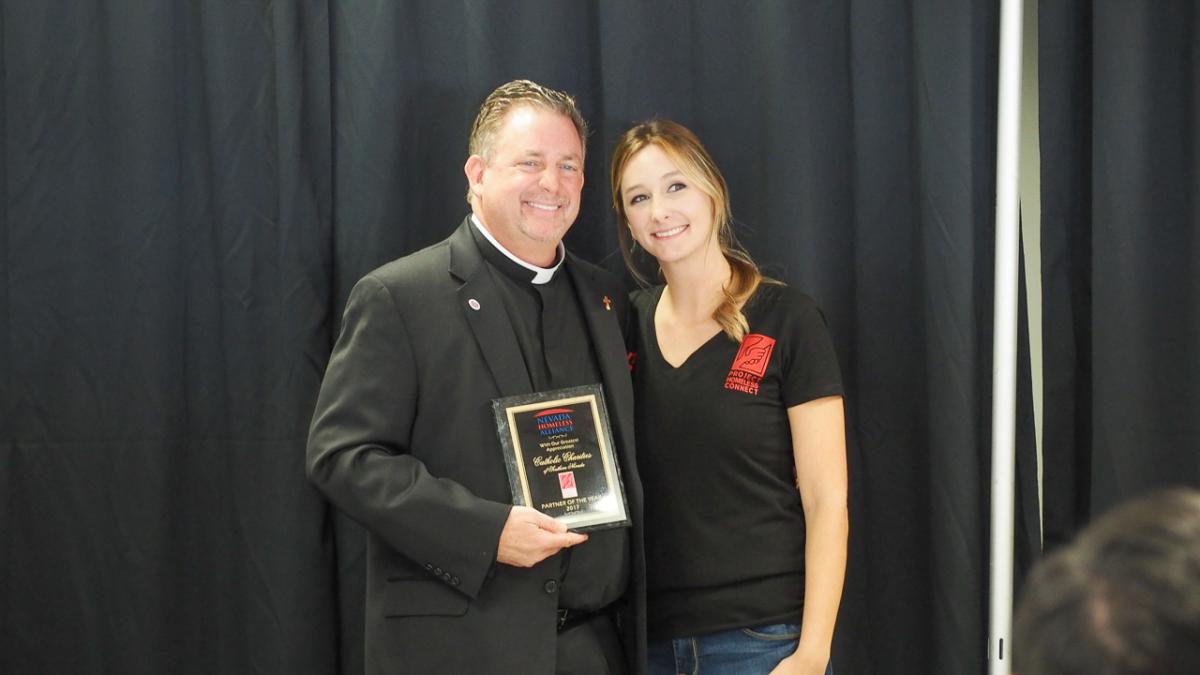 Emily Paulsen of Nevada Homeless Alliance and Deacon Thomas A. Roberts from Catholic Charities of Southern Nevada
Originally Published on the Sands Confidential Blog
Through Sands Cares, Las Vegas Sands' corporate giving program, the company is leading the way to bring positive change to the significant homelessness problem in Las Vegas.  Through various agencies and partners in the community, Las Vegas Sands believes in playing an active role to bring new solutions and resources to address the issue.  Las Vegas has the third largest unaccompanied youth homeless population, with more than 80% unsheltered, the highest rate in the nation and the sixth largest population of homeless individuals among major cities.   
"Sands Cares is always at the table representing the business community," Emily Paulsen, Executive Director of Nevada Homeless Alliance, said.  "Overall, the financial support that we receive from Sands Cares allows us to keep our existing programs and develop new ones.  They offer collaboration on projects like Project Homeless Connect and our weekly event, Pop-Up Homeless Connect."   
Nevada Homeless Alliance (NHA) is just one of the local organizations that Sands Cares provides resources to in the Las Vegas Valley in combating the homelessness problem.  NHA, established in 1992, has convened community partners and social service providers in the planning and execution of several events where homeless clients can get legal aid, housing assistance, health care, clothing, food and showers all in one place.  Now partnering with over 150 organization in Southern Nevada, NHA has helped over 15,000 clients in the last five years, serving clients directly with exactly what they need. 
"Sands Cares helps to provide expertise, resources, public relations and a business mind," she added.  "Corporate partnerships help us reach a larger community.  We think the help that Sands Cares has provided us has led other businesses to help and assist us to end homelessness in the community."
With the establishment of the Sands Cares Fresh Start Mobile Showers Powered by Clean the World, NHA has established a new relationship with Clean the World.  Providing showers at their Pop-Up Connect events as well as Project Homeless Connect, an annual event that served over 2,700 homeless in 2017 with employment, housing, and health care assistance, bringing together government, private sector and other organizations has helped NHA achieve its goals.  Paulsen says overall community outcomes increase service collaboration with providers, increase mobilization, and increase public support.  Community leaders have the ability to influence policy response.  They inform, influence the policy and create a stronger response within the community. 
"Money can't solve it alone, the donation of time goes a long way" she said.  "The public must help, be aware and understand our homelessness issue.  I want the community to know that homelessness has many faces.  They can be seniors, veterans, youth and families.  Some people work full-time and are still homeless.  The majority are our neighbors who have worked and lived here for a long time.  They have had issues that have led to this experience.  This is a community issue and the community needs to be involved in the solution."