From the Fifth Third Bancorp 2021 ESG Report: Responsible Banking
From the Fifth Third Bancorp 2021 ESG Report: Responsible Banking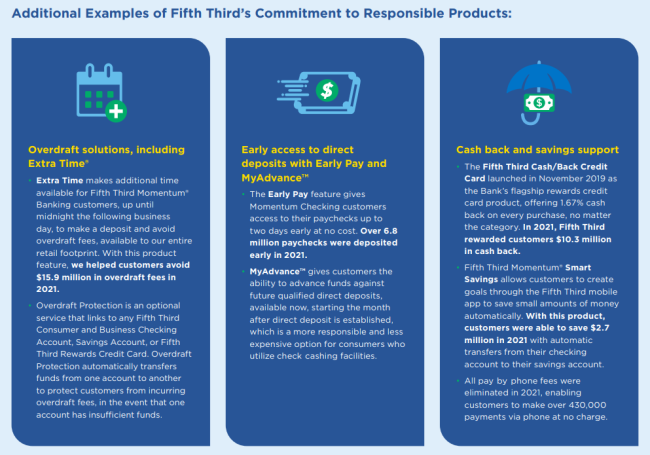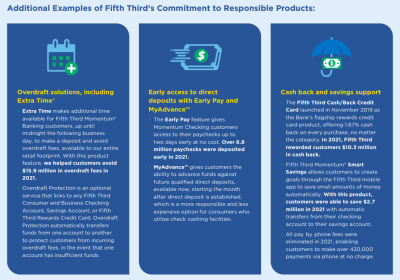 Tuesday, August 2, 2022 - 10:45am
The following is an excerpt from the Responsible Banking section of the Fifth Third Bancorp 2021 ESG Report.
We are focused on delivering best-in-class financial products and services and providing access to those services whenever and wherever consumers want them. We are responsible for ensuring that our products and services are accessible to all consumers, in all markets, and that the right types of responsible products and services are offered. We strive to act in the best interest of consumers by providing reasonably priced products, defining clear terms and disclosures, and offering fair and consistent service. By doing so, we can build lasting customer relationships and meet our responsibility to help them prosper.
Honest Business Practices
We strive to act in our customers' best interest. Fair and honest business practices are essential to keeping our customers at the center of everything we do. Unethical business practices are strictly prohibited, and further, are not consistent with our core values. We are fully committed to maintaining non-abusive and anti-predatory lending practices. Credit decisions are made without regard to race, ethnicity, color, religion, national origin, sex, age, marital status, sexual orientation, gender identification or assignment, military status, disability, receipt of public assistance, familial status or a consumer's exercise of credit protection rights.
Fifth Third's Community Reinvestment Act and Responsible Banking Committee is responsible for guiding enterprise-wide CRA and responsible conduct strategies and policies. The Committee facilitates high-level direction to consumer and commercial lines of business consistent with such strategies and policies. The Committee also seeks to promote a corporate culture that supports Fifth Third's commitment to both the letter and spirit of CRA and other laws and regulations that prohibit behavior and practices that could be deemed unethical, discriminatory, or predatory in nature, as well as unfair, deceptive or abusive acts or practices known as UDAAP.
The CRA and Responsible Banking Committee is led by the consumer and business practices senior compliance director and the chief community impact banking officer of Fifth Third Bank. Membership is comprised of leadership from the lines of business, Legal, Risk, and Fair Lending department, as well as community development representatives. The Committee's responsibility is delegated from the Board of Directors who oversees the committee actions Contents through the Enterprise Risk Management Committee. Further, we assert that fair lending and responsible banking compliance is the responsibility of all employees, a message reiterated in the Company's Code of Business Conduct & Ethics, which all employees are required to sign and acknowledge on an annual basis. In 2021, over 99% of employees made this acknowledgment, a requirement that is regularly tested and verified.
In addition, the Bank requires employees and contractors to complete compliance training on an annual basis, including: complaint management, financial crimes compliance training, elder financial abuse, preventing fraud and Doing the Right Thing, which comprises eight modules. One module is Responsible Banking and Fair Lending Basics, which covers Fifth Third's commitment to making financial products and services available to prospective and existing customers on a fair and responsible basis. These courses are required no matter what an employee's role is at the Bank. In 2021, 99.9% of all required compliance training modules were completed by employees.
Fair Marketing
The mission of our Marketing department is to support customer-centric growth by fully activating the Bank's brand. Marketing professionals are motivated by doing what's right for customers and keeping them at the center of all decisions. Marketing works with our One Bank model, meaning that team members across the organization work together to serve the needs of customers and communities seamlessly and holistically. One Bank works because it builds trust, creates value and deepens relationships. This approach is also employed as we consider sponsorships and advertising.
Responsible Products
All products offered by Fifth Third are reviewed for compliance to align with UDAAP and any applicable consumer protection laws. In addition, the Bank undergoes a rigorous process with focus groups and, when appropriate, engages third party experts to ensure that our products fulfill our promise to put the customer at the center.
In 2021, Fifth Third Express Banking® received Bank On national certification for safe and affordable accounts. The certification was conferred by the Cities for Financial Empowerment Fund, a national nonprofit organization dedicated to expanding access to traditional banking and other financial empowerment services.
Fifth Third Express Banking® account meets or exceeds the Bank On National Account Standards developed to ensure expanded access to safe and appropriate financial products and services to the nearly 36 million people in the United States who are outside of the mainstream financial system.
As of June 2022, Fifth Third eliminated nonsufficient fund (NSF) fees for all consumer accounts, another step taken to reduce punitive fees and focus on the best outcomes for customers.
To read the full Responsible Banking section of the Fifth Third Bancorp 2021 ESG Report, including commentary on product reviews, compliance, sales and service, and compensation, please access the report here.