From the Fifth Third Bancorp 2021 ESG Report: Financial Education, Access and Stability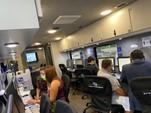 The Fifth Third eBus offers computer workstations to enable community members to learn about homeownership, get job training, and understand credit, all of which are a part of the Bank's efforts to increase financial access, capability and stability.
Fifth Third is committed to financial education, access and stability. For more than 15 years, we've offered a suite of financial empowerment programs that are designed to educate and empower people so that they have to the tools they need to achieve their dreams and live their best lives.
L.I.F.E. Programs
Fifth Third's L.I.F.E. (Lives Improved through Financial Empowerment®) programs were designed to educate people at nearly every age and stage of life. Since 2004, Fifth Third has helped educate 2.8 million people in the ways of personal finance.
FIFTH THIRD YOUNG BANKERS CLUB®
Nearly 35,000 young bankers have graduated from our signature Fifth Third Young Bankers Club program since 2004. Over 4,500 students participated in 2021, when we launched a digital version of the program to increase its accessibility and provide teachers with greater flexibility. In only 30-45 minutes per week over an eight-week period, teachers can help students learn all the basics of finance online at any time.
The free YBC program features Maximillion Money™, the 10-year-old character featured in all digital lessons. Maximillion takes kids to the New York Stock Exchange, the U.S. Mint and a Fifth Third banking center. The gamified lessons enable students to "level up" as they learn about budgeting, banking and payment methods, borrowing money, jobs and income, saving and investing, and more.
In November 2021, Fifth Third made 13 technology grants of $10,000 each to schools and nonprofit organizations that were actively engaging with our new digital Young Bankers Club program. The grants enabled the organizations to purchase and incorporate more tools into their educational curriculums to boost technological access in their communities. Introduction Economic Environment Social Governance
FIFTH THIRD FINANCE ACADEMY®
We offer two financial education courses for high school students through our Fifth Third Bank Finance Academy program—foundational finance and entrepreneurship. The program is focused on high-need students and schools, with 51% of students coming from underserved communities. In the 2020-21 school year, 127,173 students completed nearly 300,000 hours of learning. To date, more than 450,000 students have taken Finance Academy courses and completed over one million hours of learning.
As measured by pre- and post-course assessments, students' scores increased by 50% after taking the financial education course and 67% after the entrepreneurship course. In addition to underwriting the courses to ensure they are offered at no cost, the Bank also funds scholarships for students to use toward higher education. In 2021, we provided $70,000 in scholarships to 28 deserving Finance Academy students. Winners are chosen on the strength of essays they write regarding the knowledge they've gained and their plans for managing their financial futures. More than 3,300 scholarship entries were submitted.
RETIREMENT UNIVERSITY®
Retirement University presents a holistic approach to retirement planning through its website. It is a free educational program backed by the expertise of Fifth Third financial professionals to help consumers prepare for all aspects of retirement. Retirement University covers topics ranging from income needs to second careers. Lessons include planning and investments, retirement income, health care needs, life-stage planning and more. Fifth Third also published an eBook about women and retirement. Available online, the eBook addresses the unique challenges women face in retirement planning, including income disparity, time away and life expectancy.
EBUS
Since 2004, Fifth Third's financial empowerment mobile strategy has enabled us to take financial access and education directly into the communities we serve, especially the underserved. The strategy is headlined by our eBus and supported by our Banking to Go kiosk, which can be set up at community events. Both the eBus and Banking to Go are equipped so we can provide financial education, credit reports and bank account openings, including our new Bank On-certified Express Banking account. Other services include homebuyer and small business resources and job search assistance. Contents In 2021, we were thrilled to resume in person eBus community events. Following recommendations from the Centers for Disease Control, we were able to serve 7,546 people through eBus events last year. Fifth Third's eBus offers computer workstations to enable its financial empowerment programming.
FIFTH THIRD EMPOWER U®
More than 41,000 people took our Fifth Third Empower U® courses in 2021. These courses are taught by our bankers on-site or virtually at various companies and in conjunction with our community partners. There were 5,456 courses taught last year, including a financial wellness checkup and classes that teach financial health, investments and planning, insurance planning, homeownership and college funding. Fifth Third Empower U began in 2012 and has helped educate over 164,000 people since that time.