Edison International 2021 Sustainability Report: Strategic Focus Areas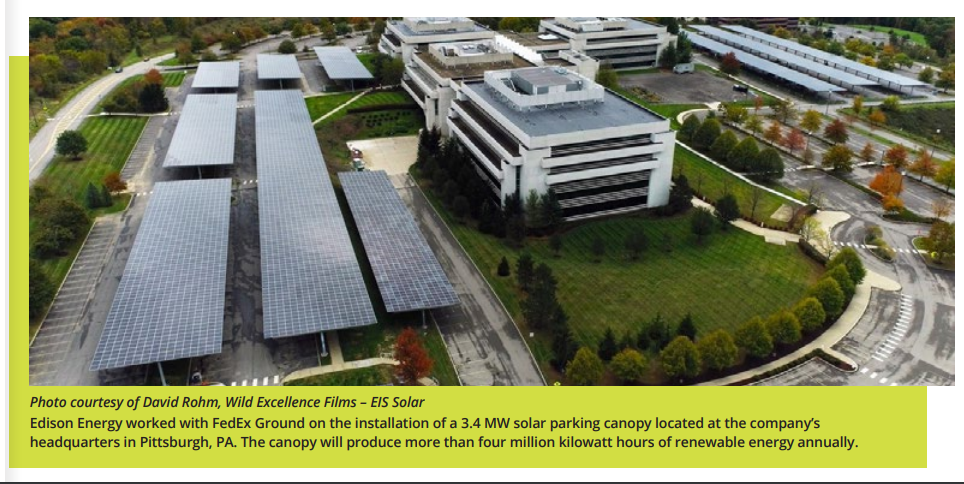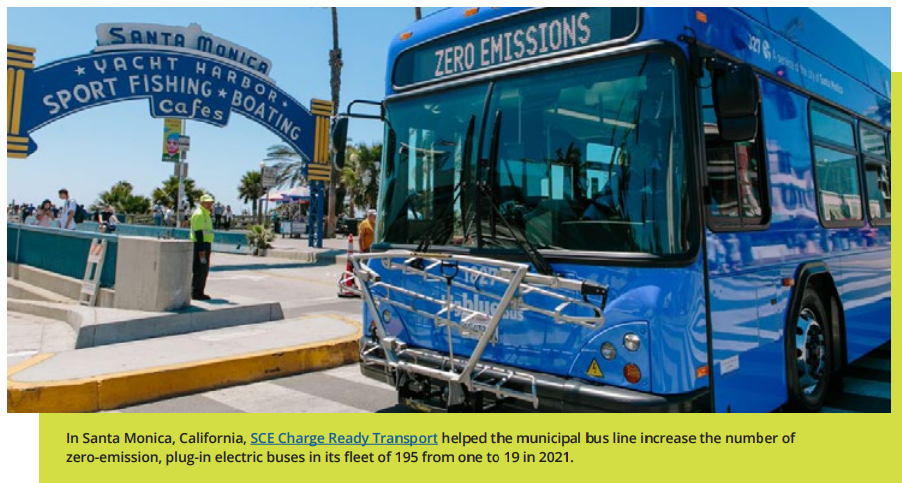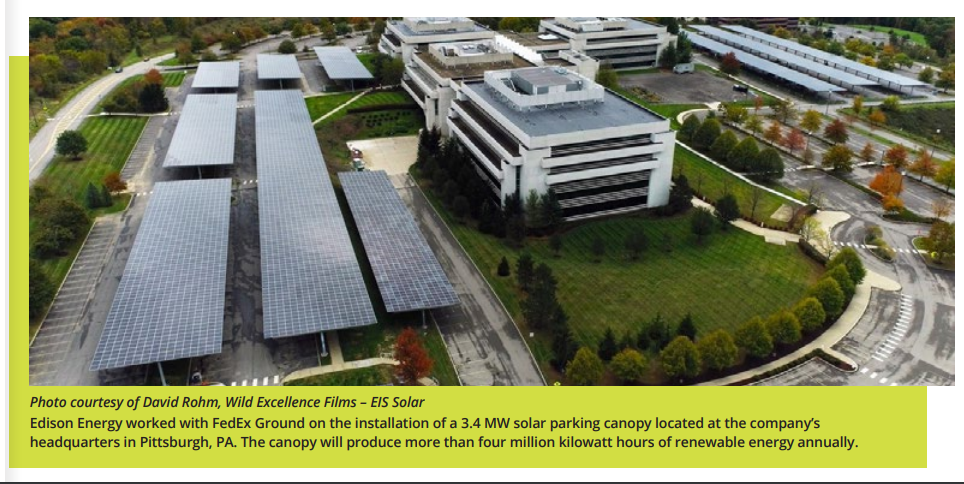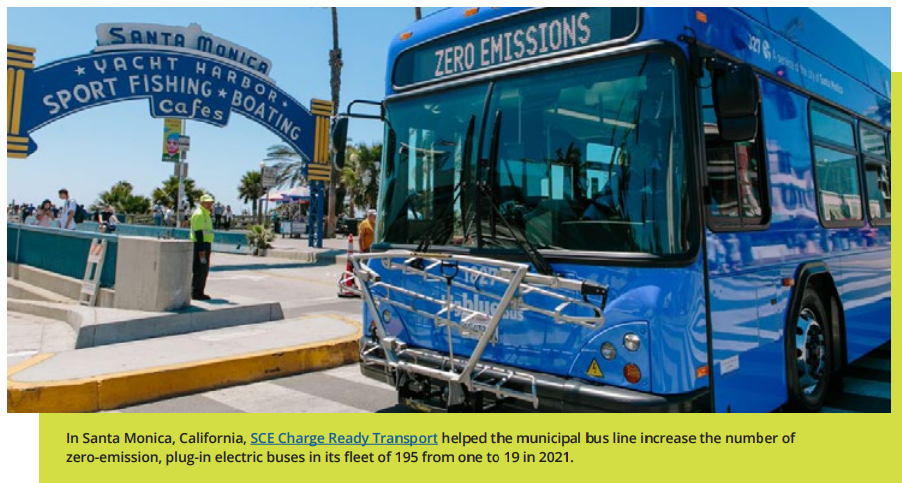 Edison International 2021 Sustainability Report
Clean Energy
Edison International is a national leader in clean energy, with SCE focused on delivering 100% carbon-free power to customers by 2045 and Edison Energy1 supporting organizations globally in meeting their climate change goals through renewable energy contracts and electrification strategies.
As SCE prepares to deliver increasing levels of renewable and carbon-free power over the next two decades, improving energy storage is a primary focus, along with grid modernization. Batteries and other technologies can store excess energy from renewables and supply it to the grid later (e.g., when the sun isn't shining or the wind isn't blowing), thereby reducing dependence on natural gas-fueled power plants.
Edison Energypartners with large organizations globally, including 22 of the Fortune 100, to help them reduce their carbon footprints and reach their own sustainability goals. Edison Energy has advised on more than 8,000 MW of renewable energy power purchase agreements (PPAs), including 1,475 MW of deals in 2021.
Edison Energy Advising European Companies on Sourcing Renewables
Since April 2021, Edison Energy's European subsidiary, Altenex Energy, has been advising the companies Mars and Cargill on sourcing off-site renewable energy via PPAs in Germany, Poland, the Netherlands and Italy. Both companies are on the way to achieving their science-based sustainability targets. In particular, Altenex Energy expects these PPA deals to help Mars eliminate all fossil fuel use from its operations by 2040 and reduce its absolute Scope 1, 2 and 3 GHG emissions by 27% and 67% by 2025 and 2050, respectively. The contracts will help Cargill, a major Mars supplier, to cut 10% of its overall GHG emissions from its operations by 2025 and to reduce GHG emissions in its global supply chains by 30% per ton of product by 2030.
Electrification
Significant electrification of transportation and buildings powered by carbon-free energy is the most feasible and affordable way to achieve California's decarbonization goals. As California's only investor-owned electric utility without a natural gas distribution business, SCE is uniquely positioned to advance electrification initiatives.
SCE's approach is centered on accelerating customer adoption of electric technologies through innovative programs and researchbased incentives, as well as advocacy and crosssector partnerships. SCE is also advancing our grid capabilities to handle the new demand for electricity that will come from devices that are not stationary (see Grid Modernization).
Through our transportation and building electrification programs, SCE is helping reduce the gaps identified by Edison International's Mind the Gap policy paper (see Thought Leadership). SCE's Charge Ready Light Duty will support nearly one-third of the needed charging stations in apartments and public locations in SCE's service area through the middle of the decade. SCE's Charge Ready Transport has jumpstarted the commercial truck charging market and will support the initial conversion of approximately 8,500 vehicles through 2027. We are building new incentives, programs and processes to fill the remaining EV gap by 2030.
If approved, SCE's electric heat pump proposal (see Building Electrification) would fill approximately 15% of the electric heat pump shortage in SCE's service area by 2030.
Edison International and SCE have continued our advocacy and support for policies and regulations that will help California lead the country in transportation electrification. Two important recent state actions include Governor Gavin Newsom's executive order requiring in-state sales of all passenger vehicles to be zero emission by 2035 and the CARB Advanced Clean Trucks regulation, which requires truck manufacturers to transition to zero-emission trucks starting in 2024. SCE is engaged in CARB's development of an Advanced Clean Fleet regulation to achieve zero-emission truck and bus fleets in California by 2045, and we have set our own fleet electrification goals.
Edison International and SCE continue to advocate for building electrification-related policies with state agencies, including advancing large-scale incentive programs, supporting economywide targets and moving the state's building energy-efficiency standards (Title 24) to an all-electric baseline.
Transportation Electrification
SCE leads the largest utility transportation electrification initiatives and programs in the U.S. In 2021, Edison International and SCE earned the Edison Award, the electric power industry's most prestigious honor, for our efforts to advance transportation electrification. Presented by the Edison Electric Institute, the award recognizes distinguished leadership, innovation and contribution to the advancement of the electric industry for the benefit of all.
Edison Energy1 has begun supporting clients' transportation electrification strategies and planning to help companies transform their corporate fleet operations and infrastructure in favor of EVs — advising on early-stage considerations, such as EV options and fleet charging; business case development, including recommendations for timing and sequencing of fleet conversion; and design and construction, including construction and charger installation and building and facilities integration.
Light-Duty Vehicles
In 2021, SCE launched the second phase of Charge Ready Light Duty, allowing businesses, local governments and other organizations to sign up to participate in the program. Through this program, SCE installs and maintains the supporting EV charging infrastructure while site hosts, who are nonresidential SCE customers, typically own, operate and maintain qualified charging stations. The $436 million program will add more than 30,000 charge ports in SCE's service area over the next several years and continue the success of the pilot program and its extension that preceded this effort.
As of the end of 2021, approximately 2,800 light-duty charge ports had been installed at approximately 150 sites through SCE's Charge Ready Light Duty program.
Medium- and Heavy-Duty Vehicles
SCE continued to install EV-charging infrastructure for medium- and heavy-duty vehicles through our $356 million Charge Ready Transport program, launched in 2019. In 2021, SCE completed construction at 21 additional sites, up from six in 2020, which will support 235 new medium- and heavy-duty EVs. In 2021, Santa Monica, California's municipal bus line — dubbed the "Big Blue Bus" — increased the number of zero-emission, plug-in electric buses in its fleet of 195 from one to 19. In addition to installing the on-site charging infrastructure, SCE reconfigured the circuit and extended the power line that serves the bus yard.
Overall, the Charge Ready Transport investment will include up to 870 SCE customer sites supporting nearly 8,500 medium- and heavyduty vehicles by 2027.
SCE's Transportation Fleet Electrification
Consistent with our clean energy and electrification strategy, SCE is electrifying its fleet of approximately 4,900 on-road vehicles. We are planning, optimizing and building the required charging infrastructure to satisfy near-term internal vehicle demand and for long-term planning to meet our 2025 and 2030 commitments. There is extensive coordination among teams to determine vehicle needs and construct the necessary chargers at priority locations across our service territory. SCE continues to partner directly with manufacturers to promote innovation and quickly bring to market vehicles we can procure. We advise on product development and serve on several manufacturer advisory boards to help find solutions for utility vehicle needs.
Building Electrification
Building electrification represents a vital opportunity to reduce GHG emissions and is the area of California's economy where the least progress has been made. Approximately one-third of building space and water heating will need to be electric by 2030 and almost threequarters by 2045.
SCE has proposed to invest $677 million to install roughly 250,000 electric heat pumps and provide 65,000 households with electrical service panel and circuit upgrades across our service area. If approved by the CPUC, our plan would accelerate the widespread replacement of major fossil fuel heating appliances in homes and other buildings. The actions proposed will ultimately benefit all SCE customers through reduced GHG emissions and improved air quality. Our proposal has a focus on incomequalified customers and ESJ communities (see Environmental & Social Justice Communities).
We also implement our building electrification strategy within the company. SCE has a robust building electrification portfolio, with more than 99% of our buildings by count, and 79% of our total building square footage, using electricity as the primary fuel source. For nearterm construction projects, we replace gas equipment with electric solutions based upon the project scope or the equipment's end-ofuseful life. Additionally, we are exploring how to replace all other gas equipment to achieve a 100% electric building portfolio.
Grid Modernization
SCE is building the grid of the future to deliver 100% carbon-free power in terms of retail sales to customers by 2045. In doing so, we aim to integrate distributed energy resources and other new technologies and services, while safely delivering reliable, affordable and resilient energy
SCE's systematic approach to Reimagining the Grid starts with understanding the availability and composition of renewable and carbon-free resources to supply power, as well as future customer needs and the potential impacts of climate change on the system. In particular, SCE is shifting grid planning capabilities from a systemwide-only focus to one that also meets multiple objectives based on specific and localized needs.
Digitization is at the forefront of grid technology. SCE is investing in the next generation of grid management, communication systems and automation that enhance the grid flexibility needed to support higher amounts of electrification and distributed energy resources, while improving reliability. We are increasing our use of drones to gather images in the field, as well as artificial intelligence and machine learning, to drive automation and data integration. In 2021, 75% of aerial inspections in SCE's HFRAs were conducted by drones. As SCE and other electric utilities introduce digital tools, the grid faces increasing risks from malicious actors searching for pathways to attack via these new technologies. SCE studies new and existing infrastructure to identify where defenses can be strengthened as the threat landscape evolves.
Customer Solutions
Edison International is committed to providing superior service and a high-quality experience to SCE and Edison Energy1 customers.
Clean Energy at SCE
To meet evolving customer needs and improve the customer experience, SCE develops new customer programs to promote clean energy and energy efficiency for all customer classes, with a particular focus on equity and program participation in ESJ communities.
In 2021, SCE launched the second year of the Clean Energy Optimization Pilot, the first comprehensive pay-for-performance GHG emissions pilot in California. Under the $20 million pilot, SCE provides university campuses incentives to reduce GHG emissions. In the first year, five of the seven campuses participating in the pilot reduced emissions by more than 56,000 metric tons, receiving a combined total of more than $4.5 million in incentives.
Edison Energy Insights
Edison Energy invests in leading technology to better serve its clients across renewable energy, supply procurement and energy efficiency. Our "Insights Platform" provides organizations with unique transparency and intelligence to improve management of energy activities and performance. Using the latest data analytics and user interface, clients can visualize, evaluate and decide on the most critical elements of their energy portfolio in real time, all in one place.
View the full 2021 Sustainability Report here.
1 Edison Energy is not the same company as Southern California Edison, the utility, and Edison Energy is not regulated by the California Public Utilities Commission.