Ecocentricity Blog - A Quarter Century of Impact: How Biomimicry Has Reframed Humanity's Relationship With Nature
By: John A. Lanier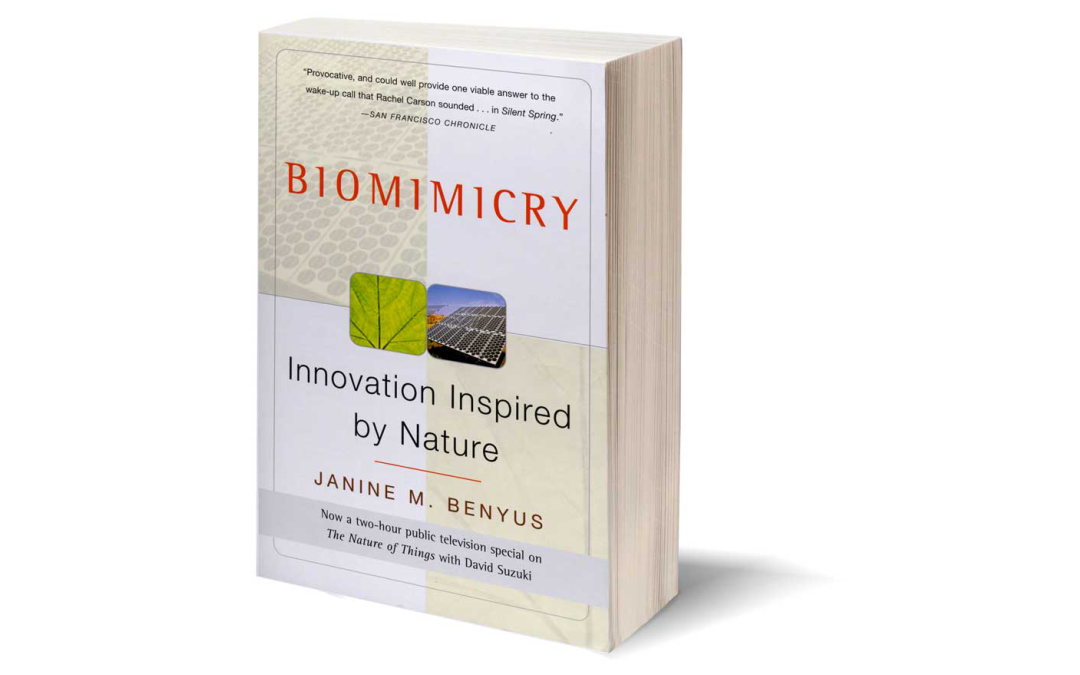 Ecocentricity Blog - A Quarter Century of Impact: How Biomimicry Has Reframed H…
Let's time travel back to May 21, 1997. It was a Wednesday, and here in Atlanta, Georgia, it was a lovely, sunny day with temperatures topping out at 75 degrees. The Dow Jones was valued at 7290.69. That day saw Roger Clemens earn the 200th win of his pitching career in a 4-1 Blue Jays win at the Yankees (60 degrees up there, with 12mph winds carrying the ball out to right field - it's amazing the things you can find on the internet). The number one song on the US charts was "MMMBop" by Hanson, and yes, I apologize for getting that stuck in your head for the rest of the day. For me personally, I was in the last few weeks of my fifth grade year of school, probably learning how to multiply 4.3 by 6.2 or something. But all of that pales in comparison to the most important thing that happened that day. May 21, 1997 was the day when Janine Benyus's Biomimicry: Innovation Inspired by Nature was first published.
A Powerful Inscription
I remember exactly when and where I received my copy of Biomimicry. It was June of 2013, and I'd been working for the foundation for just one month. That was pretty good timing, because there was a biomimicry conference scheduled in Boston, and Janine Benyus was a prominent part of that event. I'm fairly sure that was the first business trip I ever took for my current job.
I had met Janine just briefly at Ray's funeral a couple of years prior, but I didn't expect that she would have remembered that introduction. So I patiently waited in the book signing line they had set up at the conference. When I got to the front, I introduced myself again and said I was one of Ray Anderson's grandchildren. The smile she always wears grew even brighter, and she graciously chatted with me for longer than anyone deserves in a book signing line. Then, she wrote this inscription:
"Ray's spirit, brought into useful and necessary form - also known as Interface - was a new and highly adaptive species. And now, those adaptations have spread through so many industries. Our ecosystem has leapt to a whole new level. We thank you Ray!"
That's an inscription that means the world to me, and her's is a book that will be prominently displayed on my bookshelf for the rest of my life.
Imagining a Biomimetic Future
The brilliance of Biomimicry starts with the table of contents. She sets the stage with a first chapter titled "Echoing Nature," and then the remaining chapters are all titled in a similar way. They each ask a forward-looking question. Chapter 2 - How Will We Feed Ourselves? Chapter 5 - How Will We Heal Ourselves? Chapter 7 - How Will We Conduct Business?
For one thing, the chapters are much more inviting than if she had written "Biomimicry in Health" or "Biomimicry in Business." They get your mind thinking, imagining new possibilities. They make you WANT to read more, which is what any good book should do.
But there is an even deeper elegance to these questions. At the root of each is an idea - that eventually, humanity will learn to live in harmony with the natural world. When we do so, HOW we live on this planet will change fundamentally. Each chapter is a glimpse into this future, and each is informed by the ancient history of how life on earth has evolved.
Biomimicry's Heartbeat
Her book also has a heartbeat, which not all books do. By that, I mean that some books have a single page, and at times a single paragraph, that pulsates through every chapter. That heartbeat echoes over and over again, making clear to anyone who reads it what the central thesis of the book is all about. Biomimicry's heartbeat is found in Chapter 1 on page 7:
"After decades of faithful study, ecologists have begun to fathom hidden likenesses among many interwoven systems. From their notebooks, we can begin to divine a canon of nature's laws, strategies, and principles that resonates in every chapter of this book:
Nature runs on sunlight.
Nature uses only the energy it needs.
Nature fits form to function.
Nature recycles everything.
Nature rewards cooperation.
Nature banks on diversity.
Nature demands local expertise.
Nature curbs excesses from within.
Nature taps the power of limits."
That, my friends, is some powerful prose.
Celebrating 25 Years
Obviously, I hope you choose to read Janine's book if you haven't already. More pressing though, I hope you will consider joining in the celebration of this book turning 25-years-old. This Friday, May 20, Janine will be joining Lex Amore from The Biomimicry Institute for a virtual fireside chat. It's an opportunity to hear from Janine herself on the impact this book has made.
From my perspective, that impact is difficult to describe. I struggle to find one word, because it's not enough to say critical, transformative, and inspiring. Biomimicry offered a new way of looking at the world, one that reframed how we see ourselves in relation to the natural world. Much like Galileo taught our species to see the Sun as the center of our solar system rather than the Earth, Janine has taught us to see our species as woven into nature and not apart from it. That is a lesson that isn't just important - it's necessary that we learn it in order to reach the next level as a species on this planet.
Ecocentricity is available weekly via email subscription. Click here to subscribe.
 
Ecocentricity Blog: Financed Emissions: A New Standard for Calling Balls and Strikes
Ecocentricity Guest Blog: Global Warming vs. Climate Change: Their History and Their Differences
Ecocentricity Blog: Climate on an Earth the Size of a Football Field