Ecocentricity Blog: More Ray Andersons
Ecocentricity Blog: More Ray Andersons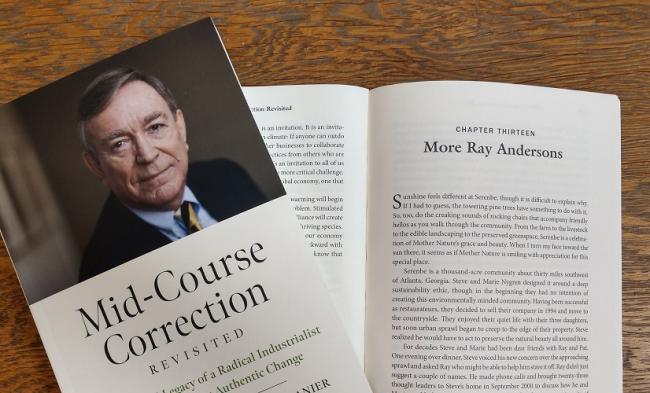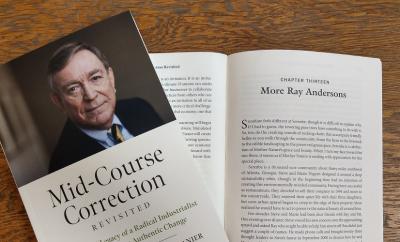 Summary
Ray Anderson believed in the "Power of One" and so do the staff and trustees at his namesake foundation. One community, one organization, and even one person can have far-reaching influence beyond that which might seem possible.
Wednesday, June 12, 2019 - 9:30am
Y'all have been patient with me, and trust me, I appreciate it. I haven't heard any grumbles or seen any eye rolls. Maybe you just aren't reading my blog anymore, but I don't think that's it! I'm going with just good ole' fashioned patience.
For the last couple of months, I've been plugging the release of Mid-Course Correction Revisited. I've dedicated a blog post to explore some aspect of each chapter of the book, and I promise this will be the last one of those. Next week I'll get into some really out-there environmental stuff (i.e. how blockchain could disrupt energy markets), but for today, I want to tap into what the final chapter of the book, Chapter 13, is all about.
Chapters 1-12 are weighty. Ray Anderson lays out a compelling vision for the prototypical company of the 21st century, and then I explore what macroeconomic trends will drive the creation of the prototypical economy of the 21st century. Chapter 13 is a bit different, with a lot less economics and a lot more warm and fuzzies.
The chapter is all about what the Ray C. Anderson Foundation is trying to do to advance sustainability and the legacy of our namesake. Here's the thing – our contributions aren't terribly significant! On the scale of global environmental challenges, we can't solve anything on our own. Our grants are just a drop in the philanthropic bucket, which itself is a drop in the bigger bucket of dollars in the flow of commerce. We are just one foundation and one family trying to help in any way we can.
Ray believed in the "Power of One" though, and so do we. One community, one organization, and even one person can have far-reaching influence beyond that which might seem possible. All any of us can do is that of which we are capable. If we all did all that we could, the world would change in an instant!
That is why I titled the chapter "More Ray Andersons." It's what we need – more people who believe in being a champion for Earth and doing business the right way. Being a Ray Anderson also includes people who dedicate their lives to the service of others, whether as doctors or public servants or teachers. It even includes the average Janes and Joes who simply try to do the right thing in their homes and communities.
Creating more Ray Andersons is also the central theme of our foundation's grantmaking. As I explore in Chapter 13, our grants all empower change agents committed to finding a better way. We are proud of all that they do, and grateful for their values and dedication.
There truly is power in one. There is also comfort in knowing we are not alone. You are not alone. Never say, "but I'm just one person!" Say, "look what I can do!"
And then go do it.
This blog is also available via email subscription.
Click here to subscribe and to receive Ecocentricity automatically every Wednesday morning via email
Contact
Ray C. Anderson Foundation