DuPont Sustainability Report: Shawn Hunter, Global Sustainability Leader, DuPont Water & Protection
DuPont Sustainability Report: Shawn Hunter, Global Sustainability Leader, DuPont Water & Protection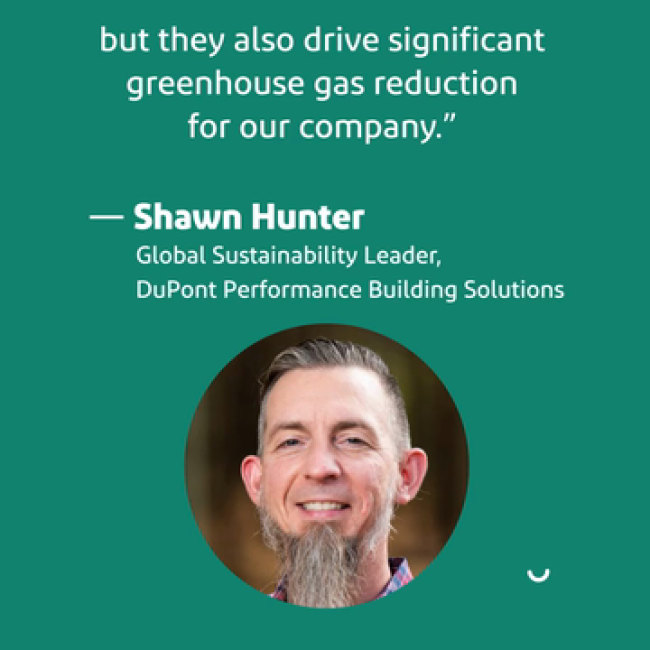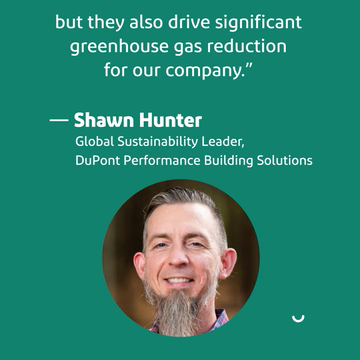 Tuesday, May 17, 2022 - 1:50pm
What excites you about your role as Sustainability Leader in the Performance Building Solutions & Corian® Design business?
There are so many things that excite me about my role and our sustainability work! It's a privilege to be able to work with so many colleagues who are passionate about advancing sustainability through their work, and we've seen that excitement materialize more and more in the market—the pull for sustainability from our customers has never been stronger. Also, the work we've done in our business to activate our sustainability DNA by defining our sustainability strategy, and the alignment that we have within our business leadership, is making it more actionable and easier for our team to understand and get involved. That's one of the most exciting things, seeing the passion the people in our business have for this work.
How has your team's innovation helped advance DuPont's sustainability goals?
Our awesome innovators have delivered some incredible innovations recently that are enabling huge reductions in embodied carbon and GHG emissions associated with our Styrofoam™ Brand Insulation and Froth-Pak™ Spray Foam products. Not only are these innovations helping our customers advance their climate goals, but they also drive significant GHG reduction for our company. I'm super proud of the teams that made this happen and thrilled to see the Low GWP Froth-Pak™ Spray Foam innovation recognized with ACC (American Chemistry Council) and ASC (Adhesives and Sealant Council) awards last year.
Can you share more about how we create value for customers through sustainability?
In the Performance Building Solutions & Corian® Design business, our customers are looking for innovation that helps them drive the transition to sustainability in the built environment. We can help the most with climate, circularity, and solutions that are safer by design. On climate, for example, we will continue to innovate for lower embodied carbon solutions and provide energy efficiency solutions that help drive total carbon of buildings to zero. Sustainability is core to our innovation strategy, and we will continue to seek partners and collaborators who are eager to work toward our shared vision. We've seen some great examples of mutual customer value creation based on sustainability, and our continued focus here will lead to even more innovation and sustainability win-wins in the future.
What's next for you and your team?
We've made some great progress recently which we shared with our customers in our inaugural Performance Building Solutions & Corian® Design Sustainability Update and we have much more to do. With our vision set and strategy articulated, we are working to further activate and nurture the sustainability DNA in our organization to accelerate progress against our goals and cultivate a broader ownership of sustainability throughout the organization. We also need to drive capability development around sustainability, helping our team better understand what it looks like to innovate for the circular economy or how to apply green chemistry to develop a solution that is safer by design, for example. Already today we have some pretty cool projects in the pipeline that are aimed to advance all our innovation sustainability goals, and I can't wait until we are able to share more about each of them!