Driving Efficient & Sustainable Packaging: MilliporeSigma Releases Annual SMASH Packaging Plan Report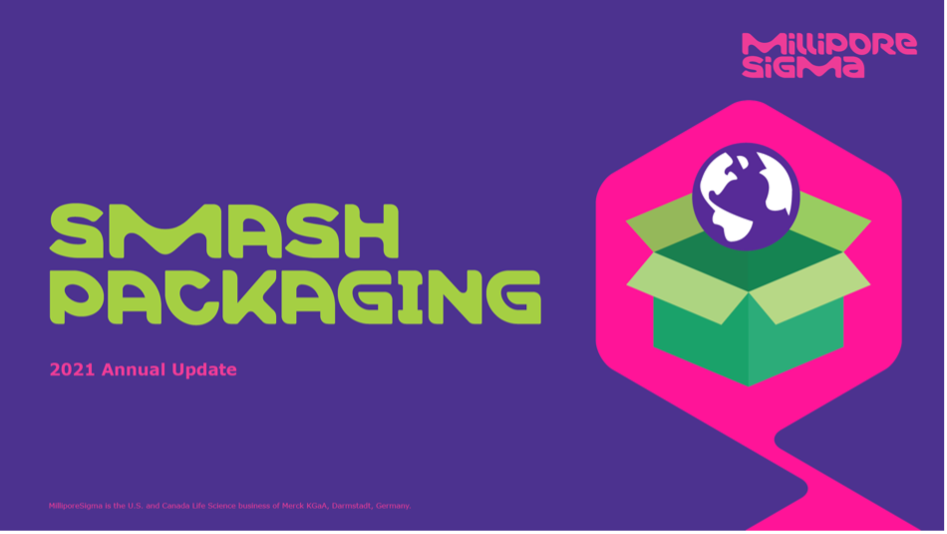 MilliporeSigma, the U.S. and Canada Life Science business of Merck KGaA, Darmstadt, Germany, is making further strides in its commitment to driving significant sustainability improvements in its packaging. Now in its fourth year, the company's industry-first SMASH Packaging Plan continues to set new standards and goals for packaging while still meeting the required performance requirements and transit safety regulations.
The SMASH Packaging Plan is founded on three pillars:
Optimize resources by reducing the amount of packaging
Utilize more sustainable materials to achieve zero-deforestation and increase plastic sustainability in packaging
Design for the circular economy to maximize recyclability and reduce waste
In its annual progress report, MilliporeSigma revealed the global Life Science business sector is on track to achieve several of its initiatives by the end of 2022. Since the launch of the SMASH Packaging Plan, the company was able to:
Reduce more than 250 metric tons of packaging waste annually through 15 product and distribution improvement projects to existing packaging. Additionally, several of the company's distribution centers completed the Packaging for Smalls project, which enables more efficient packaging. It will result in an annual reduction of 65+ metric tons of packaging by the end of 2022.
Complete 10 improvement projects at multiple locations to replace existing plastic packaging with more sustainable solutions
Ensure 71% of its fiber-based packaging materials sourced directly align with the company's zero-deforestation standards. This represents an 8% increase from 2019.
Add sustainable forestry certification to 800 metric tons of corrugated and paperboard materials
Replace 70 metric tons of non-recyclable edge protectors with a 100% paper-based alternative
Implement a new process for the reuse of wood pallets—resulting in the avoidance of 1,000 metric tons of wood pallets sourced annually
Utilize three million molded pulp inserts for its glass bottle reagents instead of expanded polystyrene (EPS), which is difficult to recycle. Company rollout of new greener coolers in the U.S. is also expected by the end of 2022, resulting in an annual EPS reduction of 5,000+ cubic meters.
Additionally, MilliporeSigma is currently developing recycling and disposal guidance for its packaging materials to help its customers to manage them more responsibly. The first version of this solution is expected to be completed by the end of 2022.
To learn more about the Life Science business sector's SMASH Packaging Plan and how the company is contributing toward a healthier ecosystem through sustainable product and packaging improvements, read the 2021 annual report.